Limited Time Offer! Free Covid-19 safety course with purchase of any Forklift or Aerial Lift Certification!
Access your free Covid-19 safety course in your members area once you have completed your purchase.

Prepare for Smooth and Efficient Warehouse Evacuations with These Tips
Posted by: admin on May 1, 2018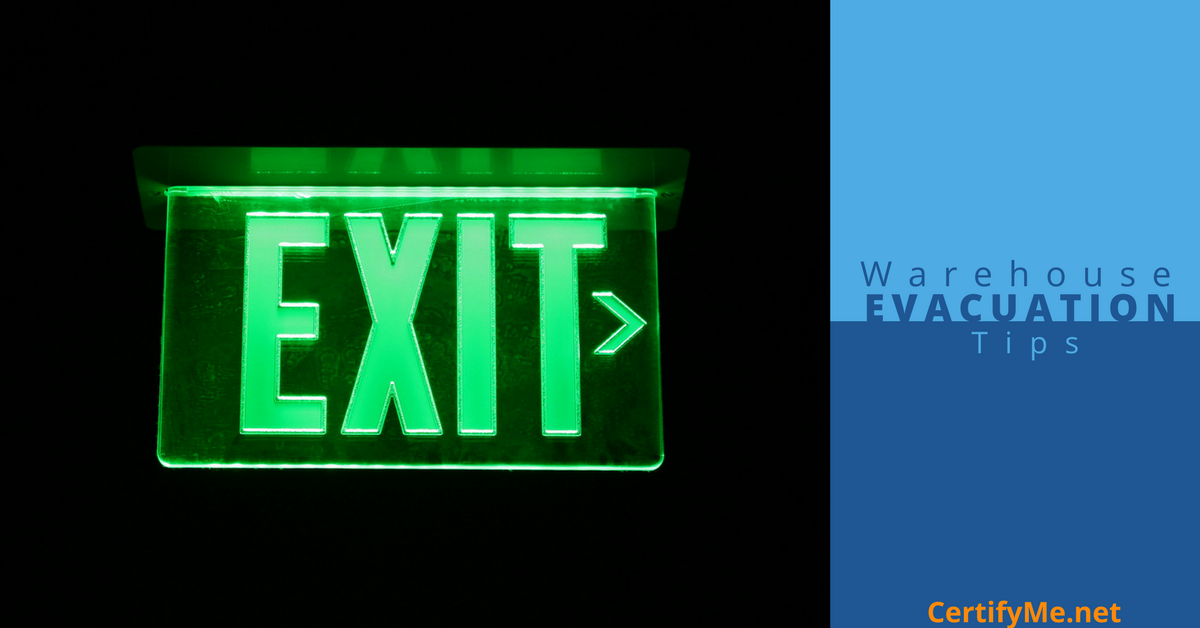 Safety in warehouses starts with trained workers, properly maintained equipment, and efficient workplace systems. However, even when everything is done right, accidents do still happen and it's important to know how your workplace would react to an emergency and evacuate the building if necessary.
Saving time by not hesitating to take the next step during an emergency can save lives. OSHA says the best way to protect employees and customers is to expect the unexpected, especially in busy warehouses, and have an emergency plan and exit strategy in place.
Here are some additional tips and ideas for reacting to emergencies and evacuating warehouses from a few industry experts. Learn from others' experiences to craft your emergency plan, and your warehouse will be well equipped to prevent injuries and fatalities not only on a daily basis but in the event of an emergency evacuation as well.
Be Prepared with an Emergency Action Plan
According to OSHA, every workplace, especially warehouses, should have an emergency action plan.
An emergency action plan should include information about all potential sources of emergencies, and developing one should involve a hazard assessment to determine any and all hazards found in the workplace. During an emergency, either local emergency officials or a designated person within the company will determine whether or not you need to evacuate.
Minimally, according to OSHA, an emergency action plan must include:
A preferred method for reporting fires and other emergencies
An evacuation policy and procedure
Emergency escape procedures and route assignments
Names and contact information for those within and outside the company to contact for additional information or explanation of emergency plan duties
Procedures for employees who remain to perform or shut down critical plant operations, use fire extinguishers, or perform other important tasks
The rescue and medical duties for any workers qualified to perform them
Zack Zarrilli, firefighter and founder of SureFire CPR, an industry-leading CPR and First Aid instruction company, agrees with the importance of being prepared.
"Ultimately, understanding how to respond to an evacuation is paramount. If you know the safety rules for evacuations, you can reduce the likelihood of accidents or injuries, as well as provide support to others until an emergency is under control. Although there is no telling when you may be forced to vacate an area, there is still plenty that you can do to plan ahead for emergency evacuations."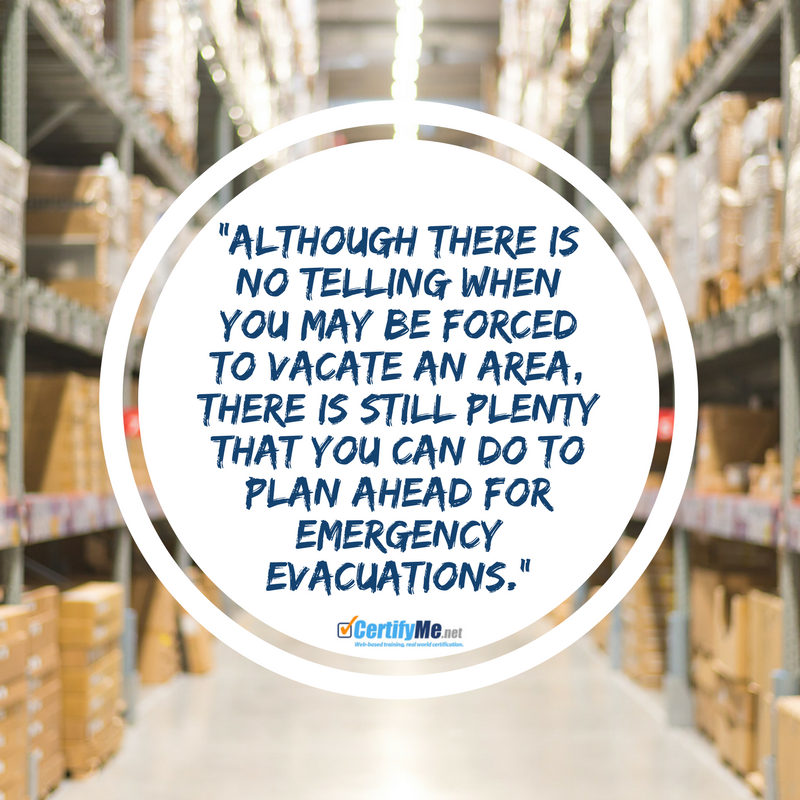 Brainstorm All Potential Scenarios and Emergencies
While creating an emergency action plan and evacuation plan, it's a good idea to think about all of the worst-case scenarios that could go wrong in your facility. OSHA says, "What if a fire broke out in your boiler room? Or a hurricane hit your building head-on? Or a train carrying hazardous waste derailed while passing your loading dock? Once you have identified potential emergencies, consider how they would affect you and your workers."
When looking at warehouse emergencies, Zarrilli gives further advice. "Some warehouses may be more susceptible than others to certain types of emergencies. For example, Florida warehouses are more prone to hurricanes than California warehouses; conversely, an earthquake or wildfire may be more likely to occur in California than in Florida. If you understand the different types of natural disasters that may impact your area, you can prepare evacuations plans that account for the challenges that you may encounter."
Additional ways warehouses can prepare for emergencies and evacuations are:
"Follow recommended evacuation routes. Oftentimes, evacuation routes will be in place that show you exactly where you need to go.
Leave the area as soon as you can. Don't wait to evacuate an area. Because the longer that you wait, the more likely it becomes that you may be left behind.
Work together through recovery … It is important to remember that it takes time to recover after an emergency. And if individuals work together for the greater good, they may be able to speed up the recovery process."
Create Indoor Maps of Your Facilities
While having a well-thought-out emergency action plan is the first and most important part of being prepared for emergencies in your warehouse, there are other supplemental tools that can make it even more powerful.
"Any emergency preparedness plan in a large indoor space can be strengthened by the use of indoor maps," says Chris Wiegand, CEO of Jibestream, a company that specializes in creating high-quality indoor maps for various workplaces.
Furthermore, "These systems can quickly direct staff towards the nearest fire exit, and can be updated in real-time to provide vital information about the current status of any particular area in a building. Importantly, these systems can also assist emergency responders in quickly and effectively planning routes to critical areas of the building."
The indoor maps that Jibestream creates for businesses can be displayed on kiosk stations throughout a facility and on mobile applications anywhere in a building where there is access to the internet.
Build a List of Contacts
Knowing exactly who might be affected by a serious situation in a warehouse and who could help in the event of an emergency is smart practice for every warehouse manager and employer.
Jonas Sickler, Reputation Strategy Advisor for ReputationManagement.com, works with various companies to ensure their relationships stay intact through everyday workings and emergencies.
"A critical step in preparing for a crisis is to build a list (of) potential audiences you might want to reach. Having a regularly updated list, including any resources needed to reach these audiences – such as personnel, technology, and capital—can help you manage a crisis efficiently. Here are some important groups to include on your list:
Customers
Suppliers
Employees and their families
News media
Community—especially neighbors living near the facility
Government elected officials, regulators and other authorities
Company management, directors and investors
You don't want to realize during an emergency that you don't have the means or resources for contacting key stakeholders and affected individuals."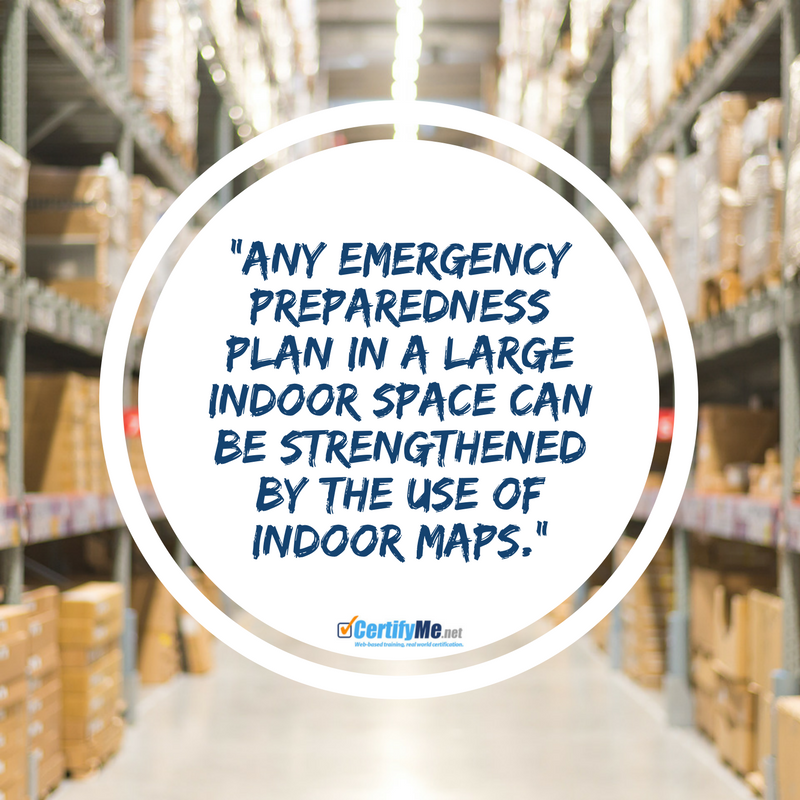 Make Sure Workers Are Trained and Prepared
Having a written emergency and evacuation plan and a list of contacts is certainly important for when an emergency occurs, but without proper training ahead of time, employees may not know exactly how to respond and follow an action plan.
Zarrilli stresses, "Education is a crucial part of emergency and evacuation preparedness, and perhaps it is easy to understand why. With the right training, anyone can become a difference-maker in an emergency."
At CertifyMe.net, we couldn't agree more. That's why our CEO and industry expert, Tom Wilkerson, has created the most convenient, high-quality, and efficient online operator training programs available.
According to Tom, "All of the plans, tools, and technologies in the world won't make a significant difference in the event of an emergency or accident if workers haven't been properly trained. Emergencies cause chaos and panic, but when employees have been trained and prepared for the type of situation, it's much more likely that an emergency action plan can be followed in a calm and efficient manner. And not to mention, help make sure everyone evacuates safe and sound."
Learn more about the online OSHA-compliant equipment operator and safety trainings at CertifyMe.net. You'll find the trainings you need to ensure properly trained and certified forklift operators, in addition to workers who are well versed in safety protocols and OSHA standards.
Welcome to CertifyMe.net
CertifyMe.net has offered online forklift certification since 1999. With Our Convenient online program. your employess can earn their certification in an hour or less.
Browse Online Certifications:
This low-cost program can be compeleted anytime, anywhere!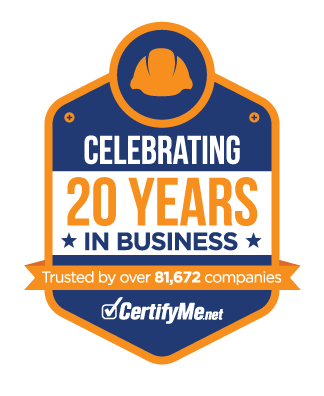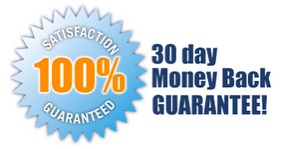 Connect with Us


Get Started Now By Registering Your Company For Free!
FREE 3 Year Renewals
Instant Access 24/7
Print Your Proof of Training
OSHA Accepted Nationwide
*If you are an individual not currently employed by a company use your personal name in
the 'Company Name' field.