5 Tips for Stacking Pallets Properly
Posted by: admin on August 28, 2017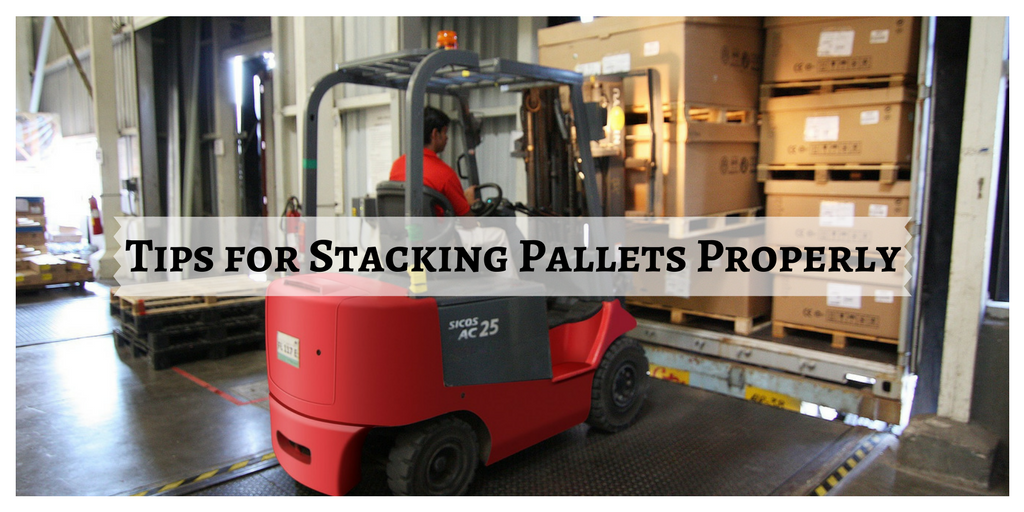 Stacking pallets properly, whether working with a pallet jack, forklift, hand pallet pump, or other machines, has the potential to prevent many accidents that routinely happen in warehouses. Knowing and using certain safety principles, proper work practices, and the right equipment for the job can help reduce workplace accidents involving pallets.
Double stacked pallets and other advanced storage and handling techniques will help your warehouse or distribution center save space, trim costs, and also operate more safely – if you know what you're doing.
With our OSHA training courses, you'll know when to use your forklift for double stacked pallets, during heavy volume and high traffic areas, in all types of job environments. Our OSHA experts combine years of industry know-how with intuitive, knowledge-retaining testing. With CertifyMe.net, you get the best of both worlds:
Essential safety training to achieve OSHA compliance. Pallet jack and order picker courses, indoor lifts, rough terrain forklifts – we have all the training you need, and we'll review both common operating theory and also advanced cargo handling requirements, including double stacked pallets.
Learn-as-you-go pace. Complete your OSHA forklift certification in your free time. During lunch. Late at night. Whatever fits your schedule. As long as you have a reliable internet connection, CertifyMe.net has the training and resources you need.
In order to prevent falling objects, improperly stacked loads, and the unsafe use of equipment that can cause injuries like strains, sprains, fractures and crushed bones, warehouse employees need to learn how to stack a pallet properly. Learn the top OSHA pallet stacking protocols with these tips.
How to Stack a Pallet Properly and Safely
Stacking pallets properly involves certain techniques and the right equipment to prevent accidents. Here are the top pallet stacking safely tips from the experts at CertifyMe.net:
Stack Pallets of the Same Size
Stacking pallets of the same size in diameter will allow for the most evenly distributed stack. When a stack is even and level, the chance of the stack shifting or falling will be the least likely. Stacking pallets of the same size together is also the most efficient way to stack pallets, with the least amount of empty space left over. If there are any varying sizes of pallets, always place the largest item on the bottom row. This also applies to the products on the pallet. Stack according to size, being sure to stack items together that are of uniform size and shape to prevent the products from shifting and falling. It's also important to use proper lifting aids (bars, stabilizers, etc.) when dealing with double stacked pallets. Another safety tip: make sure your double stacked pallets are always the same width. Accidents are more likely if your pallet configuration varies throughout any given load.
Do Not Surpass Height Limitations
One of the key rules of how to stack a pallet: Never stack pallets too high. Doing so greatly increases the risk of the top pallets falling over, and potentially injuring or killing workers on the ground. Know how much space is available on the lower and middle racks, and make sure not to stack pallets too high on the top rack. Over-stacking pallets can cause them to tumble off the racks when loading and unloading the pallets. And if you over stack goods too high on the pallets, even if there is extra room on the top rack, you could be left dealing with goods that have fallen and become damaged when loading or unloading the pallet.
Do Not Overload the Weight of the Pallet Stack
When pallet stacking involves fairly heavy items, be sure to understand the exact weight limitation of the pallet jack or forklift. Exceeding the maximum weight limit is a serious safety concern, because it can fatally crush workers nearby should it topple over.
If there are various weights of pallets or other items being used, put the heaviest item on the bottom of the stack. This includes the goods on the pallets. Putting the heaviest items on the bottom layer will create a stable base with a lower center of gravity. If hauling double stacked pallets, ensure that the load doesn't exceed the manufacturer's maximum weight requirements.
According to OSHA pallet stacking safety, avoiding overloading when stacking pallets also involves making sure not to overload the equipment by understanding the maximum weight rated capacities of the equipment. Before a pallet is even stacked, an overloaded forklift can cause an accident if it causes the pallets or forklift to topple over.
Stack Pallets Evenly, With No Edges Sticking Out
Pallet stacking safely requires workers to be careful to stack them evenly without any edges poking out the sides. Uneven stacking causes an unstable pallet stack and a likelier chance that it will fall from the pallet jack or forklift, or from the rack during transportation. Keeping pallets and goods in an even stacking shape is important, as is ensuring the weight is properly distributed to avoid unexpected shifting. Uneven pallet stacking with objects sticking out can also be bumped by moving forklifts, causing the stack to topple over.
Look for Loose Materials and Damaged Pallets
It's never safe to reuse damaged pallets. They simply aren't as stable and durable for stacking as undamaged pallets and can cause worker injuries if they contain splintered areas and protruding nails and fasteners. When pallet stacking, also be sure to watch out for any loose parts that could be snagged by a machine, worker, or during loading and unloading. Double stacked pallets can create unique safety hazards, and should be handled with extra caution. If you're unsure about handling a double stacked pallet, consult with your job site boss or safety supervisor. Use plastic wrapping and banding to keep pallets secure.
OSHA Pallet Stacking and Lift Operation Recommendations
According to OSHA, "cargo, pallets and other material stored in tiers shall be stacked in such a manner as to provide stability against sliding and collapse." The instructions listed above are the most critical for ensuring the stability of stacked pallets and preventing accidents.
When employees are using equipment like forklifts, pallet jacks, and pallet pumps to move and stack pallets, they must know not only how to stack pallets properly but also how to use the equipment properly. OSHA says that pallet stacking safely requires workers to be aware of both manual handling concerns and equipment handling techniques. Workers must move and stack pallets according to the weight, size, and shape of the pallet, to avoid overloading the equipment.
Here are OSHA's tips for pallet stacking safely and driving the equipment with a load:
Center the load on the forks of the forklift as close to the mast as possible to prevent tip-overs of the equipment or load
Never overload a lift truck past its rated capacity
Do not put extra weight on the rear of a counterbalanced forklift to allow an overload
Adjust the load to the lowest position when traveling
Pile and cross-tier all stacked loads correctly when possible
Ensure workers have the proper personal protective equipment, including gloves, hats, goggles, and steel-toe boots
When accessing stored and stacked pallets and other loads, OSHA pallet stacking and storage safety practices are:
Keep storage areas free from accumulated materials that can cause tripping hazards or fires
When stacking and storing goods inside buildings under construction, please pallets and materials at least 6 feet away from hoistways and floor openings, and at least 10 feet away from exterior walls
Separate non-compatible goods
The National Fire Protection Agency also has tips for pallet storing and pallet stacking safely:
If storing pallets inside, have no more than four stacks and stack no higher than 6 feet
Do not store pallets within 25 feet of other materials
When stacking plastic pallets, special sprinkler systems should be used because plastic pallets have a higher heat release than wood
Store pallets outside and away from buildings when possible
Why Training and Certification is Necessary
If you're feeling overwhelmed with all of the information for pallet stacking safely, you need training to bring all of this info together.
If you want to know how to stack a pallet, you need specialized OSHA pallet stacking training. The types of people who handle pallets are warehouse employees and forklift operators. This type of work can be dangerous, where even one improperly stacked and balanced pallet rack can cause serious accidents, fatalities, and damages.
People who work around and on forklifts need to have forklift certification training to learn how to operate the equipment, handle loads, and stack pallets properly in all kinds of work settings. Forklift accidents happen every day, and the most common cause of accidents is operator error. This means that operators without training were the most likely to be involved in serious accidents. Tip-overs and collision involving forklifts are all too common in warehouses, but so are accidents involving pallets. It doesn't only take stacking the pallet straight to do so correctly. Workers need to also know how to approach and lift pallets and loads, how to travel with them, and how to stack them on racks. They also need to know how to approach a stack of pallets to unload them. This work requires a specific set of skills and knowledge that can only be acquired through training and practice.
Pallet stacking training is also important for employers, who need to verify to OSHA that all employees have received the training they need to be safe and avoid hazards by pallet stacking safely. If an employer has not trained their employees properly, they can be severely fined and prosecuted. All the while putting their workers' lives at risk.
Get The Pallet Stacking Training You Need at CertifyMe.net
Luckily, it's easy, convenient, and affordable to receive the top quality training your business and workers need to understand how to stack a pallet properly and prevent accidents on the job. Check out the pallet stacking, pallet jack and order picker training, and warehouse forklift training from CertifyMe.net. It's all online, takes only about one hour to complete from any connected device, and is 100% OSHA-compliant. Sign up today!
Here are the features and benefits of our online courses:
Learn how to operate Class 2 and 3 Pallet Jacks and Order Pickers
Learn how to operate Class 1, 4 and 5 Warehouse Forklifts
Learn how to stack pallets properly and safely, according to OSHA pallet stacking requirements
Complete training in less than one afternoon, from any device with an internet connection
Receive your operator certificate instantly upon completion
Pay our already affordable prices and receive free three-year renewals for life
Whether you want to learn how to handle double-stacked pallets or simply brush up on your overall safety knowledge, our training courses will get you OSHA certified in no time at all. Call us today!
This post was originally published in 2017 and updated with new content in 2018.
5 EASY STEPS!
Follow step-by-step instructions to get OSHA compliant!
This low-cost program can be completed anytime, anywhere!



Get Started Now By Registering Your Company For Free!
FREE 3 Year Renewals
Instant Access 24/7
Print Your Proof of Training
OSHA Accepted Nationwide
*If you are an individual not currently employed by a company use your personal name in
the 'Company Name' field.