Limited Time Offer! Free Covid-19 safety course with purchase of any Forklift or Aerial Lift Certification!
Access your free Covid-19 safety course in your members area once you have completed your purchase.

Five Pallet Stacking Tips You Should Know
Posted by: admin on January 30, 2022
There's an art to pallet stacking. Mastering this art can improve workplace safety while also cutting costs and boosting productivity. If you're eager to learn how to stack a pallet, tips from CertifyMe.com can help. 
How to Safely Stack Pallets
Even distribution is the key to safe pallet stacking with forklifts. This reduces the odds of pallet stacks shifting or falling over. Even stacking is also more space efficient, ensuring that every square inch of a space is used to its fullest capacity. 
Start by placing the largest pallet on the bottom. Stacking uniform shapes and sizes is best, as there are fewer chances for pallets to shift or fall. Always ensure double-stacked pallets are the same width. The more variation in your pallet configuration, the greater the odds of an accident. 
Of course, these principles are really just the beginning of pallet stacking guidelines. Keep the following tips in mind as you perfect the art of stacking:
Keep Height Limitations in Mind
When using a forklift to stack pallets, avoid stacking them too high – it's incredibly dangerous and just asking for an accident to occur. With this in mind, make sure you know how much space you have on lower and middle racks. It'll help you assess just how many more pallets will fit in the area. This kind of calculation will become second nature after a while. 
Don't Exceed Weight Limitations
When it comes to pallet stacking, weight limits are just as important as height limits. Make sure you know the maximum weight the pallet jack or forklift can hold. Lifting more than the forklift is designed to hold is a major safety hazard. Should the lift topple over, it can injure the operator or crush workers nearby.
Place Heaviest Items on the Bottom
The proper pallet stacking safety technique is to put the heaviest item(s) on the bottom of the pallet. Then put the heaviest pallets on the bottom of the stack. This will create a stable base with a lower center of gravity. When hauling double-stacked pallets, make sure the load doesn't exceed the forklift's max weight limit. An overloaded forklift can cause an accident before the pallets are even stacked.
Never Reuse Damaged Pallets
It can be tempting to reuse damaged pallets to save a few dollars here and there, but it's a bad idea for a number of reasons. Damaged pallets aren't very stable or durable. Using them could lead to stack tip-overs.  Any part of the pallet that contains splintered areas or protruding nails and fasteners can injure workers. When in doubt, do the right thing and buy replacement pallets rather than using damaged ones.
Forklift drivers should understand that double-stacked pallets create unique safety hazards, and should always be handled with extra caution. Using plastic wrapping and banding can lower the risk of accidents by keeping pallets secure. If you're unsure about handling a double-stacked pallet, consult with your job site manager or safety expert.
Pallet Stacking FAQs
Still feeling unsure about pallet stacking? Check out this video for additional guidance. We've also answered some of the most frequently asked questions about pallet stacking guidelines below:
How Many Pallets Can You Safely Stack?
Exceeding the recommended height limit makes pallet stacks more prone to tip-over and collapsing. However, height limits can vary according to whether the pallets are full or empty. They also depend on the stacking technique used. The materials being stacked can also affect the height limit because some have specific requirements. While there's no official limitations on how high you can stack pallets, OSHA standard 1910.159(c)(10) tells us that "the minimum vertical clearance between sprinklers and the material below shall be 18 inches." Allow the ceiling to be your guide as you master pallet stacking.
What is Pallet Double-Stacking?
Double stacked pallets are exactly what they sound like; it doubles the effective storage area while also increasing the transport loading density. For these reasons alone, there's a huge incentive to implement double stacked pallets in the warehouse. Of course, there are drawbacks to this strategy. When stacked incorrectly, double stacked pallets can be incredibly dangerous. 
Can You Stack Pallets with a Forklift?
Pallet jacks and forklifts are essential for pallet stacking. Forklifts are especially handy when it comes to lifting extremely heavy loads. Pallet jacks, on the other hand, require no fuel and can easily lift lighter loads. Both pieces of equipment are useful when it comes to pallet stacking.

Get The Pallet Stacking Training You Need at CertifyMe.net
CertifyMe.net offers safety training, including forklift stacking, pallet jack and order picker courses. We teach how to safely use both indoor lifts and rough terrain forklifts. We cover everything you need to know, from basic operating theory to advanced cargo handling techniques, including double-stacked pallets.
Best of all, our forklift training won't interfere with work time. Our learn-as-you-go pace allows your staff to get OSHA-certified training from anywhere, at any time. As long as you have a reliable internet connection, CertifyMe.net has the training and resources you need.
Register your company today to learn how to stack a pallet safely and much more.  Whether you want to learn how to handle double-stacked pallets or simply brush up on your overall safety knowledge, our training courses will get you OSHA-certified in no time at all. Call us today!
Welcome to CertifyMe.net
CertifyMe.net has offered online forklift certification since 1999. With Our Convenient online program. your employess can earn their certification in an hour or less.
Browse Online Certifications:
This low-cost program can be compeleted anytime, anywhere!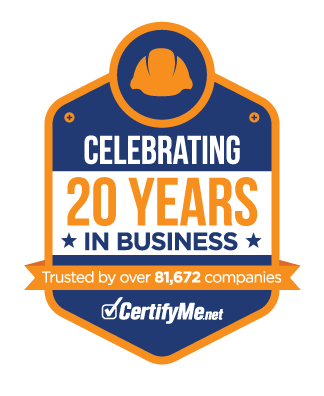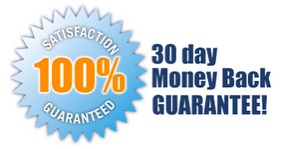 Connect with Us


Get Started Now By Registering Your Company For Free!
FREE 3 Year Renewals
Instant Access 24/7
Print Your Proof of Training
OSHA Accepted Nationwide
*If you are an individual not currently employed by a company use your personal name in
the 'Company Name' field.