Top 3 Forklift Repairs and How to Fix Them
Posted by: admin on January 24, 2017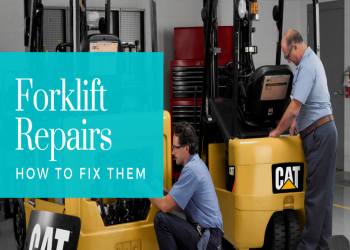 Forklifts are essential in many bustling warehouses, loading docks, and construction sites across the country. They are common tools that many companies and processes rely on, and they help dramatically improve the productivity and performance of a worksite. An out-of-service or inefficient forklift can have serious financial and performance-related consequences. Regular maintenance checks and inspections of the forklifts are key to catching any issues right away before they become costly services or replacements.
Here are the most common mechanical issues with forklifts that need to be inspected and checked for daily. Learn more about how these issues happen and what needs to be done to repair the problem and prevent more serious issues from occurring over time.
Problems with the Mast—Lifting and Lowering
The mast is the frame that controls the lifting and lowering power of the forklift. If the lift is not lifting or lowering properly, not lifting quick enough, or is lifting and lowering erratically, that's a sign that there are issues with the mast that could be stemming from any of the various related mechanisms. Look at the hydraulic fluid and make sure it isn't too low. You may also want to inspect the forklift chains and see if any sections need to be replaced. They can become stretched, rusted, cracked, twisted or bent, and misaligned over time and cause issues with the mast.
Problems with Steering—Maneuvering the Forklift
The ability to steer easily and maneuver the forklift without much resistance is crucial for every worker's safety in a worksite. One common cause of issues with the steering is with the steering fluid transmission. This issue is simple to tend to onsite and will require a change of the fluid or simply adding more fluid. Other issues may need to be looked at like worn out gears which can also contribute to poor steering and will require an experienced forklift mechanic to repair.
Problems with Starting the Lift—Battery Function, Fluid Levels, and the Engine
Most of the time, you will deal with small issues with the forklift like a slightly bent fork. Other times, the forklift may just refuse to start. In this case, you will need to inspect the battery, coolant levels, and the engine. If the battery is fine and fully charged, look at the coolant and make sure fluid levels aren't too low which can cause overheating of the engine. If the engine is overheating, one possible cause is radiator blockage. Dirt and debris can collect in areas of the radiator leading to blockages. Wash out anything lodged in the radiator ports with clean water. If overheating persists, then there may be corrosion in the radiator preventing proper function. If corrosion is present, you will most likely need to replace the radiator.
Safety Tips to Prevent Equipment Damage and Injuries
Always perform an OSHA-compliant pre-start inspection
Never exceed the load limitations specified by the forklift manufacturer
Do not drive the forklift too fast
Do not operate the forklift in too narrow aisles
Check the forks and make sure they are aligned and straight
Always check all fluid levels
Ensure all workers are fully trained and forklift certified
5 EASY STEPS!
Follow step-by-step instructions to get OSHA compliant!
This low-cost program can be completed anytime, anywhere!



Get Started Now By Registering Your Company For Free!
FREE 3 Year Renewals
Instant Access 24/7
Print Your Proof of Training
OSHA Accepted Nationwide
*If you are an individual not currently employed by a company use your personal name in
the 'Company Name' field.