Limited Time Offer! Free Covid-19 safety course with purchase of any Forklift or Aerial Lift Certification!
Access your free Covid-19 safety course in your members area once you have completed your purchase.

The Comprehensive Guide to Forklift Controls
Posted by: admin on April 15, 2022
Forklift controls aren't standard across the board. Rough terrain forklift controls, for example, are different from those of a sit down indoor warehouse forklift. A pallet jack control cluster looks nothing like a heavy-duty dockyard or shipyard outdoor forklift. And stand up forklift controls are not in the same location as the controls of a traditional sit down forklift. 
The same thing is true with forklift speed control systems. If every forklift was designed with the same drivetrain, acceleration characteristics, and fuel efficiency guidelines, there would be no need to learn any unique forklift controls from forklift to forklift.
Thankfully, much like the near-endless choices of automobiles, forklifts come in many shapes, sizes, and styles. Consequently, forklift controls are often different not just between different types, but even between lifts from the same manufacturer. From forklift standup controls to forklift control panels, knowing how unique lifts operate is essential for efficient and safe operation.
What are the main categories of basic forklift controls? How do forklift speed control systems differ on specific powered industrial trucks? What are the most important elements of a forklift control panel? All great questions, and our safety and training experts here at CertifyMe.net have the answers!
Forklift Control Panel: Basic Overview
When it comes to a forklift control panel, it is important to learn as much as possible. Once a forklift operator knows the ins and outs of a forklift control panel, he or she will know the exact location of various forklift controls. Learning about forklift pedals and other basic forklift controls ultimately help avoid accidents, which is the main purpose of a safety program in the first place!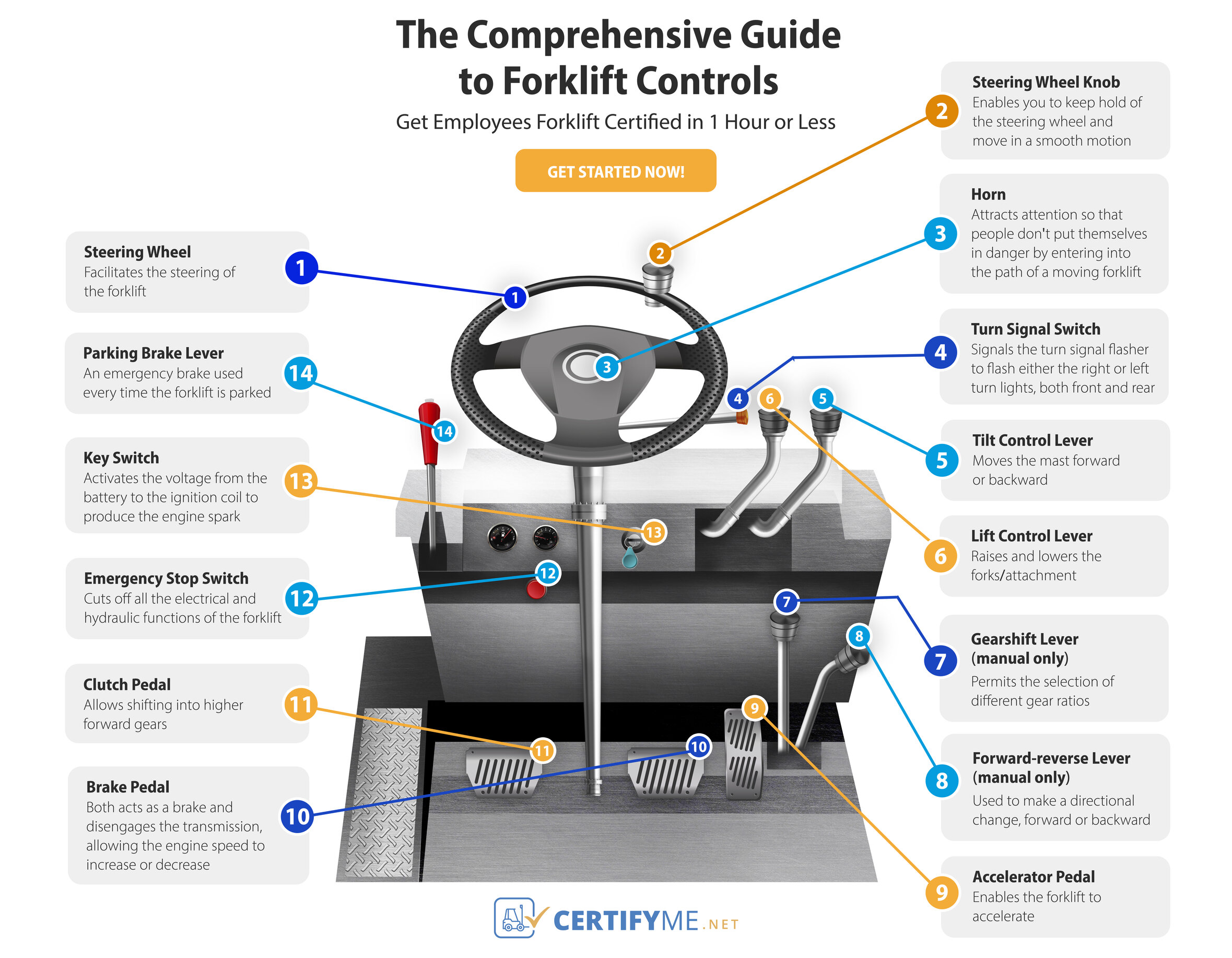 Before driving a forklift, you should always consult the manufacturer's operation manual to familiarize yourself with the control system, including:
Forklift control panel – gauges, instruments, etc.

Forklift standup controls – unique control mechanisms for standup configuration lifts

Safety controls – backup lights, alarms, etc.

Forklift speed control system – throttle, acceleration, brakes, parking brake, etc.
OSHA requires every operator to have a basic understanding of all forklift controls, including forward & reverse controls, parking brake, and pedals. Here's a general overview of a forklift's controls. Keep in mind, the location of these controls can differ, depending on the type of forklift or position of the driver (stand up, sit down, hand controlled, motorized pallet jack, etc.):
Direction control lever or steering wheel

Horn button

Light on / off switch

Lift and tilt levers (for the forks)

Ignition switch

Acceleration and brake pedals

Parking brake pedal / release lever

Gauge cluster (speedometer, battery lift, oil level, maintenance reminders, etc.)
Once you've mastered the hydraulic controls, you should also get a good grip (literally) on the steering system. When learned in tandem with the forklift speed control system, it's easier to safely operate any forklift. Speaking of the speed controls, many lifts come equipped with a third pedal. Aside from the standard acceleration and brake pedals, this is called the inching brake. The inching brake allows precise control of the lift speed without impacting the forklift drive.
The forklift instruments are another important control – or rather, control status indicator. From the temperature gauge light to warning symbols to the main instrument panel, the forklift instruments help with basic forklift controls. The OSHA Powered Industrial Trucks e-Tool resource page has a wealth of information on typical forklift instrumentation layout, recommended actions, requirements, and more.
For a thorough overview of forklift controls, we recommend the OSHA e-Tool page for powered industrial truck controls. This information is recommended for any driver looking to learn more about general forklift control panels.
Basic Forklift Controls FAQs
How Do You Use Forklift Control Levers?
A forklift typically has two levers: one to control the height of the forks and another to control their tilts. To understand how to properly use forklift control levers, it is paramount for a lift operator to complete an OSHA training program. This ensures that a lift operator is familiar with forklift controls levers and can use them to safely maneuver a lift into tight spaces, use the machine to pick up heavy objects when using rough terrain forklift controls, and more.
What Are Forklift Pedals?
There are three types of forklift pedals: accelerator, brake, and clutch. A typical forklift has all three pedals present, but there are exceptions.
For instance, some forklifts have an inching pedal that is used to disengage the lift's transmission and slow down the machine or bring it to a complete stop. Meanwhile, hydrostatic forklifts have two accelerator pedals that serve as directional controls.
Stand Up Forklift Controls Vs. Sit Down Forklift Controls
A lot of our customers want to know the main distinctions between forklift controls on a stand up lift as opposed to a typical sit down lift. Stand up forklift controls are designed to do the same exact functions as a traditional sit down forklift – control direction, acceleration, fork height, and more. The only main difference is that stand up forklift controls have the knobs, gauges and other mechanisms readily accessible for a driver in the upright position. In a nutshell, the only difference between stand up forklift controls and other forklifts is the location of the controls!
What Are Directional Controls?
forklift's directional controls help move the lift forward and backward. There are three forklift directional controls: park, drive, and reverse. Directional controls can be mounted to a lift's steering column. Or, they may be placed in a position where an operator controls them with their foot.    
What Is a Hydraulic Lift Mechanism?
Like directional controls, the hydraulic lift mechanism plays a key role in the functionality of a forklift. The hydraulic lift mechanism ensures that a lift can be used to raise or lower loads.

CertifyMe: In Control of Your OSHA Compliant Safety Program
The most important "forklift control" of all is (of course) the operator. Without OSHA approved forklift training and certification, your company is liable for heavy fines and penalties in the event of a post-accident investigation or audit. 
Ensure you're covered – and 100% OSHA compliant – with CertifyMe.net. Our affordable, accessible training courses cover all the basics of proper forklift operation, including stand up forklift controls, sit down forklift controls, forklift pedals, advanced safety concepts and more. Our courses cover the following classes of powered industrial trucks:
Class 1:

Electric Motor

Rider Trucks

Class 2: Electric Motor

Narrow Aisle

Trucks 

Class 3: Electric Motor Hand or Hand/Rider Trucks

Class 4: Internal Combustion Engine Trucks – Cushion (Solid) Tires

Class 5: Internal Combustion Engine Trucks – Pneumatic Tires

Class 6:

Rough Terrain

Forklift Trucks

Class 7: Electric and Internal Combustion Engine Tractors
CertifyMe.net has training courses for these forklifts, along with a Qualified Trainer/Evaluator Certification class. With seven different classifications of forklifts, it's easy to see how basic forklift controls can get confusing. Forklift controls are important for safety on the job. On a related note, here's a question to ask yourself: are you controlling your forklift training, or are your compliance issues controlling you?
Regain control of our company's safety program with CertifyMe.net. We'll get all of your forklift drivers compliant, all at a great price. What's more, we offer 3-year renewal training for all our clients. See the difference an OSHA compliant, expert-level training partner can make – contact CertifyMe.net today and take care of your training needs! If you have any additional questions about forklift controls or our safety training and certification programs, give us a call today at 1-888-699-4800. Thanks for visiting CertifyMe.net!
Welcome to CertifyMe.net
CertifyMe.net has offered online forklift certification since 1999. With Our Convenient online program. your employess can earn their certification in an hour or less.
Browse Online Certifications:
This low-cost program can be compeleted anytime, anywhere!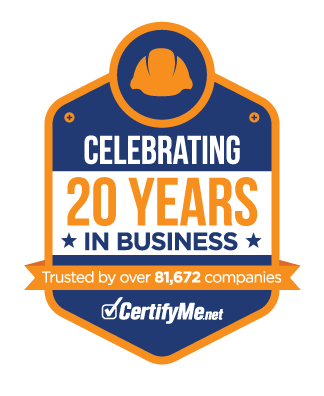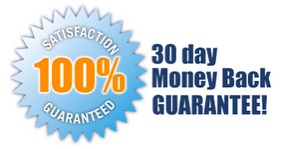 Connect with Us


Get Started Now By Registering Your Company For Free!
FREE 3 Year Renewals
Instant Access 24/7
Print Your Proof of Training
OSHA Accepted Nationwide
*If you are an individual not currently employed by a company use your personal name in
the 'Company Name' field.