Limited Time Offer! Free Covid-19 safety course with purchase of any Forklift or Aerial Lift Certification!
Access your free Covid-19 safety course in your members area once you have completed your purchase.

Forklift Apps You Need to Know About
Posted by: admin on December 3, 2021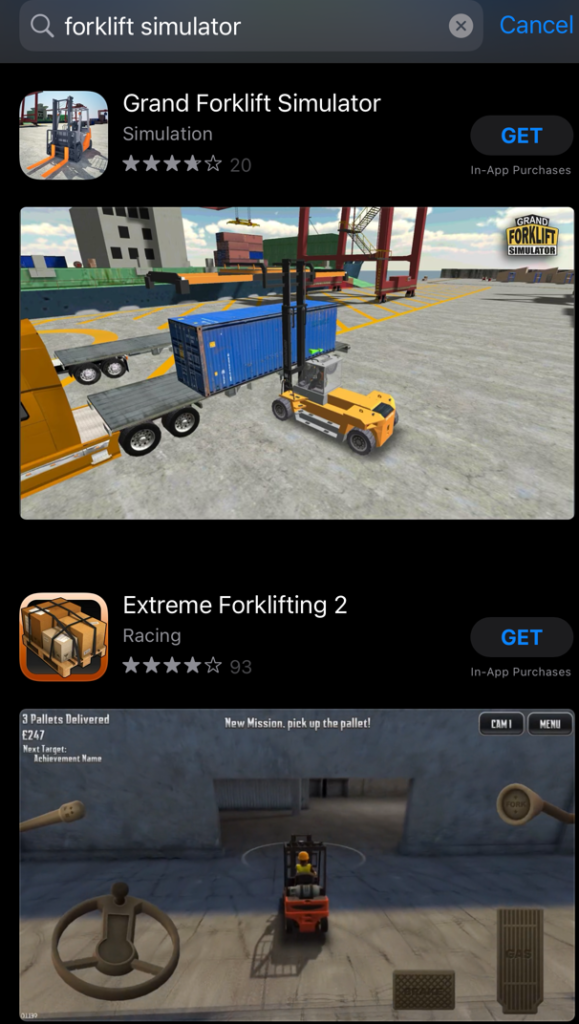 Type "forklift" into the search box for either Google Play or the Apple App Store and you will be rewarded mostly with games. There's nothing wrong with the forklift game apps, and the selection is growing all the time. You could sit through an entire rom-com while deciding which version of "Extreme Forklifting" you like best.
Spotlight on Forklift Apps: Simulators
Forklift simulators gamify the work lift operators do on a daily basis. Try your hand at materials handling from the comfort of your sofa. Forklift apps like Forklift City Construction and Forklift Simulator Extreme might sound silly at first, but they offer unique, fun insight into the daily duties of a lift driver. Playing these games is a great way to imagine yourself on the job and discover how you might handle many of the most common types of forklift challenges. They offer a fun, stress-relieving preview of what it's really like to work in an industrial setting. 
Forklift Inspection Apps
One of the most useful varieties of forklift apps is the inspection tool. These apps use ready-made templates to enable in-depth forklift inspections. All you need for your daily equipment inspection is a mobile device with a functioning camera. You can complete the checklist on your phone, save it to your device, and generate a PDF version to be shared with colleagues. You can sync across devices, alert co-workers to issues, and collect important data about your lifts. We're fans of the version offered by Snappii, but there is no shortage of this kind of forklift inspection app available on the market.
Looking for the Perfect Forklift App? Start with CertifyMe.net Today!
CertifyMe.net has a cool virtual reality forklift app that's ideal for everyone from new drivers to experienced lift operators looking to sharpen their skills. Check out a user-friendly forklift app with built-in virtual reality experiences today!
Immersive virtual reality tools like our app can be a real boon to those learning to operate forklifts for the first time. Users try out the practical tasks that lift operators perform daily with none of the safety risks. It's an excellent way to beef up your skills and knowledge ahead of the official certification process. That's the real beauty of forklift apps like the one offered by CertifyMe – how else can you conveniently practice your lift operating skills from the comfort of home?
How can you keep up with the ever-increasing assortment of forklift checklist apps and other training content? Check out Google Play or the Apple Store regularly, as everyone from manufacturers and suppliers are adding to the forklift app library every day! With so many forklift apps to pick from, navigating the brave new world of tech-friendly forklift inspection apps, forklift checklist apps can be as tough as driving a rough terrain forklift through a small warehouse – and that's definitely not recommended – by us or OSHA.

Get the Best OSHA Compliant Training Today with CertifyMe.net
Forklift apps only take you so far, in terms of safety training. Your company needs to be compliant, and that won't happen simply by having your employees download forklift checklist apps or forklift inspection apps.
Sure, when you feel like window-shopping for a new forklift app or two, don't forget to check your smartphone. Remember, while using a forklift app doesn't require training, operating a real forklift does! Don't forget to always stay up to date with your forklift training with CertifyMe.net.
Click here to register your company today and ensure your employees are OSHA compliant. For questions about safety training, OSHA compliance and more, give our forklift training experts a call at 1-888-699-4800, or visit our contact page to drop us a line.
Welcome to CertifyMe.net
CertifyMe.net has offered online forklift certification since 1999. With Our Convenient online program. your employess can earn their certification in an hour or less.
Browse Online Certifications:
This low-cost program can be compeleted anytime, anywhere!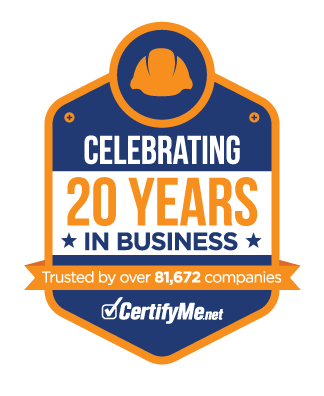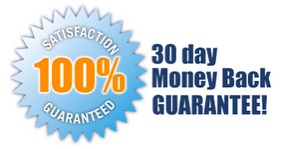 Connect with Us


Get Started Now By Registering Your Company For Free!
FREE 3 Year Renewals
Instant Access 24/7
Print Your Proof of Training
OSHA Accepted Nationwide
*If you are an individual not currently employed by a company use your personal name in
the 'Company Name' field.