Why Consider Moving and Replacing Pallet Racks
Posted by: admin on February 26, 2019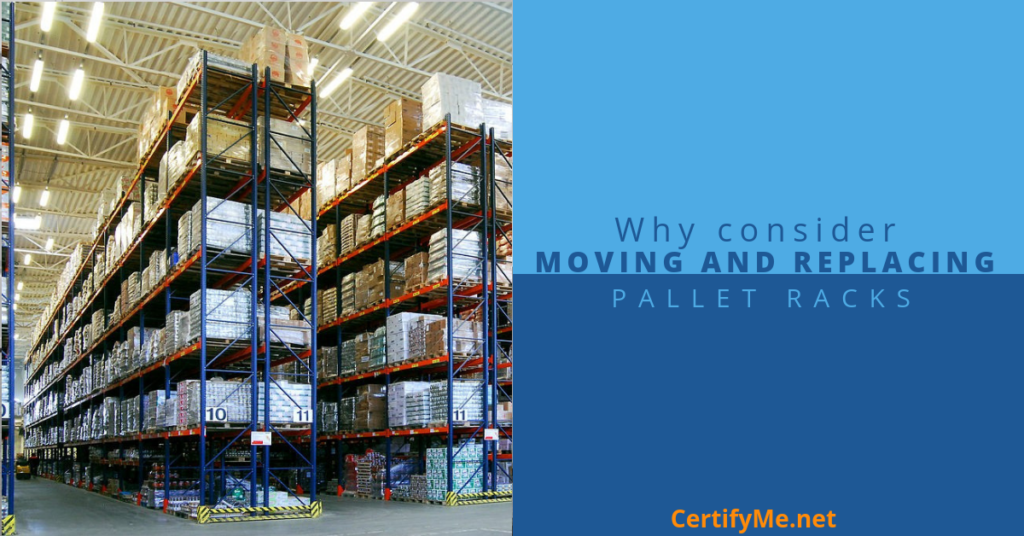 For more than 70 years, pallet racks have provided an affordable and sturdy storage solution for warehouses, retail centers, and other companies. Pallet racking is durable and safe to use. It makes it easy access to stored goods.  It helps organize and keep inventory out of harm's way.
Pallet racking may be sturdy and durable, but it isn't immune to damage. It doesn't take much of a bump from a heavy forklift to render a pallet rack unsafe to use. Minor damage can often be repaired. In many cases, it's safer and cheaper to invest in new racking. Other reasons for replacing your pallet racking include:
Keeping up with industry regulations. New regulations may require an upgrade to your racking system. Or your system has been out of compliance for a while and you want to bring it up to code.
Moving to a bigger warehouse. When your business grows, adding more racking isn't the answer if you don't have the space. Moving to a new location is a good time to replace old racking and get a new system tailored to your warehouse.
Not a good fit with new equipment. Have you recently invested in new forklifts or other lifting equipment? If so, their capabilities may exceed what your current racking can handle. New pallet racks can allow you to increase your vertical space and use your loading equipment to its fullest.
Change in products stored. The size, shape, and weight of the items in your warehouse determine the type of pallet racking needed. When those undergo a major change, you may need to rerack your warehouse. For example, adding large, bulky items to a mostly small-item inventory may create the need to different racking capabilities.
The Benefits of New Racking
Replacing your racking offers many opportunities for improvement. The older your racking system, the more a new one can benefit your business.
Optimize storage space. When inventory exceeds storage capacity, you have many options. You can rent another warehouse. You can move to a larger warehouse. You can reduce inventory. Or you can invest in new pallet racking to keep up with your growing inventory needs. of these, new racking is the easiest and most cost-effective solution. New racking is especially good at making the most of vertical storage space.
Easier inventory. New shelving units make it easier to access pallets when taking spot or monthly inventories. With new pallet rack shelving, moving one pallet out of the way makes it easy to see what's behind it. Using shelving with wire decking or similar options can allow you to conduct a visual inventory without moving any pallets.
Improve efficiency. Replacing your pallet racking is a good time to look at redesigning your warehouse racking and workflow. This is especially true if it's been years since your last racking update. Adding techniques like double deep racking and mezzanine flooring can further improve the effectiveness of your racking.
Improve safety. A warehouse work site takes a toll on pallet racks. Careless forklift drivers and constant movement of pallets can easily damage your racking, presenting safety concerns for everyone on the floor. New racking removes any hazards caused by old or damaged racking.
Keep in mind that if your pallet racks are in good shape, you can sell them on the market. This will help defray some of the cost of replacing them.
Moving Your Pallets
One advantage of racking pallets is their mobility. Just because you have them set up a certain way doesn't mean they have to stay that way. Pallet racks aren't easy to move. But it can be done when business needs dictate a change in your warehouse. Other common reasons for moving pallet racks include:
Improve productivity and efficiency. Racking systems are often installed without much thought given to design or space usage. This can be a real problem for companies that grow quickly or expand into different product areas. When used with a professional space designer, moving your racking can significantly increase storage space and ease of workflow. Workers can get more done in less time because the racking system is easier to use.
Structural changes. Suppose your flooring is old and falling apart. Or maybe you're revamping lighting, ventilation or other major structural components. If your racking is in good shape, it may be cheaper and easier to move the pallet racks rather than invest in a new system.
Cleaning the warehouse. Cleaning a warehouse rarely requires moving an entire pallet rack system. But what if you start storing perishable items? Or maybe another company is looking to buy the business. You many need to move racks to get some areas as clean as they need to be.
Do your pallet racks get damaged more often than they should? You can limit the damage due to forklifts by training and certifying your forklift drivers at CertifyMe.net.
5 EASY STEPS!
Follow step-by-step instructions to get OSHA compliant!
This low-cost program can be completed anytime, anywhere!



Get Started Now By Registering Your Company For Free!
FREE 3 Year Renewals
Instant Access 24/7
Print Your Proof of Training
OSHA Accepted Nationwide
*If you are an individual not currently employed by a company use your personal name in
the 'Company Name' field.