Limited Time Offer! Free Covid-19 safety course with purchase of any Forklift or Aerial Lift Certification!
Access your free Covid-19 safety course in your members area once you have completed your purchase.

Worst Forklift Fails
Posted by: admin on July 23, 2014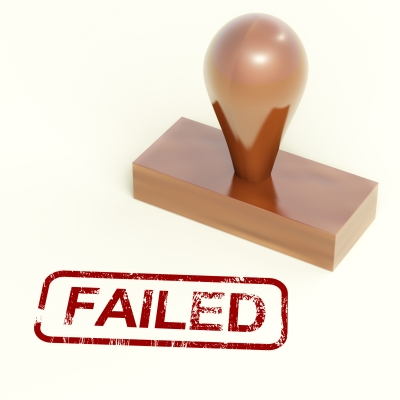 Forklift accidents happen — and they put a forklift operator and others at risk. Yet, the worst forklift accidents are in a category all their own: forklift fails.
Worst Forklift Accidents: 4 Can't-Miss Forklift Fails
Forklift fails can happen anywhere, at any time. Now, let's look at four forklift fails you need to see to believe.
1. Forklift Operator Inadvertently Plays Warehouse Dominoes
Recently, a warehouse forklift operator veered off course and bumped a shelving unit when traveling between aisles. The result: a cascade of boxes fell, leading to an epic warehouse fail.
Forklifts are common in warehouses, and they may be driven between aisles to transport boxes from one location to another. However, operating a forklift requires skill and precision. As this forklift fail shows, if a forklift operator veers off course, the consequences can be severe.
2. Forklift Operator Empties a Pond
A forklift operator driving in a parking lot was backing up his vehicle and struck a pond. This caused the pond to collapse, and all of its water emptied into the parking lot.
The lesson from this forklift fail: forklift operators must know their surroundings — otherwise, they risk costly (and sometimes wet) accidents.
3. Forklift Operator Removes a Van Door
Using a forklift to remove a pallet from a moving van should be simple, particularly if an experienced operator is behind the wheel. But, even a small forklift mistake can cause a big problem, particularly when the operator strikes the van's door and causes it to come off the vehicle.
Damage from a forklift fail can range in terms of severity. In this particular forklift fail, the cost was a lost van door — something that may have been avoided if the operator worked slowly and cautiously.
4. Forklift Operator Lets Pallet Come Crashing Down
A warehouse forklift operator secured a pallet — or may have thought the pallet was secure. As the operator tried to move the pallet down off a high shelf, all of the pallet's items came crashing down.
The key takeaway from this forklift fail: it may seem simple, but listening can help a forklift operator avoid accidents. Perhaps if the operator in this forklift accident had listened to his coworkers (who were telling the operator not to lift the pallet), the aforementioned accident could have been avoided.
How Can You Avoid Forklift Fails?
The worst forklift accidents are often avoidable. Some of the best ways to prevent forklift fails include:
1. Sign Up for Forklift Safety Training
OSHA requires forklift operators to undergo training every three years. The training can usually be completed in about one hour, and it teaches workers how to safely operate a forklift.
Along with OSHA forklift safety training, businesses can offer refresher safety courses to workers. These courses may be provided every 12 or 18 months and enable workers to stay up to date on various safety topics. They also encourage workers to share their forklift operation concerns and partner with one another to bolster workplace safety.
2. Establish an Organized Workspace
A clean, organized workspace can make a world of difference relative to forklift safety. It ensures that forklift operators have clear lanes to drive their vehicles. Plus, the workspace helps limit the risk that forklift operators will travel over debris that otherwise can lead to accidents.
Ensure a workspace is neat and tidy. The workspace should make it easy for forklift operators to get where they need to go without delay.
Furthermore, a workspace should be well-lit. If forklift operators can see where they are going, they can avoid accidents due to an inability to see in a dark or dim workspace.
3. Maintain Your Forklifts
Forklift safety inspections are crucial. These inspections allow a business to assess its forklifts and ensure they are working properly. Best of all, safety inspections enable a business to address forklift issues that otherwise may contribute to accidents.
Ultimately, workers should check a forklift for leaks before they begin to use the machine. They should also assess the forklift's tire pressure and perform a visual inspection of the machine's engine belts, hoses, and fork mechanism.
If a worker identifies any forklift issues during an inspection, these problems must be addressed immediately. Moreover, any forklift repairs should be completed by a qualified mechanic.
Worried About Becoming the Worst Forklift Driver? Make Forklift Safety a Top Priority
Even the worst forklift driver can learn from past mistakes. So, if you are concerned about your workers becoming future stars of forklift fails videos, you can take steps to help them become exceptional forklift operators. One of the best ways to do just that: offer forklift safety training.
Forklift safety training is beneficial for a number of reasons. First, the training teaches workers how to operate a forklift safely and efficiently. At the same time, the training ensures workers can comply with OSHA requirements.
Remember, the more you promote forklift safety, the more likely it becomes that your workers can avoid forklift fails. And as you foster a safe work environment, you can reap the benefits of workers who know how to use a forklift without putting themselves or others in danger.
Sign Up for Forklift Safety Training from CertifyMe.net
CertifyMe.net has been a leader in forklift certification for more than two decades. We offer a variety of OSHA-compliant forklift safety courses, so your workers can become expert forklift operators.
With our courses, your workers can gain the insights they need to limit forklift accidents now and in the future. To learn more about our forklift safety courses, please contact us online or call us today at 1-888-699-4800.
Welcome to CertifyMe.net
CertifyMe.net has offered online forklift certification since 1999. With Our Convenient online program. your employess can earn their certification in an hour or less.
Browse Online Certifications:
This low-cost program can be compeleted anytime, anywhere!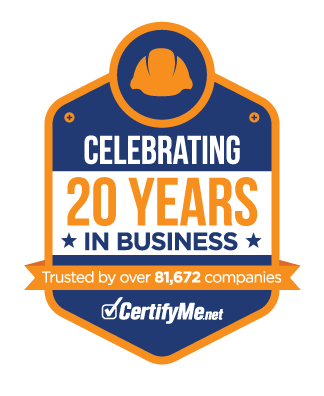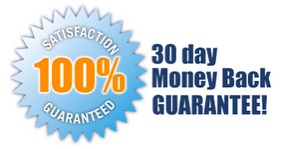 Connect with Us


Get Started Now By Registering Your Company For Free!
FREE 3 Year Renewals
Instant Access 24/7
Print Your Proof of Training
OSHA Accepted Nationwide
*If you are an individual not currently employed by a company use your personal name in
the 'Company Name' field.