Limited Time Offer! Free Covid-19 safety course with purchase of any Forklift or Aerial Lift Certification!
Access your free Covid-19 safety course in your members area once you have completed your purchase.

Shocking New Study Reveals High Cost of OSHA Fines, Surprise Audits and How to Avoid Them
Results set the stage for 2019 trends; a survey of 100 businesses uncovers massive fines due to non-compliance, increased enforcement and a high demand for annual certification renewals.
CertifyMe.net, the nationwide leader in safety training and certification, recently conducted a study with over 100 managers, supervisors, and general safety personnel on a wide variety of safety issues. This extensive research focused on facilities with regularly operating heavy machinery – including powered industrial trucks.
The research involved interviews, workplace safety studies, and other data-rich sourcing methods. As a regular training provider for U.S. companies CertifyMe.net wanted a more comprehensive look into how OSHA safety violations happen so frequently – and what can be done to raise awareness about more forklift certification.
Given the considerable OSHA experience at CertifyMe.net – Tom Wilkerson, President & CEO, founded the company based on his own training experiences and work background – they were able to pinpoint the tangible issues and challenges that face companies with powered industrial truck fleets.
The study, revealed now for the first time, includes data about:
Certification programs
Re-certification and refresher training
OSHA audits
Fines and violations levied by OSHA
Machine safety and operability
General safety awareness in various industrial environments
Mr. Wilkerson said the study sheds much-needed light on the importance of safety in the workplace, particularly as it relates to industrial job sites, factories, and other facilities that use forklifts.
"Our research offered some surprising data, to be sure," said Mr. Wilkerson. "For one, our company exists to help more companies and individual workers achieve OSHA compliance. We have clients all across the country, and there are still significant issues with training and safety. This suggests that, regardless of how much safety is talked about, there are far too many noncompliance safety issues – which ultimately leads to accidents and injuries."
Outsourced Safety Assistance – A Remedy for Noncompliance?
One key question the CertifyMe.net safety research initiative asked was: How many companies had a valid safety training and certification program in place for forklift operation? In theory, it should be 100%. In practice, not even close. Many supervisors and safety managers lack the required resources to have an in-hours forklift training certification system.
Less than one-quarter of surveyed companies had a certification program: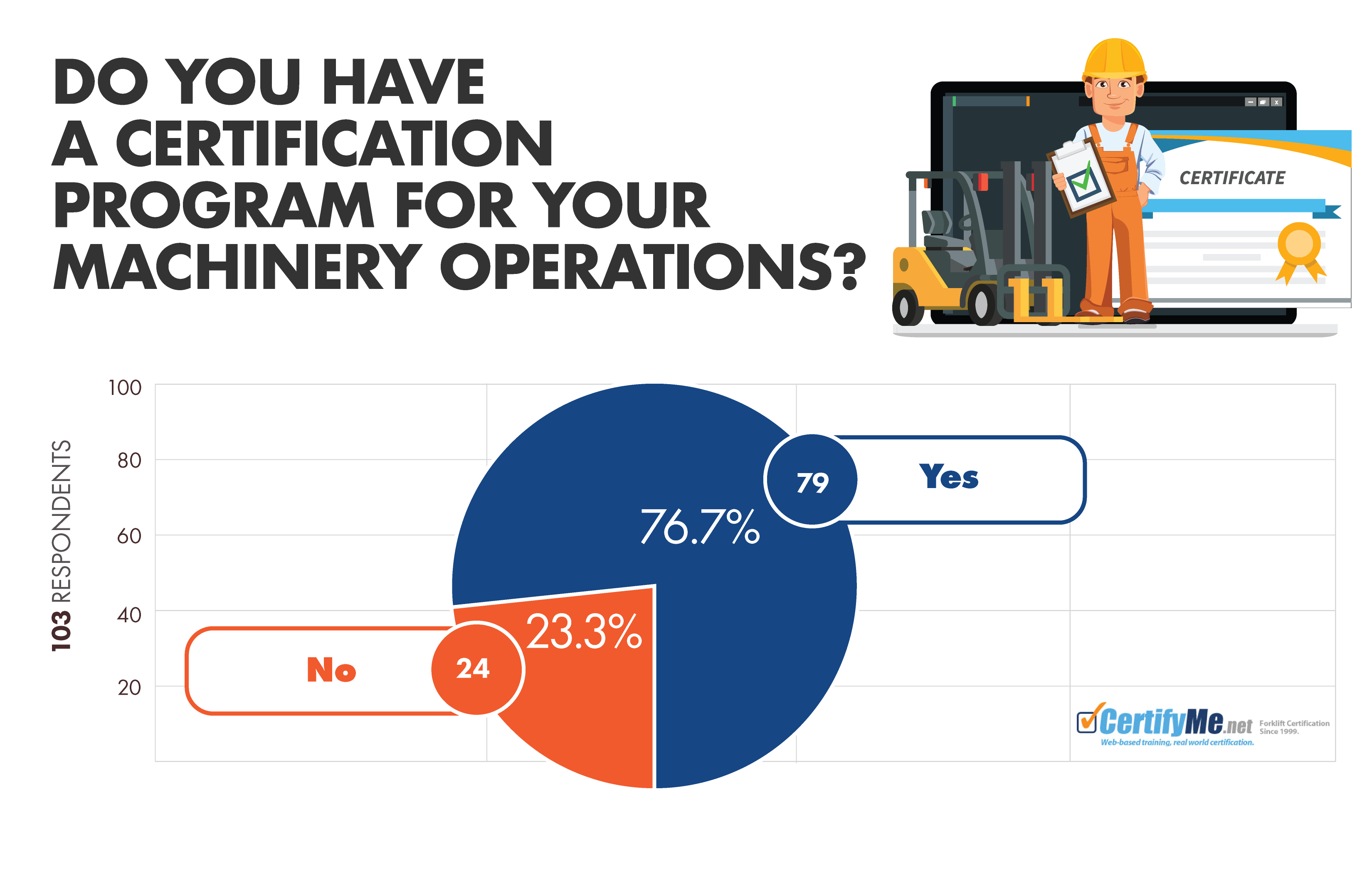 Additionally, many firms using heavy equipment and powered industrial trucks didn't have a firm grasp on the renewal and retraining process: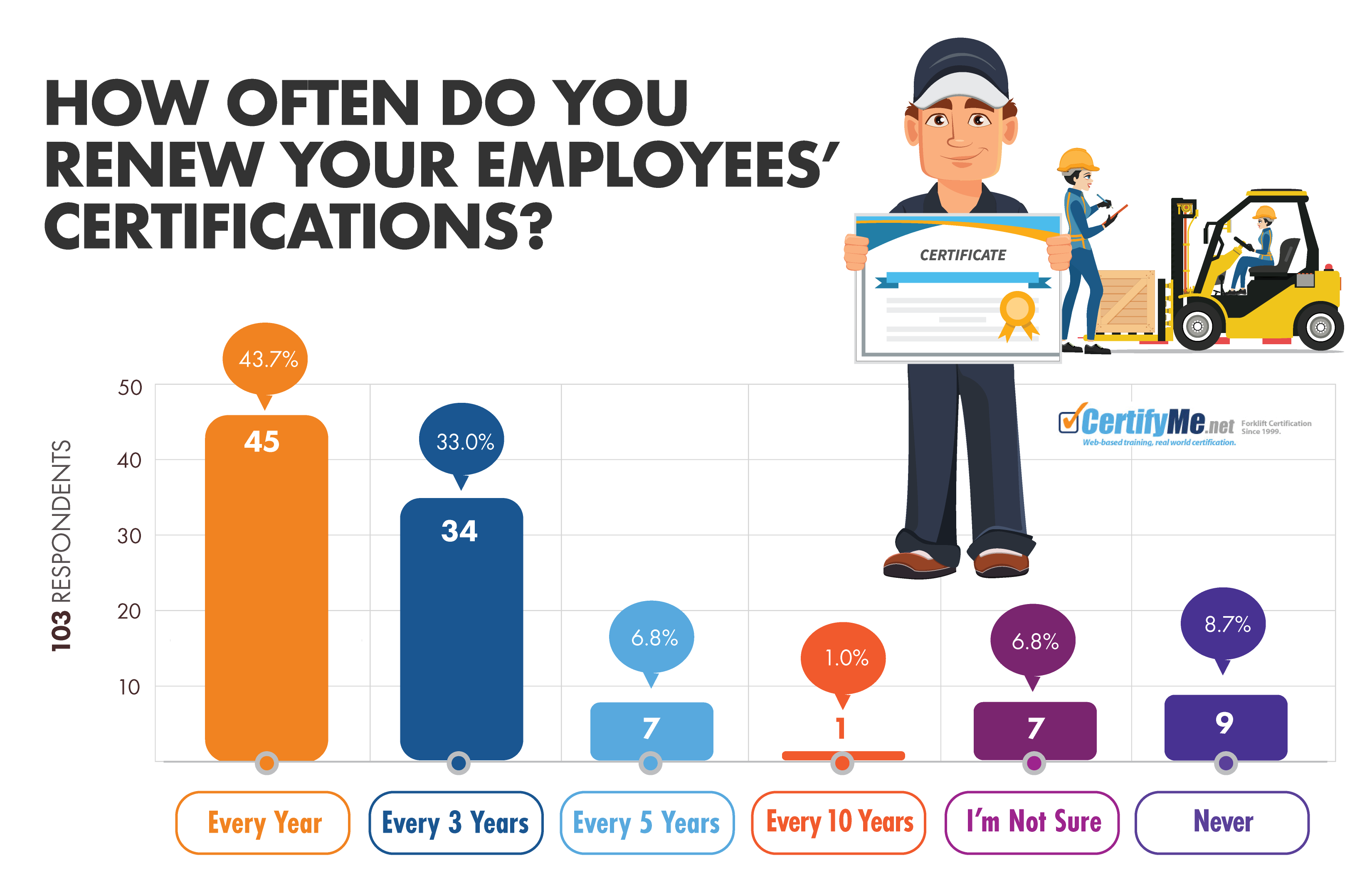 The abysmally low figures for both certification programs and renewal instruction signify a lack of understanding regarding OSHA rules and guidelines. "Since OSHA conducts literally thousands of audits every year, it's surprising that so many companies are willing to roll the dice with their safety programs," said Mr. Wilkerson. "Changing the 'this can never happen to me' attitude is apparently much tougher than we expected. One way to turn around these figures is to conduct regular checkups of your company's training practices and protocols – it can literally become a life or death situation, and it's always best to err on the side of caution."
OSHA sometimes conducts "surprise audits," where the organization simply inspects a given company's safety plan. Accidents, injuries, or any near-miss incidents involving forklifts or pallet jacks aren't required for a surprise audit. CertifyMe.net found that nearly half of all companies in their study went through an OSHA safety plan audit: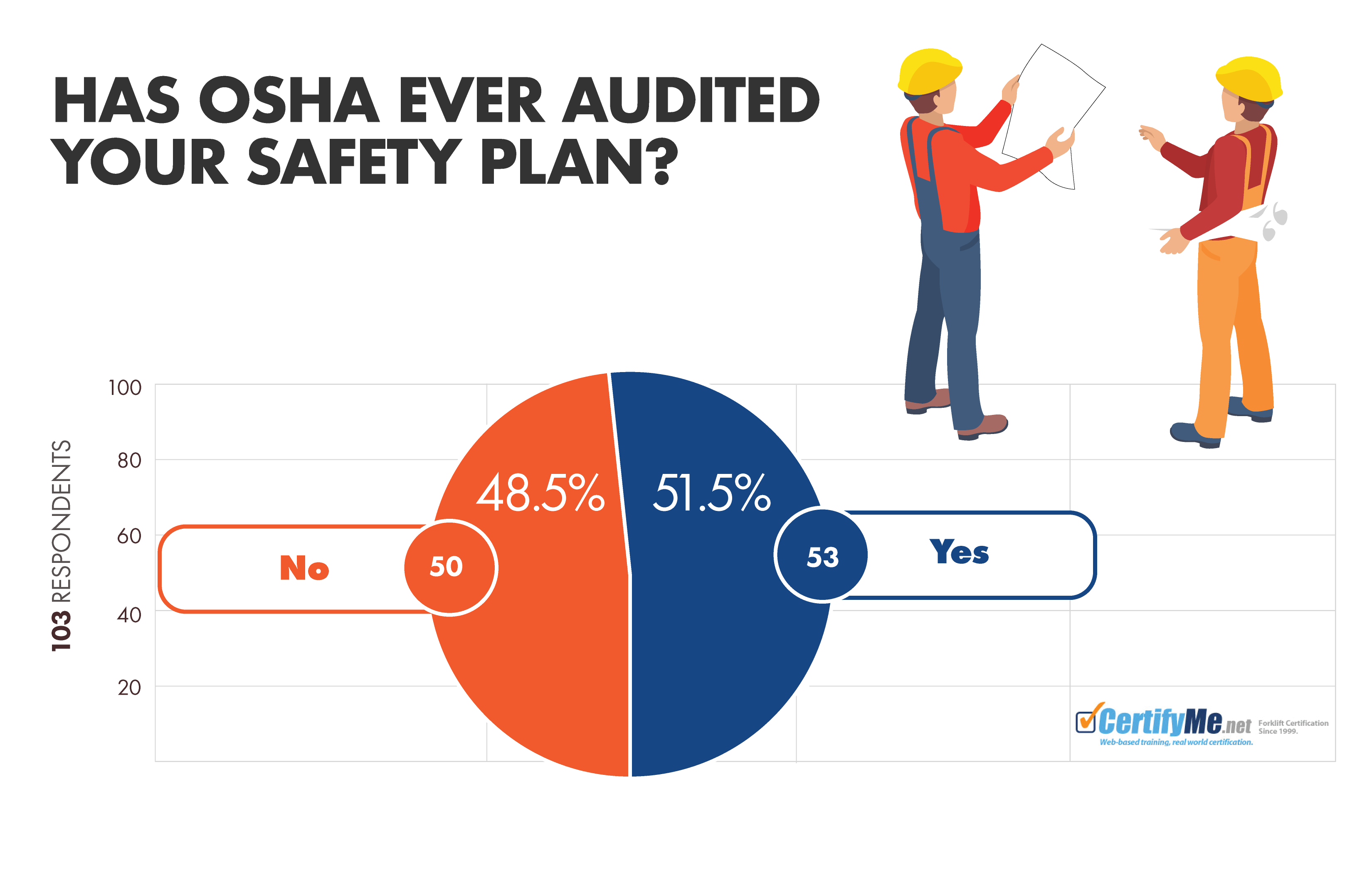 "This is part of the equation that didn't add up, from a safety perspective," noted Mr. Wilkerson. "From my days in the workforce, I was always aware that OSHA audits were common. 50 of the 103 firms we looked at acknowledged a previous OSHA audit, yet only about 25% of these firms were up to speed with their training and certification programs. Do you really want the fines and penalties associated with audit findings? That's one question every safety supervisor needs to ask."
Many employers aren't aware of how much OSHA can fine their company (roughly 44% of surveyed companies didn't know), which may explain why protocols and certification programs weren't actively pursued. Many fines are in excess of $12,000, while some are over $100,000.
The frequency of OSHA fines offers fascinating insight into just how common severe financial penalties are. Nearly 1 in 5 companies were fined by OSHA: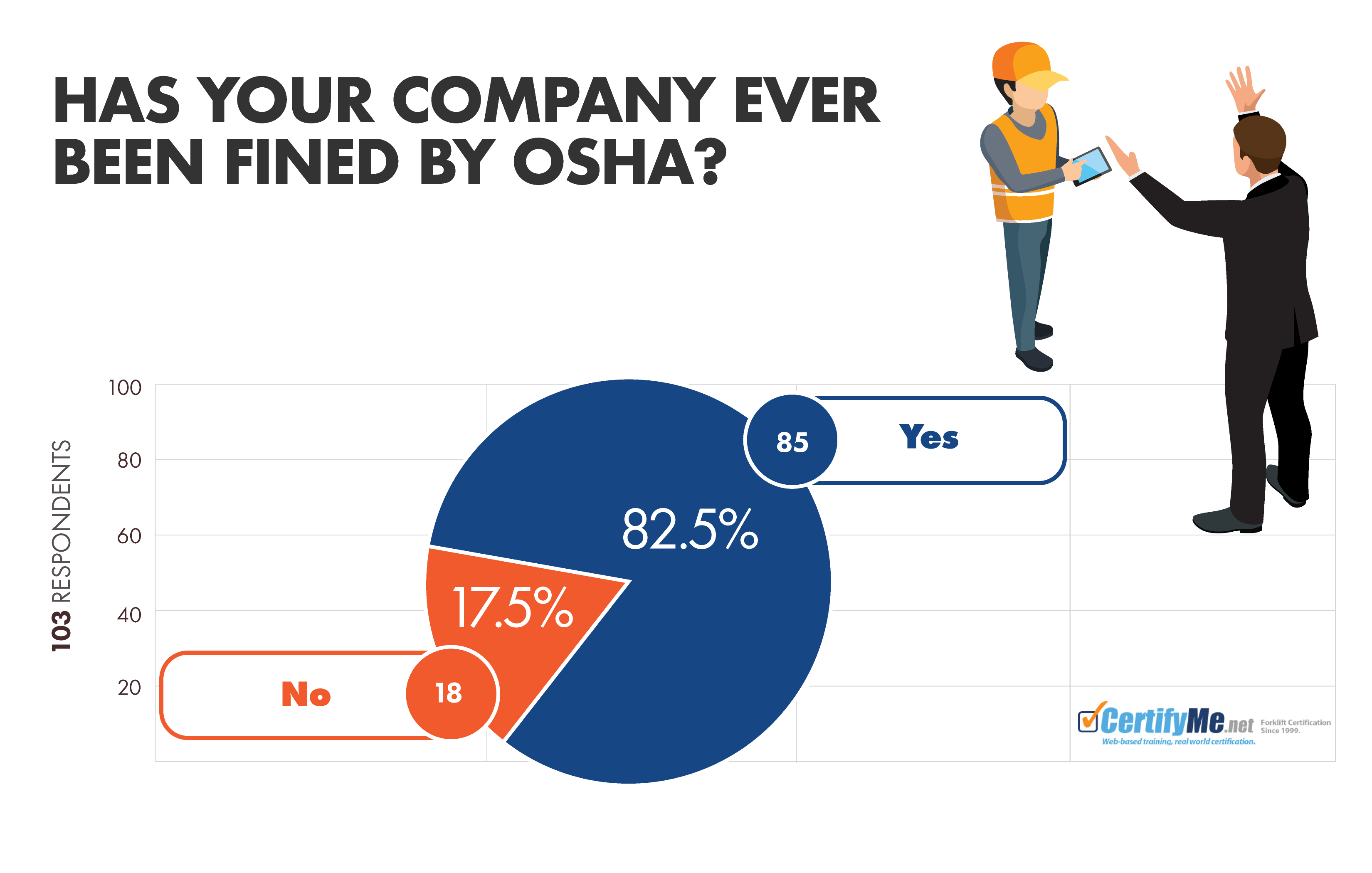 Of the 18 companies fined by OSHA, almost half of those firms were levied fines exceeding $100,000: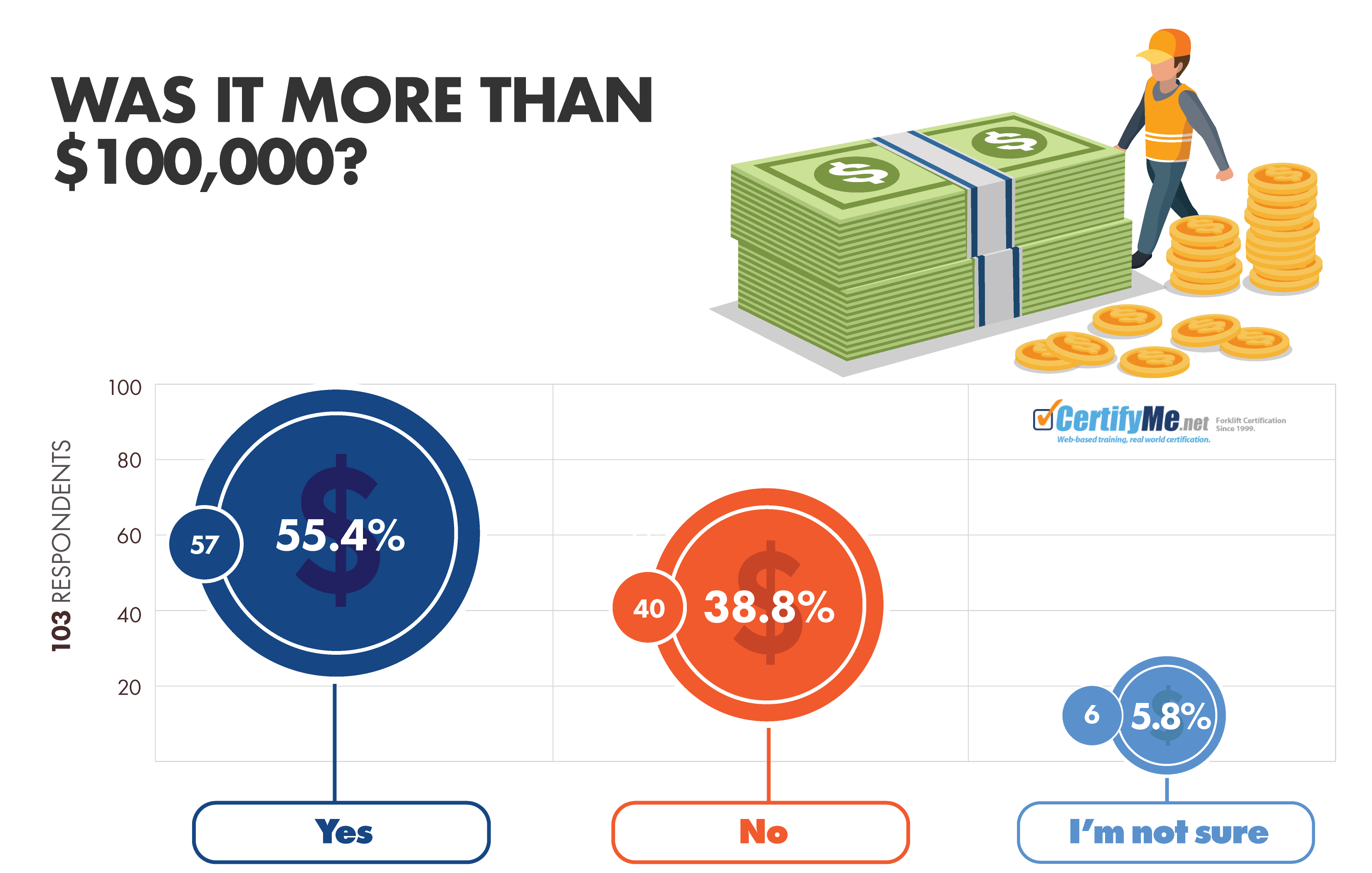 OSHA fines for "willful or repeat violations" are over $100,000, which means that some companies failed to satisfy previous audit requirements. What's more, more than 20% of companies in the CertifyMe.net research were less than "very sure" that their machinery operations would pass an OSHA audit: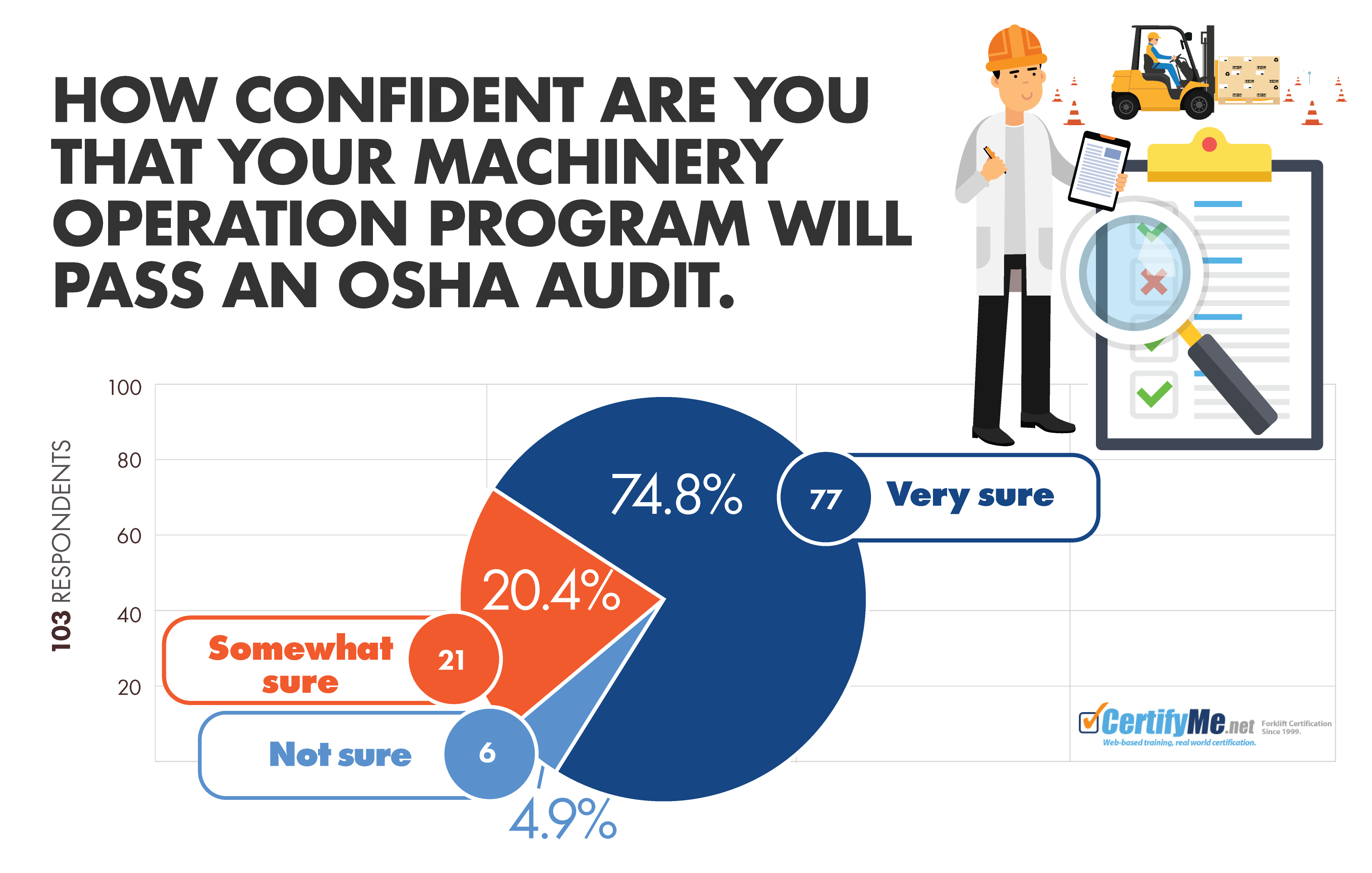 The study's findings revealed a lack of awareness about OSHA rules and regulations, including the considerable impact of costly OSHA fines and penalties.
Steps your company can take to improve safety and be prepared for OSHA inspections and audits include:
Conduct an immediate internal investigation regarding OSHA awareness, safety training records, and anything related to powered industrial truck fleets.

Sign up for OSHA compliant forklift training.

"This is perhaps the most critical step for companies to take right now," said Mr. Wilkerson. "All it takes is one or two fines over $100,000 to impact your operations for years or decades to come."
Establish a forklift maintenance program. It's required by OSHA, yet many firms ignore this ultra-important element of powered industrial truck safety.
Keep thorough records. Assign workplace safety monitors, and ensure that all accidents or injuries – however minor – are recorded in workplace incident logs.
Get employees involved. Workplace safety is a team effort – all it takes is one weak link to cause accidents. This is true for any job, from white collar office employees to forklift drivers.
"Our research opened our eyes as to how much companies have to learn about safety and compliance," concluded Mr. Wilkerson. "Can you afford an accident or OSHA audit? Probably not, so it's a good idea to get compliant, if you haven't already."
For more information about CertifyMe.net, visit their website or call 1-888-699-4800.

Share this Image On Your Site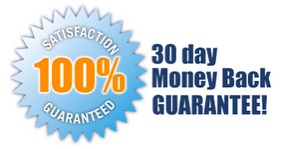 5 EASY STEPS!
Follow step-by-step instructions to get OSHA compliant!
This low-cost program can be completed anytime, anywhere!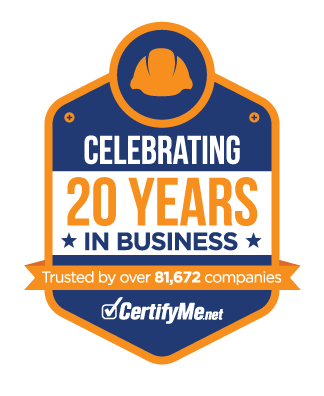 Get Started Now By Registering Your Company For Free!
FREE 3 Year Renewals
Instant Access 24/7
Print Your Proof of Training
OSHA Accepted Nationwide
*If you are an individual not currently employed by a company use your personal name in
the 'Company Name' field.