Do's and Don'ts of the Forklift Industry
Posted by: admin on August 13, 2015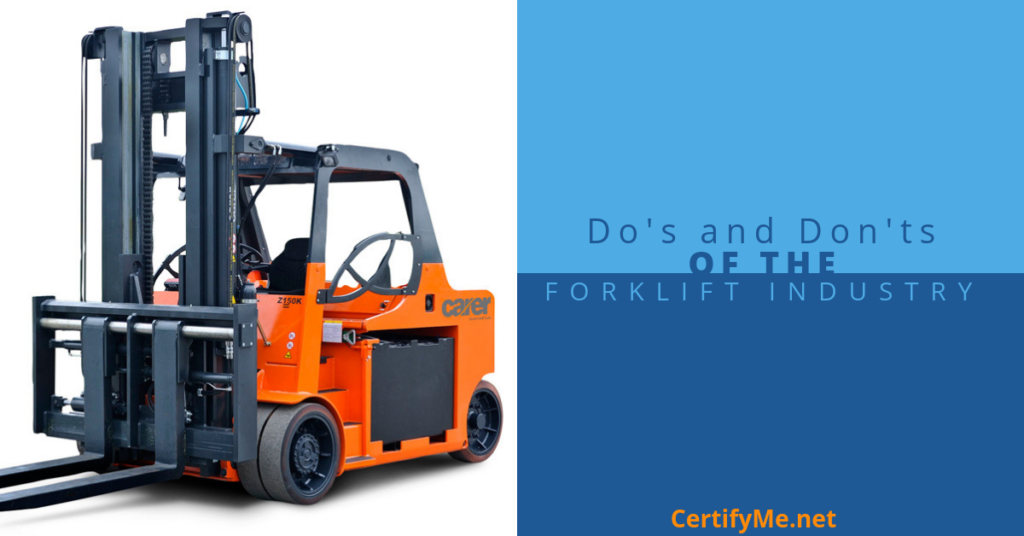 Workplace safety depends on a combination of factors. Attentive supervision helps. So does comprehensive training, with a keen eye toward OSHA rules & regulations. But at the end of the day, safety is ultimately determined by each individual.
And that means forklift drivers should act in the best interests of total job safety. Sure, performance matters, but safety is the most important part of day-to-day forklift driving.
One of the most important parts of safe forklift operation is training. Without proper instruction, operating powered industrial trucks (forklifts, pallet jacks, man lifts, etc.) is a dangerous undertaking. Accidents and injuries are bound to happen without a comprehensive training program in place – not to mention expensive OSHA fines and penalties.
Since we're talking about forklift do's and don'ts, here's a sure-fire do: ensure your training program is OSHA compliant. CertifyM.net, one of the most trusted online training solutions, is always ready with online training modules, affordable rates, and lifetime support. Sign up today and ensure greater workplace safety for everyone involved!
What To Do – And What Not To Do on a Forklift
Safe forklift driving is all about what to keep your eye on – and also, specific things to avoid. We've asked some of our forklift safety experts about certain do's and don'ts of the forklift industry, and this is what we came up with. Enjoy!
Forklift Do's: Safety Tips & Tricks for Drivers
Do ensure forklift load is secure, especially on inclines and other tricky surfaces. If you operate forklift outside, pay attention to the terrain conditions, especially when it's raining or snowing.
Do wear the correct clothing. If you're driving outdoors in the winter, hats, gloves & extra layers always help. Don't think you can brave the cold or harsh elements – a distracted forklift driver is more susceptible to accidents!
Do follow your company's safety guidelines. Established polices & procedures are in place for a reason. They work. CertifyMe.net has training modules to help your company create, maintain, and promote customized safety rules.
Do take your scheduled break. Fatigue is another big factor in workplace mishaps. Tired forklift drivers are more dangerous forklift drivers. It's all about avoiding distractions and keeping focus – see "correct clothing" above.
Do get a feel for your surroundings. If you're working in a new area, take a quick inventory of blind spots, entries & exits, pedestrian walkways and more. The great unknown is never a good place to operate a forklift.
Forklift Don'ts: What Not to Do on a Forklift
Now that you have a good idea of forklift do's, it's time to learn about some forklift don'ts. Our safety training modules help explain certain actions to avoid, what not to do on a forklift, and common sense measure to keep in mind when operating powered industrial trucks.
Don't skip forklift maintenance. Many accidents are the direct cause of poorly maintained lifts. Loose hoses, bald tires, non-working safety signals and more – when talking about forklift do's and don'ts, maintenance should be at the top of your list. And speaking of lists, keeping a well-documented checklist of forklift maintenance activities is a great way to ensure all safety checks are accounted for!
Don't forget your forklift certification renewal. If you're training credentials are about to expire, make sure you go through the correct protocol for the renewal certificate. With CertifyMe, it's super-simple!
Don't ignore spills, poor lighting and other hazards. Safe drivers always alert their co-workers and supervisors to potential pitfalls.
Don't think everything's a one-man job. Sometimes, having a spotter or "eyes in the back of your head" can help avoid accidents. The buddy system works! Many accidents have been caused by not using a spotter or other driver to help with heavy loads, blind spots, and other dangerous scenarios.
Don't be a follower. Proper safety requires leadership – the willing to speak out when you think something's wrong, and also going the extra mile. If you're serious about safety, take charge of the situation. Form a safety committee. Sign up for training. Be proactive!
A Definite "Do" for a Safer Workplace: Forklift Training from CertifyMe.net
If you're not sure about your company's current forklift certifications, DO contact CertifyMe.net ASAP. Our OSHA compliant training courses handle all aspects of your compliance and training, and it's easy to sign up today.
For the training aspect of proper forklift safety, CertifyMe.net has you covered. Our OSHA experts have created useful training courses that will make your workplace safer. And for managers, your workers will be up-to-date with the latest safety training available.
Non-compliance is simply a cost your company can't afford. Thanks to our online, 24/7 accessible training modules, your company will have complete, comprehensive safety measures in place. And in the event of a workplace accident, your training records from CertifyMe.net show your workers are properly trained. Plus, we also provide free lifetime renewal training.
DON'T delay any longer with any training or compliance gaps. It's against the law to have anyone operating a forklift or pallet jack without proper certification. Get your safety training program on track today. Our OSHA forklift experts can handle your questions now – just call (888) 699-4800. The CertifyMe contact page is another great place to get started, and you can always sign up today and get the ball rolling with a better, more complete safety program!
Thanks for reading the CertifyMe.net blog!
5 EASY STEPS!
Follow step-by-step instructions to get OSHA compliant!
This low-cost program can be completed anytime, anywhere!



Get Started Now By Registering Your Company For Free!
FREE 3 Year Renewals
Instant Access 24/7
Print Your Proof of Training
OSHA Accepted Nationwide
*If you are an individual not currently employed by a company use your personal name in
the 'Company Name' field.