Limited Time Offer! Free Covid-19 safety course with purchase of any Forklift or Aerial Lift Certification!
Access your free Covid-19 safety course in your members area once you have completed your purchase.

How Forklift Lights Impact Safety On the Job
Posted by: admin on January 19, 2022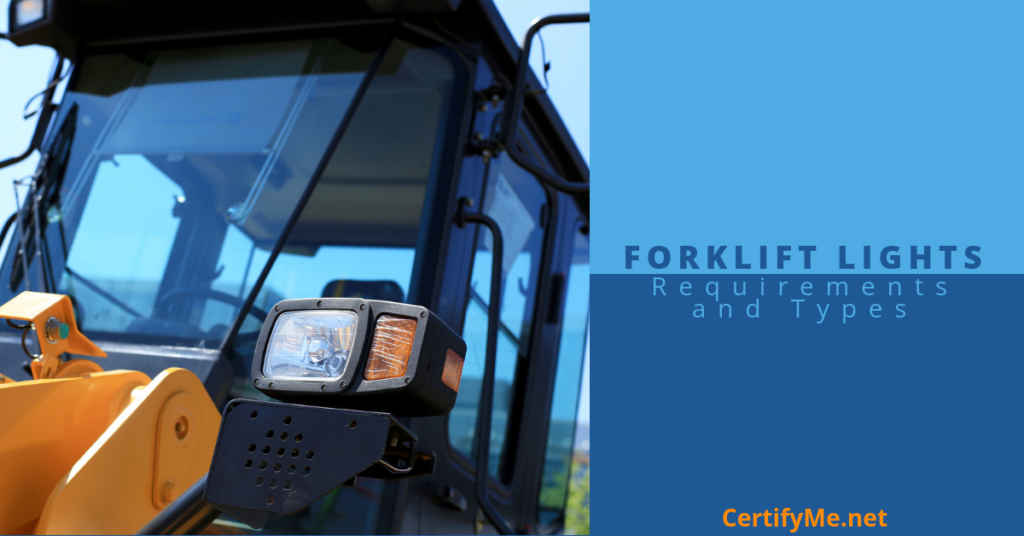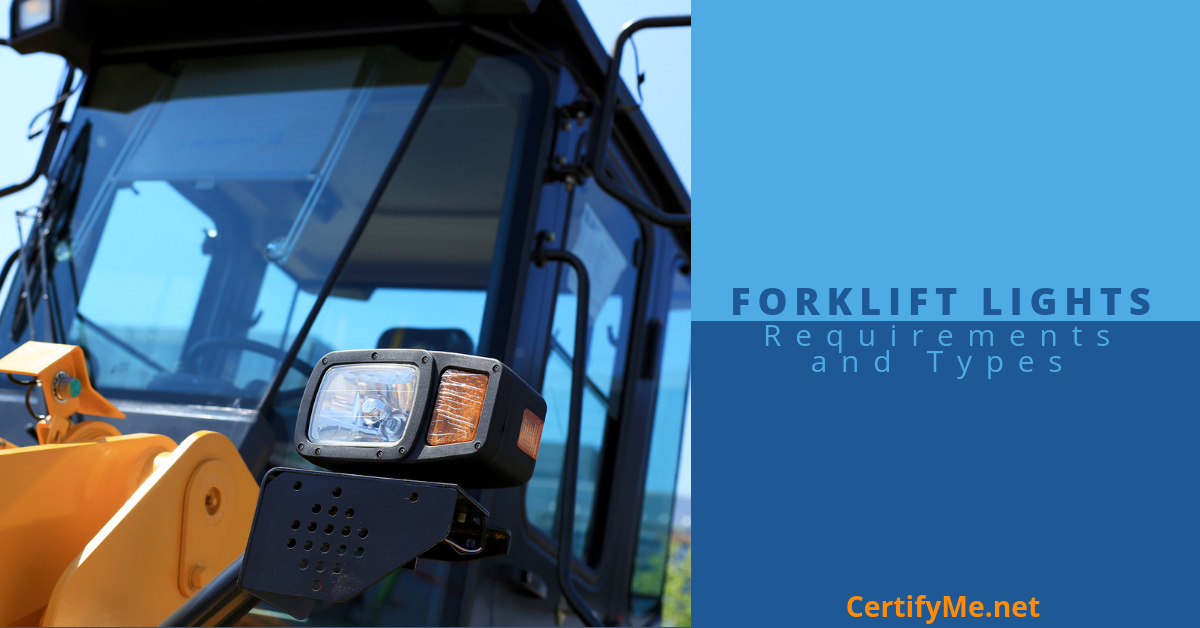 Forklift lights are essential for safety and efficiency on the job. While they've seen many upgrades over the last few decades, they're almost always taken for granted. Today's models come with high-tech LED lights both inside and outside the forklift cabin. Their "safety-first illumination" makes it easier for operators to perform their job. This, in turn, makes the job site safer for everyone.
Forklift Lighting: Types, Requirements and OSHA Safety Recommendations
Forklift lights aren't just a good idea; they're an OSHA requirement. OSHA regulation 1910.178(h)(2) states that forklift headlights are required in dimly lit indoor areas. They are also mandated in outdoor areas at night, and everywhere else auxiliary lighting is required.
Headlights are the most common type of auxiliary forklift lighting. In warehouse settings, they help alert other forklift drivers and workers of approaching trucks. Most of the time, forklift drivers focus on what's in front of the truck. So it's important to keep the headlights well maintained at all times.

Do Forklifts Have Reverse Lights?
Forklifts also travel in reverse for many reasons. When this occurs, tail lights and backup lights are needed for safety. Similar to headlights, tail lights and backup lights require scheduled checks for safe operation. They should be replaced right away when defects are found.
Working conditions sometimes demand more light when moving and storing cargo. These days, many forklift drivers are using strobe lights when extra lighting is needed. Side-mounted warning lights offer another option. OSHA encourages the use of strobe lights and other advanced warning light systems when needed. But this should be done only if the truck's other lights are working as intended. Many forklifts now have strobe and other warning lights as standard features. These types of forklift safety lights can also be obtained as add-ons.
Different Types of Forklift Warning Lights 
Aside from a forklift's standard lights, you may require even more lighting for regular or specialized forklift duties. Always check with your supervisor or safety coordinator to assess your forklift fleet's lighting needs. Getting the right forklift light can mean the difference between a safe job site and an accident or injury.
– "Red Zone" Side-Mounted Forklift Warning Light. To help keep floor workers safe in poorly lit or outside work areas, the "Red Zone" side-mounted light is a great add-on. It's ultra-bright IP68 LED lighting makes it easy for all workers to spot. With a service life of at least 30,000 hours, this is one of the best add-on lights for your forklift.
– Top-Mounted Warning Flashing Light. Another way to improve safety is adding an Xprite 30 LED Amber/Yellow 15W Emergency Warning Flashing Light. This LED light is easy to install and provides bright illumination. It works well in a warehouse, distribution center, dockyard, or other forklift job sites.
– Green Forklift Warning Light. In a well-lit setting, green is easier to see than other colors. This makes the Green LED Warning Light a good choice for indoor and outdoor work areas with good lighting.
What is the Blue Light On a Forklift For?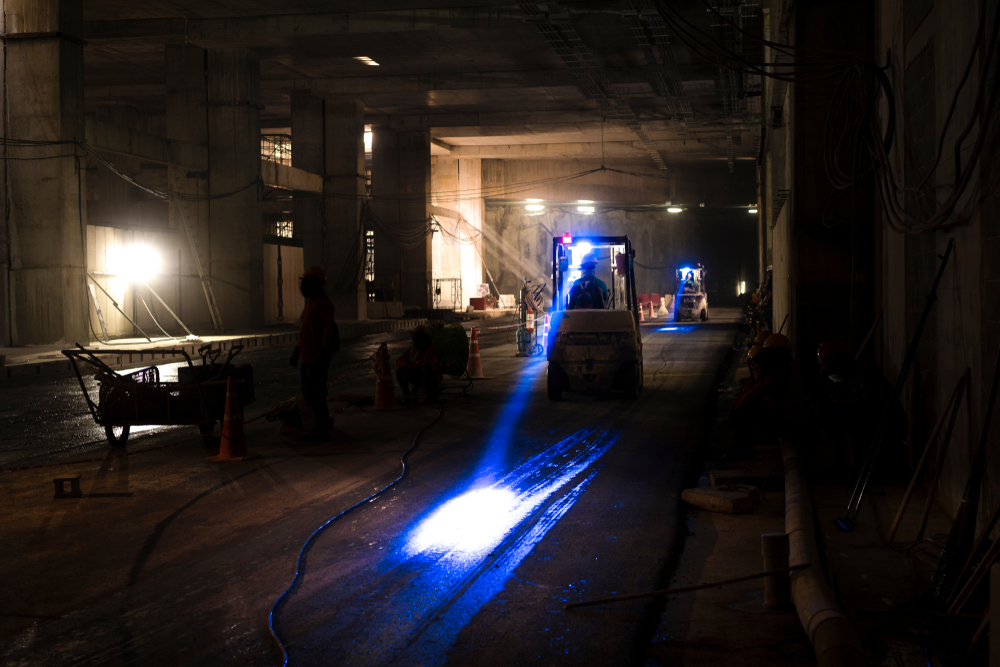 Ever find yourself wondering: what is the blue light on a forklift for? Well, standard headlights don't always provide enough forklift light. With a blue light attached to your lift, everyone in the area knows your forklift is moving. This light is great for outdoor areas with fog, regular nighttime duty, and dimly lit indoor areas. Forklift blue lights can serve as a spotlight, shining on the floor a few feet in front of the lift, serving as a warning to others that you're coming through. This helps everyone in the warehouse stay alert to their surroundings, minimizing the odds of an accident. Given all that a blue light can indicate to your fellow workers, it's important to use them whenever possible. 
Comatra has introduced a product called the Forklift Approaching Blue Warning Light. It is made to make everyone aware that a forklift is approaching. The light will help give any surrounding workers a bright "warning" that heavy machinery is in the area. Plus, the light can also help to notify approaching personnel that the lift is lifting a load, in reverse and other special operating conditions.
The main goal of the Forklift Approaching Blue Warning Light is to prevent collisions and accidents involved with forklifts. Many mishaps and hazards are caused by people not paying attention to their surroundings. That will be next to impossible with the warning light!
Forklift Warning Light Do's
Use LED lights. LEDs easily capture the attention of other workers. They comply with OSHA regulations. They create a visible safety border between pedestrians and trucks. And they have a long service life.
Install the lights correctly. For maximum safety, install a red spotlight in the front and a blue LED light in the back. 

Make sure both

forklift safety lights

are wired so that only one light comes on when the forklift is moving. That way, other workers in the area can tell which way the truck is moving.

Use the same lighting on all forklifts. This includes the color and configuration of your forklift safety lighting. Different colored lights on trucks can cause workers to make unsafe assumptions about what each forklift is doing.
Getting the whole warehouse team on board with proper usage of forklift lights can make the work environment safer for everyone. Given OSHA's strict training requirements for all lift operators, it's important that everyone be on the same page about how these lights are used. Quality training and up to date certifications can help ensure compliance across the board.
Forklift Warning Light Don'ts
Don't rely solely on warning sounds. Audible warning signals can get lost in noisy warehouses. Also, some operators sometimes turn them off because they are annoying. Combine forklift lighting and sound to maximize safety.
Don't direct warning lights at pedestrian eye level. This can hinder a worker's ability to see. It can also interfere with auto-darkening welding helmets. Instead, a direct warning light beams toward the floor. They are still easy to see and don't disrupt regular vision.
Don't assume your overhead lighting is enough. Even if your work site is well lit, forklift safety lights are needed. Bright colored and moving lights are vital for alerting workers not paying attention or distracted by their phones.
Ultimately, forklift lights are just one aspect of on the job safety. While they can be incredibly useful, they are far from the only safety tools in your toolbox. In fact, they work best in conjunction with other forklift safety features. By understanding the roles that forklift safety lights play in the overall ecosystem of the warehouse, you can use them to their fullest potential.

Improve Safety with Forklift Safety Light Training at CertifyMe.net
While forklift safety lights may seem straightforward, it can be a lot to take in as a new forklift operator. That's why all new operators are required to complete thorough training and certification before they begin work. CertifyMe.net offers affordable, convenient online training courses for new and experienced lift operators alike. Get OSHA compliant in under an hour's time. Need to train a group of employees at once? Our Train the Trainer option is a great solution. Have questions about your forklift fleet's lights or need help with your safety training program? Call CertifyMe.net today at 1-888-699-4800. From OSHA-approved lighting configurations to safe forklift driving procedures, we'll get your company compliant. Browse our training courses and get started now!
Welcome to CertifyMe.net
CertifyMe.net has offered online forklift certification since 1999. With Our Convenient online program. your employess can earn their certification in an hour or less.
Browse Online Certifications:
This low-cost program can be compeleted anytime, anywhere!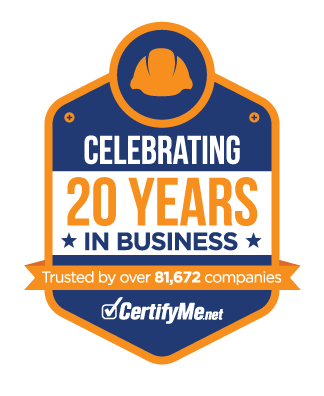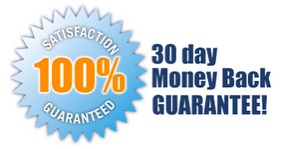 Connect with Us


Get Started Now By Registering Your Company For Free!
FREE 3 Year Renewals
Instant Access 24/7
Print Your Proof of Training
OSHA Accepted Nationwide
*If you are an individual not currently employed by a company use your personal name in
the 'Company Name' field.