Limited Time Offer! Free Covid-19 safety course with purchase of any Forklift or Aerial Lift Certification!
Access your free Covid-19 safety course in your members area once you have completed your purchase.

The Future of the Forklift Industry
Posted by: admin on September 25, 2017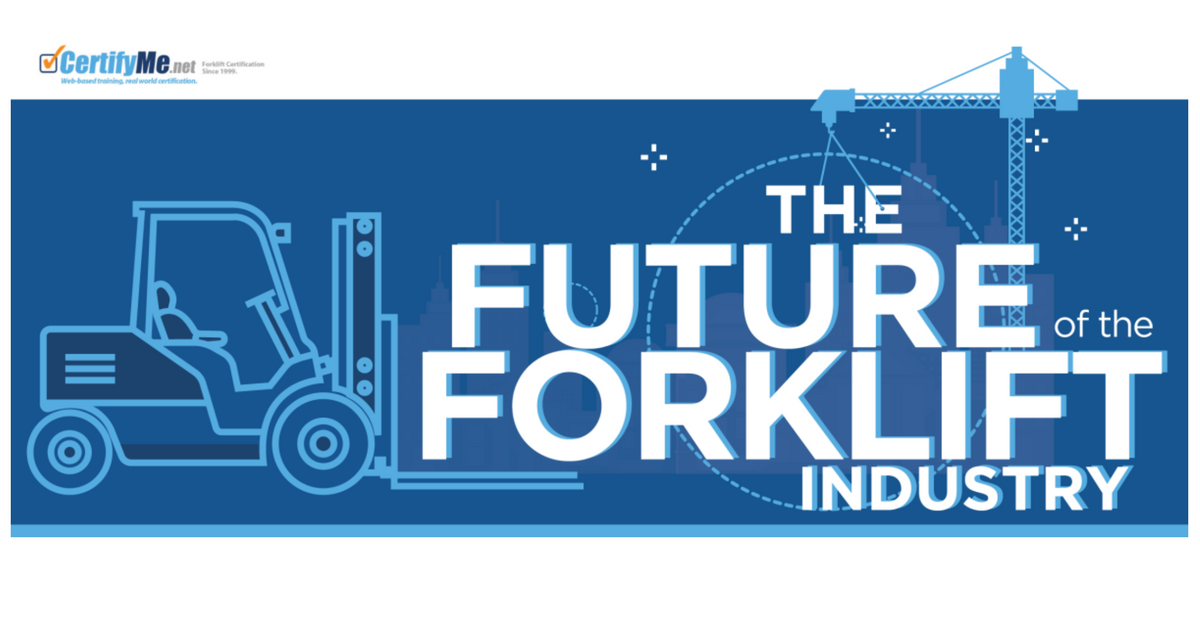 The current state of the forklift industry looks positive, despite some overblown fears and concerns about automation and robots (more on those subjects below). The manufacturing, mining, distribution and construction industries – just to name a few – remain as busy as ever, and growth in those areas is expected to continue well into the 2020s.
Whenever those four business sectors (construction, mining, manufacturing & distribution) are productive, that's great news for anyone involved in the forklift industry, including forklift drivers! So right now, the forklift industry is strong.
But what about the future of the forklift industry? Here's a closer look.

What Will the Future of the Forklift Industry Look Like?
Gazing into our crystal ball, we obviously can't predict everything that's going to happen with 100% certainty. However, our team here at CertifyMe.net looked into this subject recently, and we came up with some interesting data regarding the future of the forklift industry.
We approached this from three different angles, each of which are important to both the present and future of anyone who works with forklifts:
Robots: Many forklift drivers are concerned with the advancement of robotics technology, specifically how robots might end up replacing human jobs.
Automation: As factories and workplaces become more efficient with automated processes, forklift drivers are worried that their unique role might be at risk. We looked at this issue from a data-driven perspective, and we're happy to report it's not all bad news!
Employee Outlook: Will forklift driving jobs still be in demand years down the road? Our research team has revealed some promising data, so keep reading!
Electric Forklifts: Businesses may increasingly choose electric forklifts over diesel- and propane-powered varieties.
Self-Driving Forklifts: State-of-the-art technologies can be integrated into forklifts that enables lifts to drive themselves.
CertifyMe.net, the leader in online OSHA-compliant forklift training courses, believes the future is bright for forklift drivers and others involved (directly or indirectly) with the forklift industry.
Share this Image On Your Site
Robot Forklift? Why Forklift Drivers Will Still Be Needed in the Years to Come
If you talk to anyone in the forklift industry, it's hard to ignore the subject of robotics. Whether it's scary worker replacement stories or news about robotics impacting forklift driving jobs – even in the service industry – there has been a mini-panic of late involving robots and the forklift jobs forecast.
Thankfully, many experts don't think that widespread use of robots in industries where forklifts are used – namely, distribution and construction – means that forklift drivers will be replaced anytime soon. In fact, a recent study from the economics department at New York University shows that most of the concerns about robotics aren't justified.
Plus, some of the advancements in robotics are designed to improve forklift driving functions – not replace jobs! From our vantage point, forklift driving jobs aren't under immediate threat from a mass infusion of robots in the workplace.
Automated Forklift Projections
A few years ago, OSHA started to automate their accident investigation and injury report forms. Today, electronic forms are processed faster than traditional paper ones. This is just one illustration of how automation impacts the forklift industry.
On a more practical level – the lumber yard, warehouse, construction site and more – the fears about automation obsoleting forklift driving jobs are overrated. A recent study from OSHA concluded that forklift drivers will remain a critical part of the industry for decades to come.
To make yourself even more marketable, we recommend having the most recent forklift training – it never hurts to stay as employable as possible. Automation will impact the industry, for sure, but forklift drivers with the best training backgrounds will certainly enjoy more job security!
Employee Outlook: Forecasting the Future Job Market
If you're a forklift driver, you'd like to know what the job market will look like in the next decade – and beyond. Well, we have some good news: according to the latest economic forecast, the worldwide global forklift market will grow between 6-8% annually into the early 2020s. Bottom line: don't get too caught up in automation and robotics for now. Forklift jobs will be available – and in demand – for years to come!
The forklift driver's job market is directly related to the global market. And that's good news, if you're a forklift driver! The global forklift market is expected to grow 7% per year through 2021, so forklift jobs should continue to be in demand.
Electric Forklifts: What Are They, and What Do They Mean for the Future of the Forklift Industry?
Diesel- and propane-powered forklifts have been top choices for businesses for many years, but the future looks promising for electric lifts.
An electric lift uses a lithium-ion battery in lieu of fuel. It can offer a variety of advantages over a diesel and propane-powered lifts, including:
No tailpipe emissions
Minimal noise
No outside storage tanks required
Long component life
Low total cost of ownership
New electric forklifts are expected to become available over the next few years, and these lifts may offer the same versatility and performance as their diesel- and propane-powered counterparts. As such, expect the push for electric lifts to continue in the near future.
Are Self-Driving Forklifts on the Horizon?
Along with the previously mentioned forklift enhancements, self-driving, i.e. driverless, forklifts may become exceedingly important to businesses around the world.
A driverless forklift can move around a worksite and pick up and distribute loads. It also comes equipped with camera and image-recognition software, so it can identify obstacles and safely navigate a worksite.
Driverless forklifts free up workers to perform other high-value tasks at a jobsite. Thus, they may help businesses boost their productivity and reduce their operating costs.
Although self-driving forklifts may deliver long-term benefits, the technology is still relatively new, and companies are adjusting accordingly. Self-driving lifts can be costly, and they rely on artificial intelligence that continues to evolve. Therefore, it may be some time before global businesses consistently use driverless forklifts across their jobsites.
Get the Best OSHA Training with CertifyMe.net
For today and into the future, the forklift jobs market will remain as competitive as ever. To give your job prospects an advantage over other candidates, we recommend CertifyMe.net for all of your training requirements. Our proven, effective training methods are ideal for rookie drivers, veteran forklift drivers and everyone in between. If you'd like to give yourself the best possible chance to get a forklift driving job – and keep it for years to come – please contact us online or call our OSHA forklift training experts today at (888) 699-4800.
Welcome to CertifyMe.net
CertifyMe.net has offered online forklift certification since 1999. With Our Convenient online program. your employess can earn their certification in an hour or less.
Browse Online Certifications:
This low-cost program can be compeleted anytime, anywhere!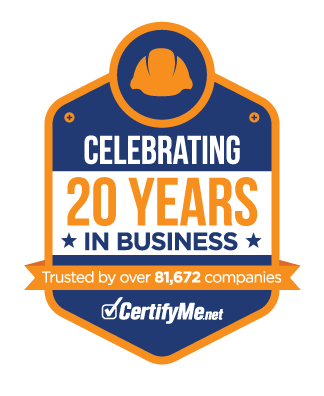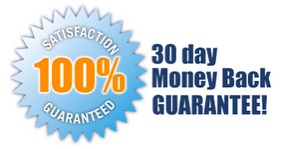 Connect with Us


Get Started Now By Registering Your Company For Free!
FREE 3 Year Renewals
Instant Access 24/7
Print Your Proof of Training
OSHA Accepted Nationwide
*If you are an individual not currently employed by a company use your personal name in
the 'Company Name' field.