Limited Time Offer! Free Covid-19 safety course with purchase of any Forklift or Aerial Lift Certification!
Access your free Covid-19 safety course in your members area once you have completed your purchase.

The Benefits of Electric Forklifts
Posted by: admin on December 6, 2021

Not long ago, electric forklifts were only a minor segment of the total U.S. forklift market. Now, electric forklifts have become the forklift of choice at many job sites. With CertifyMe.net's convenient, affordable online course, you can get your employees certified to operate electric forklifts in about an hour's time. Keep reading to learn more about electric forklifts and the certification process required to operate them. 
What are Electric Forklifts? 
Gas-powered forklifts aren't going away anytime soon, but electric forklifts have many advantages over their gas-powered counterparts. At the same time, diesel and propane forklifts still make up a big part of the U.S. forklift market. But, they are also giving way to the increasing demand for cheaper and more eco-friendly electric forklift types. Going forward, electric forklifts will likely soon outsell all fossil fuel forklifts.
Key reasons why businesses often choose electric forklifts over all other varieties include:
No tailpipe emissions
Quieter than other types of forklifts
Do not require outside storage of tanks
Minimal maintenance in comparison to other types of forklifts
Lower total cost of ownership in comparison to other types of forklifts
Low center of gravity
Fewer waste fluids in comparison to other types of forklifts
Before you purchase an electric forklift, it is generally a good idea to conduct plenty of research. This ensures that you can learn about electric forklifts and how they perform in contrast to other types of forklifts. It also allows you to learn about the different types of electric forklifts.

Share this Image On Your Site:
How to Drive an Electric Forklift
Unlike gas trucks, electric forks only have an accelerator and a brake pedal, and they do not have a clutch or inching pedals, which makes them easier to operate. An electric forklift driver does not have to rev the engine for fast lifting or to drive uphill. Many electrics even have automatic braking.
The absence of a clutch reduces driver fatigue with an electric forklift allows for smoother acceleration and braking as well. It's one less part that will eventually wear out and have to be replaced, too.
With fewer electric forklift controls to handle, drivers can focus more on the load and task at hand than they can when they operate a gas-powered lift. Best of all, staying focused improves safety for the driver and nearby workers.  
Electric Forklift Operator Certification Requirements
All electric forklift operators must become certified before they begin driving these machines. It's an OSHA requirement that shouldn't be ignored. Fail to get your employees adequately trained and fully certified and you could face expensive OSHA fines – not to mention an increased risk of accidents and injuries on the job. CertifyMe.net offers online certification courses that can be completed in about an hour. Or, if you have multiple employees to certify, consider our "Train the Trainer" option. Either way, you'll have a fully certified team in no time. 
Consequences of Not Certifying Employees to Drive Electric Forklifts
Should OSHA discover your employees are not certified to operate a battery powered forklift, your business may be issued expensive fines. In other cases, OSHA may shut down operations entirely until the team gets fully certified. Even if operators manage to skirt OSHA regulations, the increased risk of accidents associated with uncertified electric forklift drivers is just not worth it – especially when you consider how affordable and convenient it is to get certified online. 

Electric Forklift FAQs
How Much Electricity Does a Forklift Use?
The answer depends greatly on the specific make, model and use of your electric powered forklift. Here are 10 of the most common types of electric forklifts:
Warehouse Forklift: Mainly used for loading and unloading pallets and other materials.
Side Loader: Used to move bulky, heavy loads at manufacturing job sites.
Counterbalance Forklift: Has forks in the front and a counterweight in the back to help balance heavy loads; this type of

electric forklift

is ideal for jobs that require driving in circles.

Telehandler: Features an articulating boom and

arm attachment

; a telehandler is frequently used to lift loads to high elevations.

Industrial Forklift: Uses hydraulic levers for extra reach and power; an industrial forklift is mainly used to transport heavy loads in industrial settings.

Rough Terrain Forklift: Features oversized tires and a reinforced cab; this type of

electric powered forklift

is designed for use at outdoor sites and can be used on uneven or rocky ground.

Pallet Jack: Consists of a small forklift powered by hand or batteries; this

electric forklift

is designed to handle pallets in tight spaces.

Walkie Stacker: Moves pallets to greater heights than a pallet jack.
Order Picker: Offers a great option for piece-picking items off shelves by hand.
Reach Fork Truck: Features stable legs for quick, precise picking of pallets at warehouses.
High temperatures, regular battery equalising, maintenance, and battery watering all play a factor in how much electricity is used by these lifts. 
What are the Advantages of an Electric Forklift?
Battery life is one of the biggest advantages of electric forklift trucks over gas-powered forklifts — but it's not the only advantage! In addition to a long battery life, electric forklifts are versatile. They are also good for the environment, since they do not produce harmful emissions.
Furthermore, electric forklifts are quieter than gas lifts. The warning horns and backup signals can often be heard more clearly from an electric forklift in contrast to a gas-powered one.
Other benefits of electric forklifts include:
No fuel tank reduces chances of fires
Smaller size makes them easier to handle
Better visibility (compared to trucks with liquid propane tanks mounted on the rear)
Minimal maintenance
Fewer breakdowns from fewer moving parts in the engine
Longer service life
Review the benefits of battery powered forklifts closely. This can help you decide if an electric forklift can fulfill your business needs now and in the future.
Are Electric Forklifts More Efficient Than Gas-Powered Lifts?
When weighing the benefits of forklift gas vs electric, it's important to keep efficiency in mind. Electric forklifts tend to be more efficient than gas-powered forklifts. Here's why:
Performance: Electric lifts have superior braking technology and can turn on a smaller radius than gas-powered lifts. They also feature advanced tire technology, which makes electric lifts easy to control.
Cost: A standard gas forklift costs three to five times more to operate than an electric lift. Electric lifts also require fewer tune-ups than gas-powered lifts. Plus, they usually have fewer engine parts and lower maintenance costs in comparison to gas-powered lifts.
Batteries:

Electric forklifts

save hundreds of gallons of gasoline over the life of the battery. Also, their batteries can typically be recharged, which helps reduce landfill with toxic waste. With an

electric forklift

, you won't have to worry about gas engine problems, too.
For more information about electric forklift batteries and safety standards, please see the OSHA Battery Charging and Changing Procedures.
How Do You Charge Electric Forklifts?
An electric forklift must be charged correctly to maximize the vehicle's performance. To ensure an electric forklift is charged properly, read the owner's manual. Here, you'll find detailed instructions on how to charge the lift's battery according to the manufacturer's specifications. 
Electric forklift batteries must be cleaned regularly, and special lifts may be required when a battery needs to be changed. Extra batteries must be stored onsite to prevent downtime.

Electric Forklifts and Safety Training Certification
From a safety standpoint, OSHA views electric and gas forklifts as virtually identical. Even so, OSHA continues to update its forklift safety standards to account for electric powered forklifts.
Battery powered forklifts have certain battery changing standards and other power-related issues as well. Some of these should be part of your forklift maintenance plan. They are easy to follow, particularly if your drivers have the latest OSHA-compliant training from CertifyMe.net.
CertifyMe.net offers a great selection of forklift safety courses for both gas and electric trucks, and our classes meet and exceed the latest OSHA safety standards. To learn more about our forklift safety courses, please contact us online or call us today at 1-888-699-4800.
Welcome to CertifyMe.net
CertifyMe.net has offered online forklift certification since 1999. With Our Convenient online program. your employess can earn their certification in an hour or less.
Browse Online Certifications:
This low-cost program can be compeleted anytime, anywhere!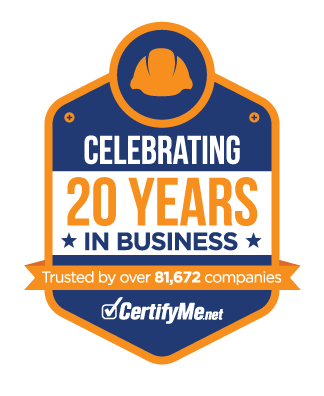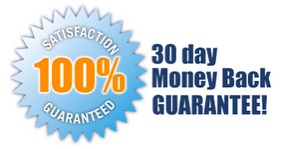 Connect with Us


Get Started Now By Registering Your Company For Free!
FREE 3 Year Renewals
Instant Access 24/7
Print Your Proof of Training
OSHA Accepted Nationwide
*If you are an individual not currently employed by a company use your personal name in
the 'Company Name' field.