Limited Time Offer! Free Covid-19 safety course with purchase of any Forklift or Aerial Lift Certification!
Access your free Covid-19 safety course in your members area once you have completed your purchase.

An In-Depth Look at Reach Truck Operator Certification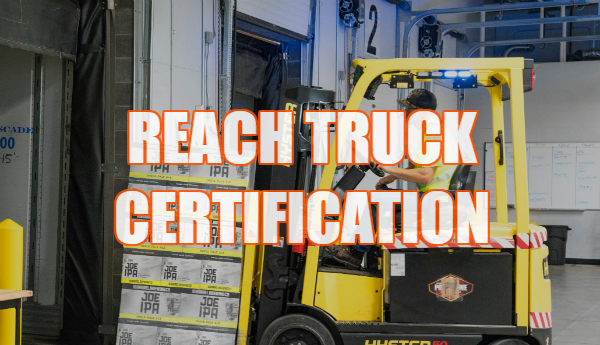 (Updated May 2021)
In warehouses with confined space requirements, narrow aisle configurations make it difficult to operate traditional forklifts safely and effectively. In these situations, OSHA requires the use of reach trucks, i.e. reach lifts or reach truck forklifts.
Why Your Employees Need Reach Truck Operator Certification
Only employees who receive OSHA-compliant training can legally operate a reach truck or any other type of forklift. Thus, if you have workers who use reach trucks daily, they must complete a reach truck certification program.

How Does Reach Truck Training Work?
During a reach truck training program, a worker receives insights into different aspects of forklift safety. The employee can learn how to properly operate and maintain a reach truck, identify workplace hazards, and contribute to a safe, productive work environment.
Reach truck certification can be obtained online. In an online program, a worker can complete their coursework on a desktop or laptop computer, smartphone, or tablet. The workers can also finish the class at their convenience.
Following successful completion of a reach truck certification program, the worker is legally authorized to use a reach truck. The worker will receive a certification card that verifies he or she is an OSHA-compliant reach truck operator. This card remains valid for three years, and an operator will need to recertify to maintain an active reach truck license.
Benefits of Reach Truck Certification
Key reasons to pursue reach truck training include:
Education: With a reach truck certification program, workers of all skill and experience levels can learn how to properly operate a reach truck.
Compliance: If unlicensed reach truck operators are working at your jobsite, your business can receive OSHA penalties.
Workplace Safety: Following successful completion of a reach truck training program, your reach truck operators will know exactly what to do to prevent lift accidents, injuries, and fatalities.
When it comes to reach truck operator certification, it pays to work with a trusted training provider like CertifyMe.net. We offer a certification program that answers common questions surrounding reach trucks, how they work, and their benefits.
What Is a Reach Truck?
A reach truck is a type of forklift designed specifically for narrow aisles. The truck has wheels that are located directly below an operator to create a tight turn radius. In doing so, a reach truck helps an operator navigate tight spaces and reach high racks with minimal risk.
Merely providing warehouse workers and others who complete tasks in tight spaces is insufficient. Because, if workers do not know how to operate a reach truck, they could crash into aisles or cause other accidents. Perhaps even worse, these accidents could lead to on-the-job injuries and fatalities.
How to Operate a Reach Truck
To determine how to properly operate a reach truck, consult with the owner's manual. This provides an operator with instructions relating to truck acceleration and deceleration, programmability, and other functions. It also lets an operator know how to take care of a reach truck and minimize the risk of maintenance issues.
Along with reading the owner's manual, reach truck operator certification is crucial. A reach truck is a distinct type of forklift, and it must be operated with care, precision, and attention to detail. If forklift operators complete reach truck operator certification training, they can learn how a traditional forklift differs from a reach truck. Plus, these operators can learn how to safely use both types of forklifts.
Is Reach Truck Operator Certification Necessary?
Reach truck training is mandatory if forklift operators are required to use these machines on a daily basis. OSHA stipulates that reach truck operators must receive proper training and stay up to date on reach truck safety guidelines.
Thanks to reach truck training, forklift operators can build their skill sets and limit risk across your jobsites. The training highlights reach truck safety topics and encourages workers to share their on-the-job safety concerns and questions. At the same time, the training helps reach truck operators comply with OSHA requirements, so your business won't have to worry about OSHA violations.
Of course, reach truck operator certification training shows your workers that your company prioritizes their health and safety. The training gives reach truck operators insights into how to safely work at heights, travel on inclines, and other workplace safety best practices. As a result, the training can help reach truck operators simultaneously improve workplace safety and maximize their productivity.
Sign Up for Reach Truck Training from CertifyMe.net
CertifyMe.net, the online leader in reach truck training, offers a course that covers reach truck operation, including:
Reach truck safety tips and techniques
How a reach lift differs from other front-loading forklifts
Reach truck training safety basics
To learn more or to sign up for our reach truck training course, please contact us online or call us today at 1-888-699-4800.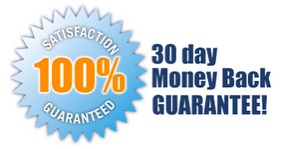 5 EASY STEPS!
Follow step-by-step instructions to get OSHA compliant!
This low-cost program can be completed anytime, anywhere!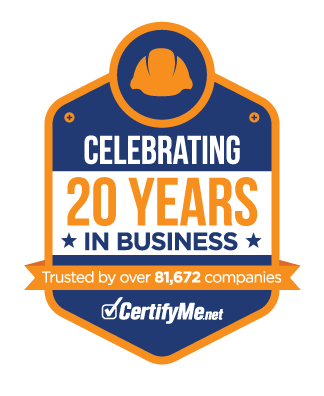 Get Started Now By Registering Your Company For Free!
FREE 3 Year Renewals
Instant Access 24/7
Print Your Proof of Training
OSHA Accepted Nationwide
*If you are an individual not currently employed by a company use your personal name in
the 'Company Name' field.