Limited Time Offer! Free Covid-19 safety course with purchase of any Forklift or Aerial Lift Certification!
Access your free Covid-19 safety course in your members area once you have completed your purchase.

Your Guide to Reach Truck Forklift Certification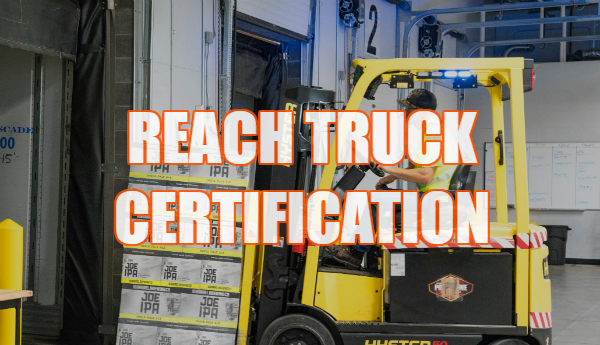 In warehouses with confined space requirements, narrow aisle configurations make it difficult to operate traditional forklifts safely and effectively. In these situations, OSHA requires the use of reach trucks, i.e. reach lifts or reach truck forklifts.
What is a Reach Truck?
So what is a reach truck, you may ask? A reach truck is a type of forklift designed specifically for narrow aisles. The truck has wheels that are located directly below an operator to create a tight turn radius. In doing so, a reach truck helps an operator navigate tight spaces and reach high racks with minimal risk.
Merely providing warehouse workers and others who complete tasks in tight spaces is insufficient. Because, if workers do not know how to operate a reach truck, they could crash into aisles or cause other accidents. Perhaps even worse, these accidents could lead to on-the-job injuries and fatalities.
How to Operate a Reach Truck
Learning how to drive a reach truck forklift doesn't have to be difficult. To determine how to properly operate a reach truck forklift, consult with the owner's manual. This provides an operator with instructions relating to truck acceleration and deceleration, programmability, and other functions. It also lets reach truck operators know how to take care of a reach truck and minimize the risk of maintenance issues.
Along with reading the owner's manual, reach truck operator certification is crucial. A reach truck is a distinct type of forklift, and it must be operated with care, precision, and attention to detail. If forklift operators complete reach truck operator training, they can learn how a traditional forklift differs from a reach truck. Plus, these operators can learn how to safely use both types of forklifts.
Is Reach Truck Operator Certification Necessary?
Reach truck training is mandatory if forklift operators are required to use these machines on a daily basis. OSHA stipulates that reach truck operators must receive proper training and stay up to date on reach truck safety guidelines.
Thanks to reach truck operator training, forklift operators can build their skill sets and limit risk across your jobsites. The training highlights reach truck safety topics and encourages workers to share their on-the-job safety concerns and questions. At the same time, the training helps reach truck operators comply with OSHA requirements, so your business won't have to worry about OSHA violations.
Of course, reach truck operator certification training shows your workers that your company prioritizes their health and safety. The training gives reach truck operators insights into how to safely work at heights, travel on inclines, and other workplace safety best practices. As a result, the training can help reach truck operators simultaneously improve workplace safety and maximize their productivity.
Benefits of Reach Truck Certification
Key reasons to pursue reach truck training include:
Education: With a reach truck certification program, workers of all skill and experience levels can learn how to properly operate a reach truck.

Compliance: If unlicensed reach truck operators are working at your jobsite, your business can receive OSHA penalties.

Workplace Safety: Following successful completion of a reach truck training program, your reach truck operators will know exactly what to do to prevent lift accidents, injuries, and fatalities.
When it comes to reach truck operator certification, it pays to work with a trusted training provider like CertifyMe.net. We offer a certification program that answers common questions surrounding reach trucks, how they work, and their benefits.
Types of Reach Truck Forklifts
There are a number of variations on the standard reach truck forklift. Here are a few you should know about:
Multidirectional

reach truck forklifts

are designed to handle bulky, wide loads. Articulating load wheels mean the lift can travel horizontally, allowing for compact movement in narrow aisles. Parallel and perpendicular movement means increased efficiency and serious time savings. 

High capacity reach trucks are ideal for fast-paced warehouse environments. Some versions can lift upwards of 4,500 pounds at once. This comes in handy when you've got a lot of tall, heavy orders to fulfill at once.

Moving mast reach trucks allow operators a clear view of loads, allowing for quicker and more accurate fork positioning while also reducing operator strain. Indoor/outdoor versions provide further versatility. 
Reach Truck Forklift FAQs
Still have questions about reach truck forklifts? We've got the answers:
What Are the Benefits of Reach Truck Forklifts? 
Reach truck forklifts allow for easy maneuverability along narrow aisles. They can reach higher than your average lift and allow you to use a double deep pallet racking system. This space-saving system is a great way to increase your warehouse's storage capabilities. 
Can Reach Trucks be Used Outdoors?
Reach truck forklifts are designed for indoor use. They're often made with very little under-carriage clearance, which could mean trouble when working on rough terrain. Uneven surfaces may knock against the lift's electrical system, which is why these machines are best used indoors.

Sign Up for Reach Truck Training from CertifyMe.net
Reach truck operators must get certified before they begin using these powerful machines in the workplace. CertifyMe.net, the online leader in reach truck training, offers a course that covers reach truck operation, including:
Reach truck safety tips and techniques

How a reach lift differs from other front-loading forklifts

Reach truck training safety basics
In about an hour's time, operators can learn all they need to safely and successfully use reach truck forklifts. Our convenient online course means learners never need to leave the couch to get in compliance with OSHA regulations. To learn more or to sign up for our reach truck training course, please contact us online or call us today at 1-888-699-4800.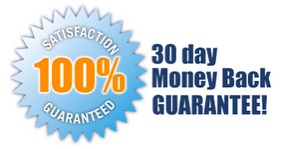 5 EASY STEPS!
Follow step-by-step instructions to get OSHA compliant!
This low-cost program can be completed anytime, anywhere!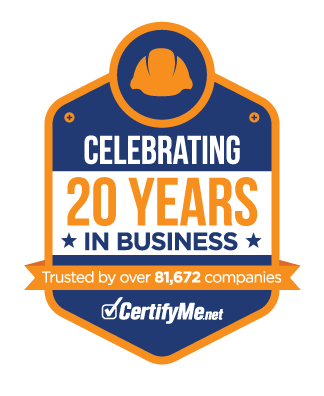 Get Started Now By Registering Your Company For Free!
FREE 3 Year Renewals
Instant Access 24/7
Print Your Proof of Training
OSHA Accepted Nationwide
*If you are an individual not currently employed by a company use your personal name in
the 'Company Name' field.