Limited Time Offer! Free Covid-19 safety course with purchase of any Forklift or Aerial Lift Certification!
Access your free Covid-19 safety course in your members area once you have completed your purchase.

Types of Pallets and When to Use Them
Posted by: admin on November 27, 2018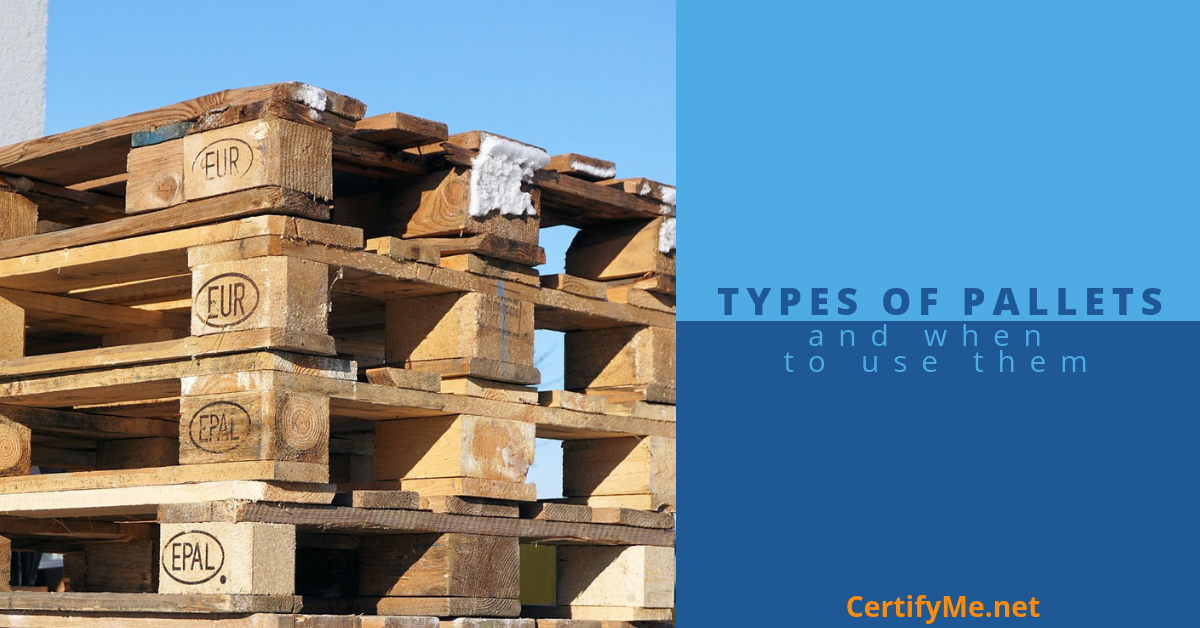 Industrial pallets play a key role in storing and transporting commercial products.
The first ones were made of wood and came in one basic design. These days, pallets come in many different types of materials and designs. Each type has its own strengths and weaknesses. They also differ by cost, ease of use, hygiene, and eco-friendliness. Knowing the differences can help you choose the right one for your shipping and storage needs.
CertifyMe.net, your #1 source for online OSHA compliant training, offers instruction for safe forklift use. Part of this training involves proper pallet management. Every forklift driver benefits from more knowledge about all types of pallets. From Presswood pallets to long pallets and even standard designs, there's seemingly no end to the kinds of pallets available for use.
Keep reading to learn more about perhaps the most important (and oft-used) forklift accessory! The more you and your company know about the varied types of pallets, the safer and more efficient your workplace will become.
Wood Pallets
Commonly used for heavier products, standard wood pallets are the most common types of pallets. They offer many advantages:
Strength and durability
Can be stored in racks
Cost less than other pallet materials
Quick to build and easy to repair
Can be recycled or resold
Wooden pallets weigh more than other types of pallets, so they cost more to ship via air freight. They are hard to clean, and prone to water damage if left outside. Splinters, nails, warping and shrinking can create safety risks for handlers.
Long pallets, with oversized dimensions for specialized cargo handling, are a "sub-type" of standard wooden pallets. Long pallets are used in warehouses, ship yards, distribution centers, and other workplaces. Unlike other types of pallets, long pallets are specifically designed for a certain kind of fork / lifting configuration. Always check with your safety supervisor if you're not sure about how to handle long pallets.
Lightweight Plywood Pallets
Plywood pallets are surprisingly strong for their weight. They offer a smooth, clean surface. They don't soak up much moisture. And they can be used for rack stocking or layer stacking.
Plywood pallets don't work well for long-term storage, unlike other types of pallets. They are hard to store in racking and can suffer water damage if left outside. Despite these shortcomings, plywood pallets are a good choice for products that require sturdy packaging, such as electronics, medical, and computer products.
Presswood Pallets
Presswood pallets use intense heat and pressure to mold dried wood fibers into one solid piece. This creates a strong, lightweight wood pallet that offers a lower-cost alternative to plastic and metal pallets. Presswood pallets can be stacked on top of each other, and are easy to handle. They resist insect infestation, can be used many times, and are 100% recyclable.
Like other wood pallets, presswood pallets can suffer water damage if left outside. They can be hard to store in racking. And their use can be limited, as many warehouses are not set up for this type of pallet.
Metal Pallets
Made with steel and aluminum, metal pallets are stronger than wood and plastic pallets and are very durable. This makes them ideal for transporting heavy goods, as well as air-freight, at-sea and long-term outdoor storage. Aluminum pallets are a favorite of large industrial companies due to their strength. Restaurants and catering firms like them because they are easy to clean.
Metal pallets offer many advantages over wood and plastic, including:
Weather-resistant
Don't rot or decay
Free of termites and other pests
Don't splinter
Can be recycled
Good sanitation
On the downside, metal pallets cost more to transport due to their weight.
Plastic Pallets
Plastic pallets provide stable packaging for most transport. They're lightweight. They combine a high load capacity with a non-slip surface. Suitable for all conditions, they can be reused many times without needing special maintenance. Advantages include:
Long lifespan of 10+ years
Resist humidity and corrosion
Easy to clean
Safe handling due to lack of screws, nails, and splinters
100% recyclable
On the downside, they cost more than wooden pallets. They don't store well on shelving. And cracks or breaks require melting and remolding to repair.
Corrugated Cardboard/Paper Pallets
These lightweight pallets – made from recycled materials – are strong for their weight. They can be customized to fit the product being transported. They're easy to clean. They don't splinter like wood pallets. And their lightweight reduces transport costs. Cardboard and paper pallets aren't designed for heavier loads and don't hold up well in outdoor conditions, so always use with caution.
Pallet Jacks vs. Forklifts
The two main tools for handling pallets are jacks and forklifts. With a top lift height of under 10 inches, manual jacks are best in limited space with ground storage. They can only lift up to 5500 lbs.  Using a jack to move a load that exceeds capacity can damage the equipment and put employees at risk.
Forklifts are the right choice when moving heavier loads stored on shelving. They handle better than pallet jacks. They have much higher lift capacity. And they reduce operator fatigue because they are motor-driven.
Pallets and Safety
Some industries have specific requirements for pallet usage. Know your industry's rules and regulations before using any type of pallet to store or transport goods. Safety guidelines and pallet stacking tips include:
Don't use pallets to lift people.
Don't store empty pallets on end.
Never stand on pallets.
Use a pick hook to reach products at the back of a pallet.
Always use protective equipment (gloves, safety shoes) when handling pallets.
Don't use damaged pallets or types not rated for the task.
Keep the work area free of pallet debris.
Don't stack pallets higher than four feet.
When using forklifts to handle pallets, OSHA requires training and certification. Do it fast and affordable with CertifyMe.net, a leader in online OSHA compliant training. We'll get your entire workforce compliant quickly, affordably, and efficiently. Experience the difference with CertifyMe.net. From renewal training to lifetime support, our forklift safety experts are here to help get your company compliant. Sign up today!
Welcome to CertifyMe.net
CertifyMe.net has offered online forklift certification since 1999. With Our Convenient online program. your employess can earn their certification in an hour or less.
Browse Online Certifications:
This low-cost program can be compeleted anytime, anywhere!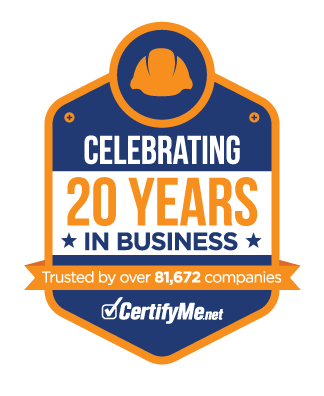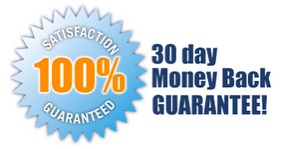 Connect with Us


Get Started Now By Registering Your Company For Free!
FREE 3 Year Renewals
Instant Access 24/7
Print Your Proof of Training
OSHA Accepted Nationwide
*If you are an individual not currently employed by a company use your personal name in
the 'Company Name' field.