Limited Time Offer! Free Covid-19 safety course with purchase of any Forklift or Aerial Lift Certification!
Access your free Covid-19 safety course in your members area once you have completed your purchase.

Forklift Certification & Training for Philadelphia, PA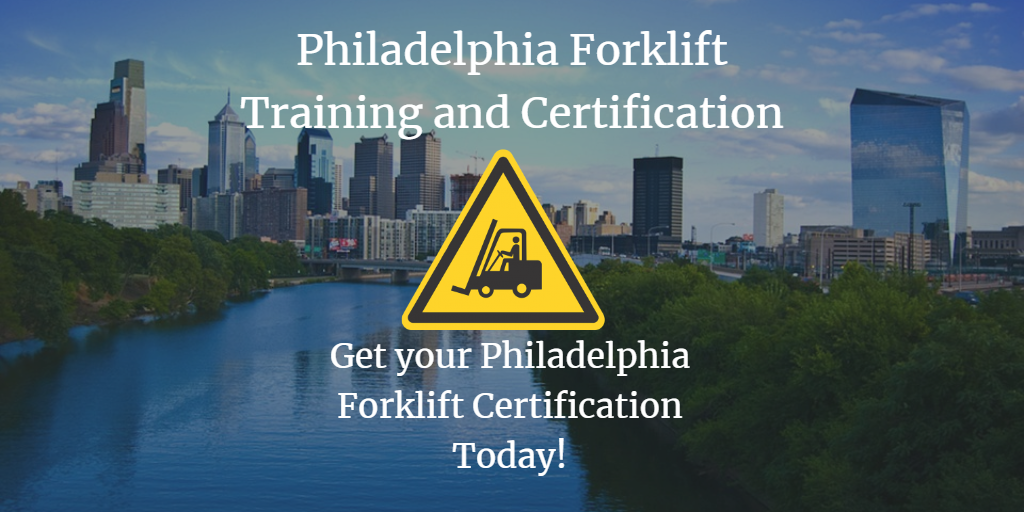 Cost-Effective Philadelphia Forklift Training Saves Money and Lives!
Philadelphia has much to offer. The city's east coast location and close proximity to other large cities (New York, Boston, Newark, etc.) make the City of Brotherly Love a hub of forklift-related activity. Shipyards, docks, warehouses, and much more – Philly really does have it all.
CertifyMe.net is the best place to get Philadelphia forklift training. Best of all, your employees can take your OSHA-compliant forklift training any place – our online courses are accessible with any reliable internet connection. And since your schedule isn't tied to our forklift certification in Philadelphia, PA, you can take and complete your training anytime that's convenient for you.
Course Lineup For Philadelphia Forklift Certification
Forklift certification is crucial for preventing accidents and protecting your employees on the job. That's why CertifyMe.net makes it easy for you to complete your Philadelphia forklift certification. Our forklift certification is completely online and 100% OSHA-compliant. We've included all the necessary training components required by OSHA that workers need to operate forklifts safely. In about one hour and for just $59.95 per module, your employees are trained, qualified, and certified for forklift work in Philadelphia. 
Warehouse Forklifts, Classes 1, 4, 5
Includes Electric Motor Rider Trucks for both sit down and stand up rider models, Class 4, which covers Internal Combustion Engine Trucks with Cushion Tires for sit down rider models and Class 5 Internal Combustion Engine Trucks with Pneumatic Tires.
Learn more about our warehouse forklift course. 
Order Pickers and Pallet Jacks, Classes 2, 3
Includes High-lift straddle, order pickers, reach type outrigger, Side loaders, turret trucks, swing mast and convertible turret/stock pickers, low lift pallet and platform riders and Class 3 – Covers Electric Motor Narrow Aisle Trucks, Electric Motor Hand Trucks and Hand/Rider Trucks Low lift platform, Low lift walkie pallet, Reach type outrigger, High lift straddle, High lift counterbalanced, Low lift walkie/ricer pallet certification.
Learn more about our pallet jack certification. 
Rough Terrain Forklifts, Class 7
Covers both Electric and Internal Combustion Engine Tractors; includes straight mast, extended reach, telescopic and extended boom lifts.
Learn more about our rough terrain forklift course.
We're the #1 choice for forklift certification in Philadelphia. We simplify and streamline the safety training process. With our easy-to-implement training courses, hands-on evaluation, and other support, CertifyMe.net is the obvious choice for compliance instruction and Philadelphia forklift certification.

Why Get
Forklift Certification and Training in
Philadelphia
?
Without Philadelphia forklift classes, your company won't have qualified forklift drivers to keep your operations running. What's more, your trained employees will help make your entire workplace safer. Reduced accidents. A well-motivated workforce. With CertifyMe.net, you'll enjoy all the benefits of a safer, more efficient and more productive worksite!
Why OSHA Forklift Certification in Philadelphia is Important
Industrial companies both big and small are seeking forklift drivers with Philadelphia forklift certification. Forklift operators with proper training are equipped with extensive know-how of safety precautions and operating procedures for different settings, whether in a commercial storage warehouse or a construction site. Getting certified is a good way to make sure you're ready to be hired. With our Philadelphia forklift certification, your company is covered in the event of an OSHA audit or investigation.
Philadelphia has a progressive economy with many job openings. Secure your future and get the proper forklift certification in Philadelphia that qualifies you to higher paying forklift jobs. CertifyMe.net gives you the best chance to thrive in the competitive Philadelphia forklift job market. Sign up today and get the OSHA compliant training and certification you need to succeed.

Sign Up for
Philadelphia Forklift Training and Certification
Today!
Philadelphia forklift training and certification is good business. Protect your workers from injury, your property from damage, and your business from costly fines with a single decision.
For any questions about forklift training, contact CertifyMe.net today. Our OSHA forklift training experts can be reached at 1-888-699-4800. And if you're ready to take your CertifyMe.net Philadelphia forklift training classes right now, click here to get started.
Choose CertifyMe.net for all of your forklift certifications in Philadelphia, PA!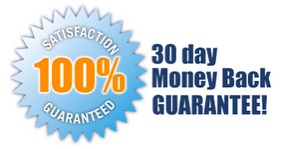 5 EASY STEPS!
Follow step-by-step instructions to get OSHA compliant!
This low-cost program can be completed anytime, anywhere!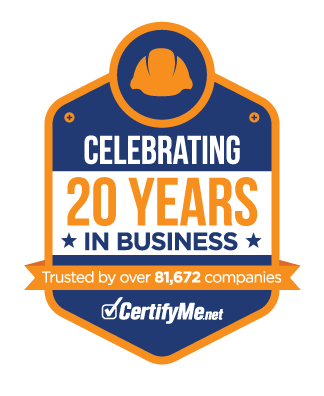 Get Started Now By Registering Your Company For Free!
FREE 3 Year Renewals
Instant Access 24/7
Print Your Proof of Training
OSHA Accepted Nationwide
*If you are an individual not currently employed by a company use your personal name in
the 'Company Name' field.