Limited Time Offer! Free Covid-19 safety course with purchase of any Forklift or Aerial Lift Certification!
Access your free Covid-19 safety course in your members area once you have completed your purchase.

Forklift Certification in Las Vegas Has Never Been Easier
Fast and Easy Forklift Certification For OSHA Compliance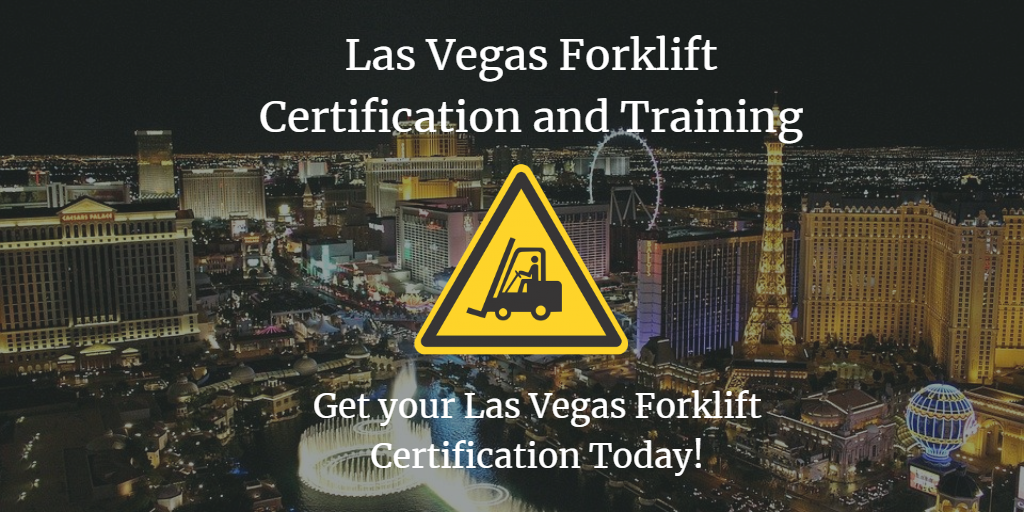 Las Vegas is a bustling city constantly teeming with new projects. It may not seem like it, but forklift operators are an integral part of what keeps Las Vegas fresh and running. Equipment operation is one of those industries where lack of training is the difference between a safe, well-run workplace and an accident waiting to happen
There are plenty of reasons to get your forklift certification in Las Vegas from CertifyMe.
And there even more reasons for employers to consider our forklift certification in Las Vegas – millions of reasons. With OSHA fines and penalties potentially millions of dollars, it doesn't make sense to skip on your Las Vegas forklift certification training requirements. In fact, it's against the law. With CertifyMe.net in your corner, we'll take care of your company's OSHA compliance needs.
Sign up today for Las Vegas forklift certification. We'll help you address training gaps, establish a practical safety training program, and provide lifetime support.  With our forklift certification in Las Vegas, you're in good hands. Go with the recognized leader in online Las Vegas forklift certification!
Las Vegas Forklift Certification Course Line-Up
Comprehensive forklift certification from CertifyMe covers all the bases to make training and certification more accessible than ever. Certified forklift drivers are not only safer, but they can also be more productive operators because of their increased skills and confidence while operating equipment.  
Every CertifyMe course includes everything busy companies need to get OSHA-approved forklift certifications quickly:
Warehouse Forklifts – $59.95
Class 1: Electric Motor Rider Trucks
Sit-down riders and stand-up riders
Class 4: Internal Combustion Engine Trucks – Cushion (Solid) Tires
Sit-down rider fork, counterbalanced
Class 5: Internal Combustion Engine Trucks – Pneumatic Tires
Sit-down rider, counterbalanced
Pallet Jacks & Order Pickers – $59.95
Class 2: Electric Motor Narrow Aisle Trucks
High-lift straddle, order picker, reach-type outrigger, side loaders, and more
Class 3: Electric Motor Hand or Hand/Rider Trucks
Low-lift platform, high-lift straddle, high-lift counterbalanced, and more
Rough Terrain Forklifts – $59.95
Class 7: Electric and Internal Combustion Engine Tractors
Sit-down rider, rough terrain forklift trucks, extended boom, and more
Forklift Train the Trainer – $149
Imagine having an on-site forklift safety trainer on your next project. With CertifyMe.net's Train the Trainer course, you can! The trainer forklift certification class gives you affordable, convenient ways to train all your forklift operators and get them certified. 
Courses are taught in English and Spanish for your convenience, and every forklift certification training course includes unlimited access. You get affordable pricing, lifetime support, renewal training, and more for a small investment. 

Top
3
Reasons to Complete Your
Forklift Training in Las Vegas, Nevada
1. Safety
Las Vegas has a subtropical, hot desert climate. Many companies use forklift drivers outdoors. Staying safe and OSHA compliance in hot conditions is essential, and our forklift certification will help your workers avoid accidents in this unique climate.
2. OSHA compliance
Safety training isn't a luxury in Vegas. Don't gamble with your employees' safety. Sign up for our forklift certification in Las Vegas, and gain the peace of mind that comes with 100% OSHA compliance.
3. Avoid Costly Fines and Penalties
You can bet your forklift certification in Las Vegas cost will be a whole lot less than any OSHA fines! Once your employees complete their forklift certification in Las Vegas, you can print their credentials. In the event of an accident (which is already reduced, thanks to our effective training programs), OSHA will want to see your employees' training records. You're already ahead of the game with CertifyMe.net!
Choose CertifyMe.Net for Las Vegas Forklift Certification
Stop wasting time and complete your Las Vegas forklift certification to get OSHA compliance. CertifyMe.net has the most convenient and efficient online forklift certification in Las Vegas, Nevada available.
Your employees can complete their forklift certification in any work area, so you don't need to be in Las Vegas to finish their training. And for only $59.95 per module, your company is well on the way to completing OSHA compliance.
Bet you didn't realize that forklift certification in las vegas cost so little. Sound too good to be true? Sign up on the CertifyMe.net website and discover an easier, more affordable training option!
For more information about our forklift certification in Las Vegas, give our OSHA compliance experts a call today at 1-888-699-4800. Whether you need an on-site forklift certification trainer or training for warehouse, pallet jack, or rough terrain forklift certification, CertifyMe has you covered.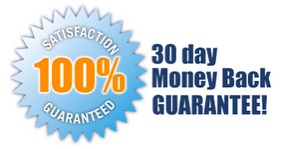 5 EASY STEPS!
Follow step-by-step instructions to get OSHA compliant!
This low-cost program can be completed anytime, anywhere!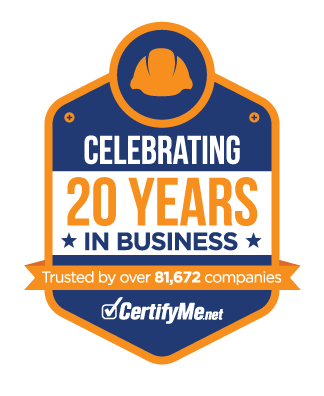 Get Started Now By Registering Your Company For Free!
FREE 3 Year Renewals
Instant Access 24/7
Print Your Proof of Training
OSHA Accepted Nationwide
*If you are an individual not currently employed by a company use your personal name in
the 'Company Name' field.