Limited Time Offer! Free Covid-19 safety course with purchase of any Forklift or Aerial Lift Certification!
Access your free Covid-19 safety course in your members area once you have completed your purchase.

Tips for Working with Asbestos
Posted by: admin on January 18, 2022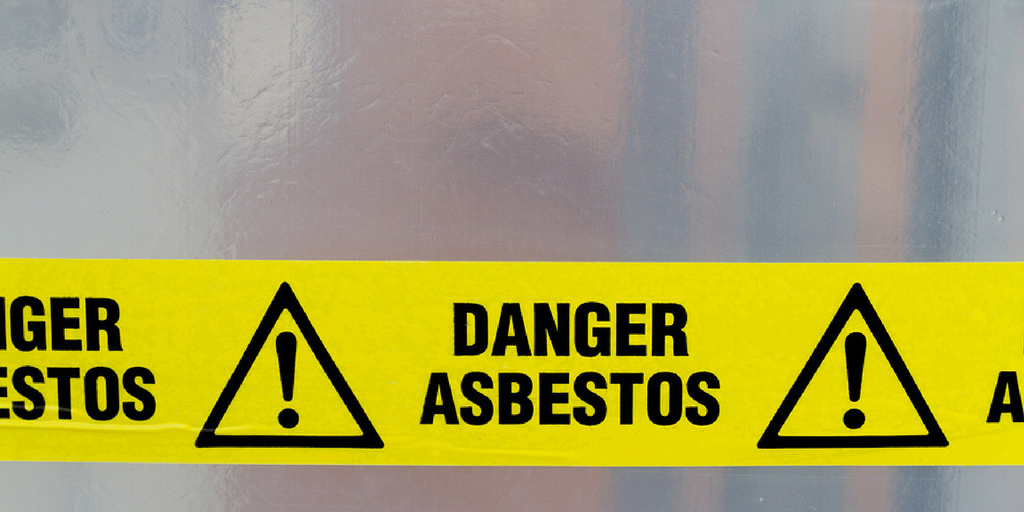 Working with asbestos comes with a lot of risk. What is asbestos, exactly? It's a toxic material used in many construction applications. Although no longer in regular use, asbestos is not banned in the U.S. and can still be found in certain flooring, insulation, and roofing products.
Asbestos has been linked to various health conditions and caution must be taken when handling or removing asbestos to prevent being exposed to toxic fibers. Review our guidelines for working with asbestos safely and protect your health by following all safety protocols.
What are the Risks Involved with Asbestos Exposure?
Asbestos is now a widely recognized health hazard and has been linked to asbestosis, a condition characterized by a build-up of scar-like tissue in the lungs; lung cancer, and mesothelioma which is a malignant tumor found in the membrane lining in the cavity of the lungs or stomach. Research shows that all types of asbestos fibers, even the most commonly used varieties, cause mesothelioma.
Much has been made about the connection between asbestos and health risks. These serious and often fatal health conditions and diseases can be brought on by the long-term exposure to asbestos-containing materials, and by not working with asbestos properly.
Should you come into contact with asbestos, it's important to reduce excessive exposure. Wash any exposed body parts with soap and water. Be sure to avoid carrying asbestos away from the site of your exposure. You may also be required to provide a medical evaluation in accordance with OSHA's asbestos standards. Check with your supervisor for specific procedures. 
What Can Be Done to Reduce Asbestos Hazards?
Knowing how to work with asbestos safely is key. There are certain safety practices that should be strictly followed to prevent serious health issues from causing illness or death.
OSHA warns the following when working near or directly with asbestos:
Asbestos exposures even in short durations can have negative impacts on health.

There is no determined "safe" level of asbestos exposure for any type of asbestos fiber.

Every single exposure to asbestos can potentially cause illness and can increase the risk of getting an asbestos-related disease.
Some of OSHA's specific rules for working with asbestos include:
Airborne levels of asbestos must never exceed the legal worker exposure limits. The Permissible Exposure Limit for asbestos is 0.1 fiber per cubic centimeter of air during an eight-hour period. The Excursion Limit for asbestos is 1.0 fibers per cubic centimeter over a 30-minute period.

Where there is exposure to asbestos, employers must provide protection for employees by establishing regulated areas, controlling work practices, taking action to reduce the airborne levels of asbestos, and providing personal protection equipment.

Employers must provide medical monitoring for workers who are exposed to asbestos in amounts and durations at or higher than the legal limits.

Employers are required to provide asbestos awareness training to all workers.
For a complete listing of OSHA regulations for asbestos for the construction industry, general industry, and shipyard sectors, go here.
Proper training is required for working with asbestos. Without a thorough education on the risks associated with asbestos, workers can't know how to handle exposure safely. The Occupational Health and Safety Administration requires employers to provide training so that all workers can understand the risks and safety best practices associated with the substance. 
The Do's and Don'ts of Working with Asbestos
There are a variety of safety concerns and issues to be aware of when working with asbestos. Whether removing or installing asbestos-containing material, workers must take great care to follow the do's and don'ts of staying safe with asbestos. Your health depends on it.
Do's: 
If not already predetermined, stop work and report to an employer or building owner if you think you're working with asbestos materials.

Wear protective clothing at all times, which may include a face mask and bodysuit.

Clean up the work materials as you go to prevent waste from building up.

Double-bag all waste and dispose of it properly.

Wash hands before breaks and returning home.

Complete adequate asbestos training before starting work. 
Don'ts: 
Create a lot of dust in the area containing asbestos materials.

Use a broom or other tool to sweep up dust and debris—always use a Type H vacuum.

Bring work clothing home that may contain asbestos particles.

Reuse disposable clothing or masks.

Smoke, eat or drink in the work area. 

For a more in-depth list of the do's and don'ts for working with asbestos for various applications,

click here

.
These asbestos safety precautions are really just the beginning. To really understand the risks and strategies for avoiding excessive exposure to asbestos, you'll want to complete thorough training first. 

Asbestos Awareness Training
When it comes to asbestos safety precautions, knowledge really is power. Workers must educate themselves if they hope to avoid many of the health risks that come with working with asbestos. Thankfully, it's easier than ever to learn about asbestos safe work practices and get in compliance with OSHA standards. 
CertifyMe.net offers convenient, affordable training and OSHA certification opportunities for workers. Most people complete our online training program in about an hour's time. Promote worker safety while also fulfilling OSHA requirements without ever leaving your couch. It's never been easier to encourage employee safety. 
Take one step closer to complying with OSHA standards and keeping your workers safe from asbestos hazards with the online asbestos awareness training from CertifyMe.net. The online course covers all standards including the safety practices for working with asbestos. Learn more about us by simply calling 1-888-699-480 or get started here.
Welcome to CertifyMe.net
CertifyMe.net has offered online forklift certification since 1999. With Our Convenient online program. your employess can earn their certification in an hour or less.
Browse Online Certifications:
This low-cost program can be compeleted anytime, anywhere!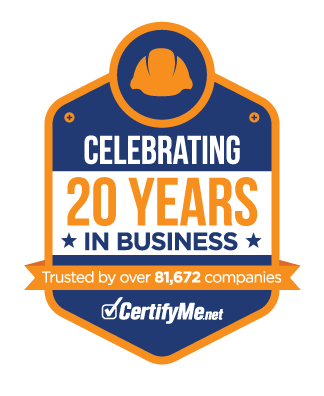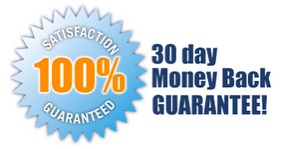 Connect with Us


Get Started Now By Registering Your Company For Free!
FREE 3 Year Renewals
Instant Access 24/7
Print Your Proof of Training
OSHA Accepted Nationwide
*If you are an individual not currently employed by a company use your personal name in
the 'Company Name' field.