Limited Time Offer! Free Covid-19 safety course with purchase of any Forklift or Aerial Lift Certification!
Access your free Covid-19 safety course in your members area once you have completed your purchase.

Is Your Warehouse Ready for the Holiday Season?
Posted by: admin on October 19, 2021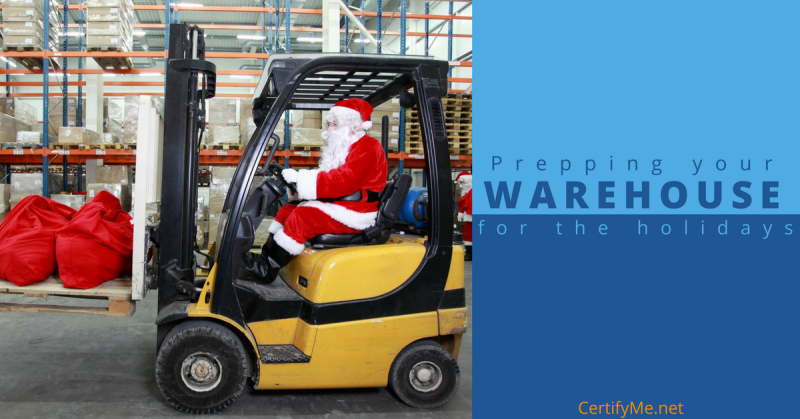 It's almost that time again – do you know how to prepare your warehouse for the holidays? A little extra preparation can help ensure that your warehouse is a safe working environment and your essential equipment is ready to work hard. Here are some tips to get your warehouse ready for the holidays.
Check the Warehouse Layout
Is your warehouse ready for the holidays? There are few things that can make your holiday season more stressful and hectic than your warehouse being poorly organized for the holiday rush. You may want to carefully consider where you are storing popular holiday items, to ensure that your staff is not running all over your warehouse to fill orders. Keep holiday products close to packaging areas, so that orders can be filled quickly, and safely.
If possible, you may even want to start separating pedestrian traffic from forklift traffic. Isolating these groups can help keep everyone safer. If you can't find a way to keep foot traffic and forklift traffic from overlapping, insist that everyone wear reflective safety vests to highlight their presence in the warehouse. This should go for everyone – employees, vendors, contractors and visitors must all do their part to minimize the risk of accidents.
Prepare with Plenty of Equipment
Learning how to prepare your warehouse for the holidays means anticipating potential shortages ahead of time. Don't let a shortage of aerial lifts and forklifts slow your warehouse efficiency during the holidays. Make sure that you have plenty of the equipment you need. Many local equipment companies are prepared to rent warehouses the necessary equipment, at reasonable rates, during the holidays.
Service All Your Equipment
Eager to prepare your warehouse for the holiday season? Make sure that all of your forklifts, hand lifts and other essential warehouse equipment is serviced and in great condition before you head into the holiday season. Also make sure that all of your operators know how to properly check their equipment for issues.
OSHA provides a standard forklift maintenance checklist that can prove especially useful this time of year. Creating, maintaining, and updating your own checklist can help you keep up with ongoing maintenance required to keep lifts in good working order. This isn't a step you'll want to skip – poorly maintained equipment can lead to accidents, injuries, and OSHA violations. By staying ahead of the service requirements, you minimize the odds of these disruptions. 
Rely on Your Warehouse Management System
If you have a good warehouse management software program, the holiday season is the perfect time to make the most of its capabilities. Use historical trends to stock the most popular items well in advance. Then use your software system to ensure that all orders are filled and shipped in a timely manner. Most importantly, don't change software systems right before the holidays. This is a sure way to create huge holiday problems.
Hire Plenty of Temporary Employees
Knowing how to prepare a warehouse for the holiday season often lies in talent acquisition. A shortage of good, trained employees is a sure fire way to have a holiday season disaster. Fill temporary positions well before the holiday rush sets in. This enables you to get quality employees and get them trained on equipment, software, processes and safety procedures well before your warehouse is in a rush.
Put Safety First
Finally, but maybe most importantly, make sure that all of your employees are properly trained in safety procedures. This includes all of your long-term regular employees and temporary employees. Make sure they know proper equipment operation and understand the flow and traffic patterns of the warehouse. And, don't forget to provide the proper personal protective equipment (PPE) to all employees. PPE can make the difference between a safe and productive warehouse and lost time due to injuries.

Partner with CertifyMe.net This Holiday Season
Part of learning how to prepare a warehouse for the holiday season lies with finding outsourced partners like CertifyMe.net. As you bring on more employees to beat the seasonal rush, you won't want to skimp on training. By offering your team affordable, convenient training opportunities, you minimize the risk of accidents, injuries, and OSHA violations. 
Our online course can be completed in about an hour's time. After that, employees will be OSHA-certified to operate forklifts. Most importantly, they'll also be equipped with the safety tips they need to avoid workplace accidents. To learn more or to get started with CertifyMe, simply click here or dial 1-888-699-4800.
Welcome to CertifyMe.net
CertifyMe.net has offered online forklift certification since 1999. With Our Convenient online program. your employess can earn their certification in an hour or less.
Browse Online Certifications:
This low-cost program can be compeleted anytime, anywhere!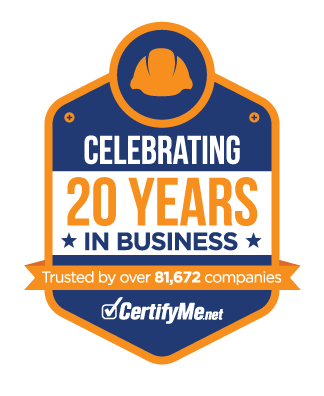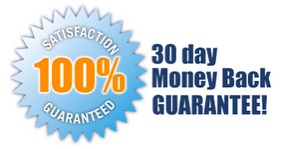 Connect with Us


Get Started Now By Registering Your Company For Free!
FREE 3 Year Renewals
Instant Access 24/7
Print Your Proof of Training
OSHA Accepted Nationwide
*If you are an individual not currently employed by a company use your personal name in
the 'Company Name' field.