Limited Time Offer! Free Covid-19 safety course with purchase of any Forklift or Aerial Lift Certification!
Access your free Covid-19 safety course in your members area once you have completed your purchase.

Sign Up for Riverside Forklift Certification Today!
Total OSHA Compliance | Affordable Prices | Online Based Learning | Sign Up Now! 
All Riverside companies that hire forklift operators need to provide safety guidance and training, no matter the industry. This includes Riverside forklift certification.
CertifyMe.net has a complete assortment of classes for forklift certification in Riverside for your total OSHA compliance needs. Sign up today with CertifyMe.net, and discover a wealth of benefits for your safety program, including:
Anywhere, anytime convenient online access
Free lifetime renewal training
Great prices – check out our Riverside forklift certification offerings
Total customer support
Complete OSHA compliance
And much more

Why is Riverside Forklift Certification Important?
Forklift accidents happen every day on worksites, and the most common cause behind these accidents is operator error. This means that, many preventable accidents are caused by operators who hadn't received the forklift certification Inland Empire they need to recognize and avoid hazards. Besides being able to protect your employees, forklift training is important because employers are ultimately responsible for ensuring the safety of their workers.
Riverside has been named one of the "Most Livable Mid-Size Cities" before and named one of the "Top 25 Large Cities for Doing Business In" by Inc. Magazine. Also known as the regal-sounding "Inland Empire" as it was once separated from Los Angeles by a large rural expanse, Riverside, California offers plenty of opportunities for companies that need forklift operators. Employers need to provide their workers with forklift certification in Riverside.
CertifyMe.net Course Descriptions & Pricing – Riverside Forklift Certification
Need Riverside forklift certification? Try these courses for only $59.95
Class 1, 4 and 5 Warehouse Forklifts – Riverside forklift certification for beginners & veteran operators alike
✓ Class 1: Electric Motor Rider Trucks
✓ Class 4: Internal Combustion Engine Trucks – Cushion / Solid Tires
✓ Class 5: Internal Combustion Engine Trucks – Pneumatic Tires
Learn more about our warehouse forklift course here 
Class 2 & 3 Electric Forklifts – Riverside Forklift Certification
✓ Class 2: Electric Motor Narrow Aisle Trucks
✓ Class 3: Electric Motor Hand or Hand/Rider Trucks
Learn more about our pallet jack certification here
Class 7 Forklift Certification – Riverside Forklift Certification for Construction Work & More
✓ Class 7: Electric and Internal Combustion Engine Tractors (Plano construction companies, civil authorities & more)
Learn more about our rough terrain forklift course here.
If you also require forklift certification in Riverside for trainers, safety managers and similar personnel, sign up for:
✓ Qualified Trainer/Evaluator Certification – Riverside Forklift Certification for less than $150
Sign up today and avoid costly OSHA fines and penalties with our forklift certification in Riverside!

Forklift Certification in Riverside CA 
One of the great things about our forklift certification in Riverside is total OSHA compliance. No more worrying about audits and investigations in the event of an incident or accident. You're totally covered with our complete paperwork and training records. Whether your hiring needs include a forklift operator, forklift mechanic, dock worker, special events employee, warehouse employee, warehouse manager, construction worker, brewery worker, and more, CertifyMe.net is the only training provider you need!
Top Employers Who Hire Certified Forklift Operators in Riverside CA
Many employers offer Riverside forklift certification to help ensure that their employees are properly trained to safely and efficiently trained to operate their machines. In fact, it's required by law that employers provide forklift certification in Riverside.
All enterprises that employ forklift operators need Riverside forklift certification for their workers. This includes construction companies, civil authorities, manufacturers, and more. Major distributors, such as Ceva Logistics, are frequently in need of those with forklift certification for Riverside.If your company needs assistance with Riverside forklift certification, sign up with CertifyMe.net today!
Easy, Convenient & Affordable Riverside Forklift Certification from CertifyMe.net
If you're looking to improve your safety program in Riverside, or are considering hiring more forklift operators, CertifyMe.net has everything you need to thrive in the Inland Empire.
In only about one hour from any device with an internet connection, you or your employees can complete the forklift training you need to prevent accidents and improve your productivity.
We make it easy to get the specific forklift training you need by offering these individual online classes:
Warehouse Forklifts, Classes 1, 4, 5
Pallet Jacks and Order Pickers, Classes 2, 3
Rough Terrain Forklifts, Class 7
For only $59.95 a class, which includes everything you need to operate forklifts safely, including free three-year renewals, CertifyMe.net is proud to offer the most convenient and affordable online Riverside forklift certification classes that are also 100% OSHA-compliant.
Thinking about forklift training in a city near Riverside? Learn about forklift training in other cities in California.
Thanks for visiting CertifyMe.net. Get registered today and ensure your employees are OSHA compliant!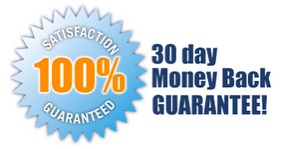 5 EASY STEPS!
Follow step-by-step instructions to get OSHA compliant!
This low-cost program can be completed anytime, anywhere!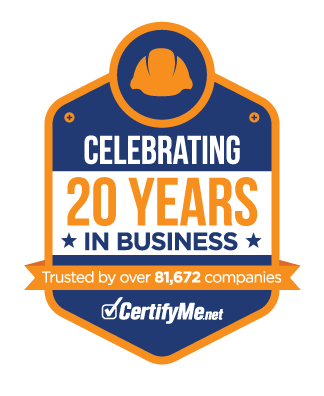 Get Started Now By Registering Your Company For Free!
FREE 3 Year Renewals
Instant Access 24/7
Print Your Proof of Training
OSHA Accepted Nationwide
*If you are an individual not currently employed by a company use your personal name in
the 'Company Name' field.