Limited Time Offer! Free Covid-19 safety course with purchase of any Forklift or Aerial Lift Certification!
Access your free Covid-19 safety course in your members area once you have completed your purchase.

Get your California Forklift Certification Online
Need Forklift Certification in California? Sign Up with CertifyMe.net | OSHA Compliant Training for Los Angeles, San Diego, San Francisco, Sacramento & More – All Across the Golden State!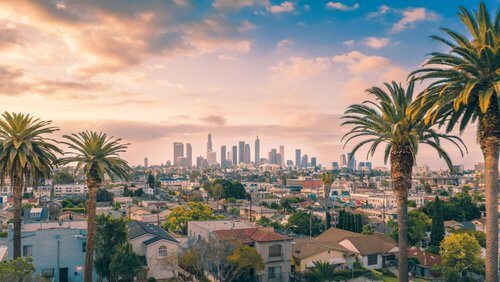 In California, it's not just the law to have your forklift operators certified – it's an essential safeguard. CertifyMe.net is key in helping employers stay compliant and safe with OSHA-approved training customized for each location throughout the Golden State! Don't miss out on our accredited certification solutions; contact us today so you can get all of your employees up to speed quickly and efficiently.

Sign up with our California forklift certification programs today and enjoy these benefits:
Total OSHA compliance

Free renewal training –

per OSHA guidelines, all your forklift operators are required to

renew their

forklift license in California

after three years… and CM has you covered!

Affordable prices

Online, anytime access – all you need for

California forklift certification

is an internet connection

Superior customer service

And much more
How Much Does Forklift Certification in California Cost?
Our CA forklift certification courses are the gold standard for training and safety in the Golden State and cost just $59.95!
Here are all the courses and forklift certifications we offer.
California Forklift Certification – Warehouse Forklifts – Class 1, 4 and 5 Powered Industrial Trucks
Class 1, 4 and 5 forklifts are all powered industrial trucks used to help move and organize materials. Class 1 forklifts are electric motor riders, meaning they are battery powered and ideal for internal uses in warehouses or factories. Class 4 forklifts, also known as cushion tire lift trucks, feature cushion tires made of solid rubber that protect surfaces from damage while allowing them to turn with greater accuracy. Class 5 forklifts, or pneumatic tire lift trucks, have pressure tires made from air-filled rubber that enable greater traction and stability for outdoor operations.
✓ Class 1: Electric Motor Rider Trucks
✓ Class 4: Internal Combustion Engine Trucks – Cushion (Solid) Tires
✓ Class 5: Internal Combustion Engine Trucks – Pneumatic Tires
Learn more about our warehouse forklift course here.


Forklift Certification in California – Pallet Jacks & Order Pickers – Class 2 & 3 Lifts
Pallet jacks and order pickers are essential equipment if you need to move large and heavy objects. These Class 2 & 3 lifts allow workers to lift and maneuver loads of up to 4,500 lbs., maximum lift height of 77″ and with some having a "walk through" design that enables the operator to pick or place items with extended reach capabilities. No matter the demand or requirement, these lifts will help you get organized, streamline your inventory system, increase safety during operation and eliminate strain on operators due to their ergonomic design.
✓ Class 2: Electric Motor Narrow Aisle Trucks
✓ Class 3: Electric Motor Hand or Hand/Rider Trucks
Learn more about our pallet jack certification here.
California Forklift Certification for Construction & Heavy Duty Work – Rough Terrain Forklifts
Class 7 or rough terrain forklifts are designed to transport heavy loads on off-road or rocky surfaces. These vehicles feature a wide, durable frame with extra wheels that provide added stability when traveling over uneven ground. They also come equipped with a variable displacement hydrostatic transmission, which offers an impressive level of control and maneuverability even at slower speeds. The axles also offer articulation for smooth turning on tricky terrain plus an adjustable suspension system for comfortable operation. In addition, the tires are large and fat to give better traction and flotation over different types of surfaces. With these features combined, rough terrain class 7 forklifts are extremely durable, reliable machines capable of tackling difficult jobs in tough environments.
✓ Class 7: Electric and Internal Combustion Engine Tractors (for Rough Terrain and construction lifts in CA – great option for all your construction workers that need their forklift license in California)
Learn more about our rough terrain forklift course here.
All the Paperwork to Conduct Your Own Training – Qualified Trainer/Evaluator Certification – California Forklift Certification for just $149.00
The best time to get your company's California forklift certification is yesterday. California's economy continues to grow, and qualified, well-trained forklift operators are needed for warehouses, distribution centers, dockyards, and elsewhere. It is illegal to have anyone operate your powered industrial trucks (warehouse trucks, rough terrain lifts, manlifts, pallet jacks and more) without forklift training in California. Avoid huge OSHA fines and penalties – sign up today with CertifyMe.net!
Why Your Workers Need Forklift Licenses in California
While it may be the operator who needs to complete the training and be certified, it is an employer's duty to supply this training and ensure all forklift drivers have an up-to-date California forklift certification. If you have employees operating forklifts for your California business, you need to make sure you are following all laws and regulations concerning training and forklift certification in California.
Here are OSHA's regulations for forklift certification in California:
California is infamous for its burdensome regulations. CertifyMe.net handles all federal and California forklift certification requirements, all at a great price!
 Employers must confirm that all employees who operate forklifts are competent to operate them safely following the successful completion of training.
 California forklift certification must involve formal written instruction, practical training, and a skills evaluation to qualify employees for their certification cards.
 Training content must include truck and workplace related topics.
Once forklift certification in California is valid, refresher training is required at least every three years, or sooner if an operator is caught performing unsafe practices, is involved in an accident or near-miss, or the environment or type of forklift being used has changed.
Why CertifyMe.net Is The #1 Option for Forklift Training in California
If you're an employer in California who hires forklift operators, it is only in your and your business' best interest to ensure all operators are trained and certified with an OSHA-compliant certification. The forklift courses from CertifyMe.net are completely compliant with all OSHA regulations and teach drivers everything they need to know to operate forklifts safely and properly.
Besides providing all the information you or your workplace needs, our forklift training in California comes with some amazing benefits:
✓ Easily complete the requirements for a California forklift certification around your own schedule.
✓ Complete forklift certification in California from home, work, or anyplace you have an internet connection.
✓ Compatibility throughout California and the U.S. With your California forklift license, you can get a forklift driving job anywhere in California, or across the United States. CertifyMe.net training is good throughout the United States.
✓  Skip the costly expenses of traveling to an offsite facility, paying an instructor, and covering employees' travel costs and time-off.
✓ Better on the job efficiency. Sure, our training will help you become a safer forklift driver. But you'll also become a more skilled driver, too!
✓ Avoid fines from OSHA that can reach into the $100,000's
✓ Print operator cards immediately after completion of the program
✓ Receive free certification renewals for life!
✓ English and Spanish language courses. For a state like California, that's an immense benefit! All of our forklift certification in California is available in both languages.

Get Your
Forklift Certification in California
Today!
California's state economy is larger than all but a handful of countries. The most populous state in the U.S. needs dependable forklift drivers to handle everything from construction projects, distribution of cargo, general warehouse work, specialized maintenance, and much more. If your Golden State company needs forklift certification, CertifyMe.net has comprehensive courses to get you on the path to compliance!
Take hold of your future with forklift certification in California with CertifyMe.net. If you're not sure about where to start, or how to get forklift certification in California, give CertifyMe.net a call today at 1-888-699-4800. Register your company today and ensure your company is OSHA compliant!
Learn more about forklift training and certification in these California cities:
○ Fresno
○ Fontana
○ San Jose
○ Stockton
○ Petaluma
○ Anaheim
○ Paradise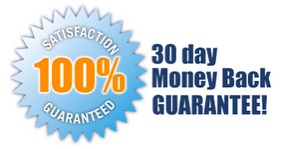 5 EASY STEPS!
Follow step-by-step instructions to get OSHA compliant!
This low-cost program can be completed anytime, anywhere!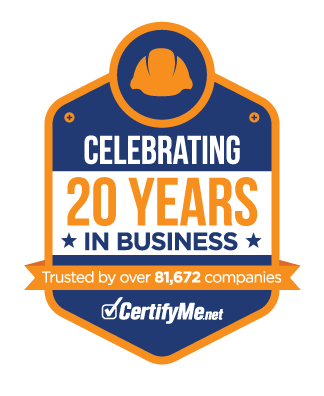 Get Started Now By Registering Your Company For Free!
FREE 3 Year Renewals
Instant Access 24/7
Print Your Proof of Training
OSHA Accepted Nationwide
*If you are an individual not currently employed by a company use your personal name in
the 'Company Name' field.