Limited Time Offer! Free Covid-19 safety course with purchase of any Forklift or Aerial Lift Certification!
Access your free Covid-19 safety course in your members area once you have completed your purchase.

Earn Your Forklift Certification in Sacramento Today
Get Your Forklift Operator Card in Sacramento Today In Less Than One Hour!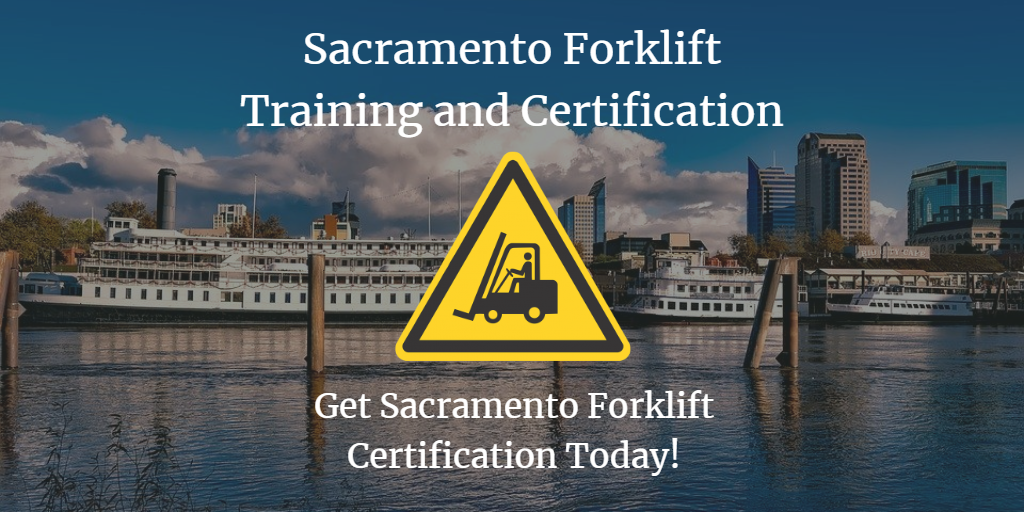 Sacramento is home to a wide range of industries. From manufacturing to agriculture, technology to healthcare, the city is constantly growing and evolving. Many of these industries require the use of forklifts. Employers are legally required to provide training and certification opportunities to their forklift operators. With forklift certification in Sacramento from CertifyMe.net, you'll have the most up to date OSHA safety training, along with the peace of mind that comes with knowing how to avoid accidents. Sign up today and enjoy the following benefits:
Exceptional value
World-class customer service
An innate understanding of safety regulations
100% OSHA compliance
Free renewal training
And more
Courses for Forklift Training in Sacramento
Forklift certification in Sacramento for just $59.95 per class!
Warehouse Forklifts – Class 1, 4 and 5 Forklifts
✓ Class 1: Electric Motor Rider Trucks
✓ Class 4: Internal Combustion Engine Trucks – Cushion (Solid) Tires
✓ Class 5: Internal Combustion Engine Trucks – Pneumatic Tires
Learn more about our warehouse forklift course here.
Pallet Jacks & Order Pickers – Class 2 & 3 Forklift Certifications
✓ Class 2: Electric Motor Narrow Aisle Trucks
✓ Class 3: Electric Motor Hand or Hand/Rider Trucks
Learn more about our pallet jack certification here.
Rough Terrain Forklifts – Class 7 Forklift Certification
✓ Class 7: Electric and Internal Combustion Engine Tractors (Rough Terrain, Heavy-Duty Outdoor and Construction lifts for Sacramento forklift certification)
Learn more about our rough terrain forklift course here.
Qualified Trainer/Evaluator Certification
– Sacramento Forklift Certification: only $149.00
If you need English and Spanish versatility with your Sacramento forklift certification, sign up today with CertifyMe.net!

Why Forklift Training in Sacramento, CA Matters
Operators must be trained and certified, but it is the duty of the employer to supply such training opportunities and to ensure lift operators are up to date on their forklift certification in Sacramento, CA. If you oversee employees who operate forklifts, it's up to you to make sure you're meeting training requirements set by the Occupational Health and Safety Administration. Fail to do so and you may see an uptick in the number of workplace accidents and injuries. Even if your team manages to avoid such incidents, OSHA may perform an inspection to see if workers are adequately trained and certified. If they discover uncertified lift operators within your organization, you may be faced with expensive fines. 
Requirements for OSHA Forklift Certification in Sacramento
If you're hoping to avoid OSHA penalties while making your job site a safer place for everyone, OSHA forklift certification in Sacramento is the answer. To meet the standards set by OSHA, employers must provide formal training, practical experience, and a skills evaluation led by a qualified trainer. All training materials must be paid for by the employer. Refresher training is required after three years, and courses must be offered in a language that employees understand.
At CertifyMe.net, we take pride in making it easy to receive training that meets OSHA's requirements. Our forklift certification in Sacramento provides all necessary materials and information, all tests and checklists, free certification renewals for life, printable licenses, and both English and Spanish options.
The Number One Training Option in Sacramento
It's in your company's best interest to ensure all forklift operators are trained and certified in accordance with OSHA regulations. The forklift courses offered by CertifyMe.net are compliant with OSHA rules and teach operators all they need to know to use these machines safely and effectively. In addition to providing your organization all the OSHA compliance your workplace needs, our forklift training in Sacramento comes with some other amazing benefits:
✓

Save Money

Off-site training can be expensive and time-consuming. Virtual training, on the other hand, is as convenient and affordable as it gets. This option reduces downtime and ensures workers can get back to their assigned duties as soon as possible.
✓ 

Operator Cards Available Immediately

Upon completion of our forklift training in Sacramento, CA, participants will receive a printable operator card immediately. Should OSHA show up for an inspection, workers can show these cards to demonstrate their certification.
✓ 

Multilingual Courses

Your organization is diverse. Training should reflect that diversity. All our courses are available in both English and Spanish. By removing language barriers, more people can earn their certification. 

Earn Your Forklift Certification in Sacramento Today
Our forklift certification in Sacramento program aims to provide learners with the info they need to operate lifts safely and effectively. Courses are online and accessible wherevery ou have an internet connection. We offer three main classes for forklift certification in Sacramento and they are all equipment-specific, so you can take the class you need, and not waste time with training for what you don't.
All of our classes are available in Spanish, offering the most comprehensive Sacramento forklift training and certification around.
If you have any questions about forklift certification in Sacramento from CertifyMe.net, please give our OSHA experts a call at 1-888-699-4800, or reach out online. Don't delay and sign up today – safety is too important to ignore!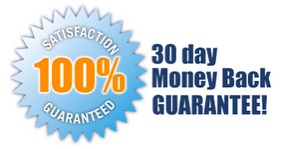 5 EASY STEPS!
Follow step-by-step instructions to get OSHA compliant!
This low-cost program can be completed anytime, anywhere!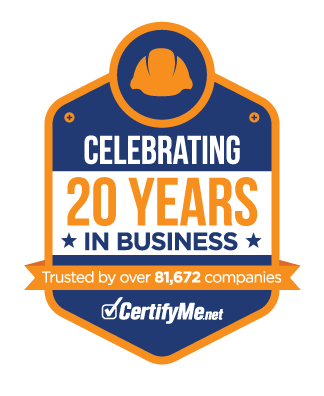 Get Started Now By Registering Your Company For Free!
FREE 3 Year Renewals
Instant Access 24/7
Print Your Proof of Training
OSHA Accepted Nationwide
*If you are an individual not currently employed by a company use your personal name in
the 'Company Name' field.