Limited Time Offer! Free Covid-19 safety course with purchase of any Forklift or Aerial Lift Certification!
Access your free Covid-19 safety course in your members area once you have completed your purchase.

Sacramento Forklift Training and Certification
Get Your Forklift Operator Card in Sacramento Today!
Enjoy fast, affordable forklift certification in less than 60 minutes!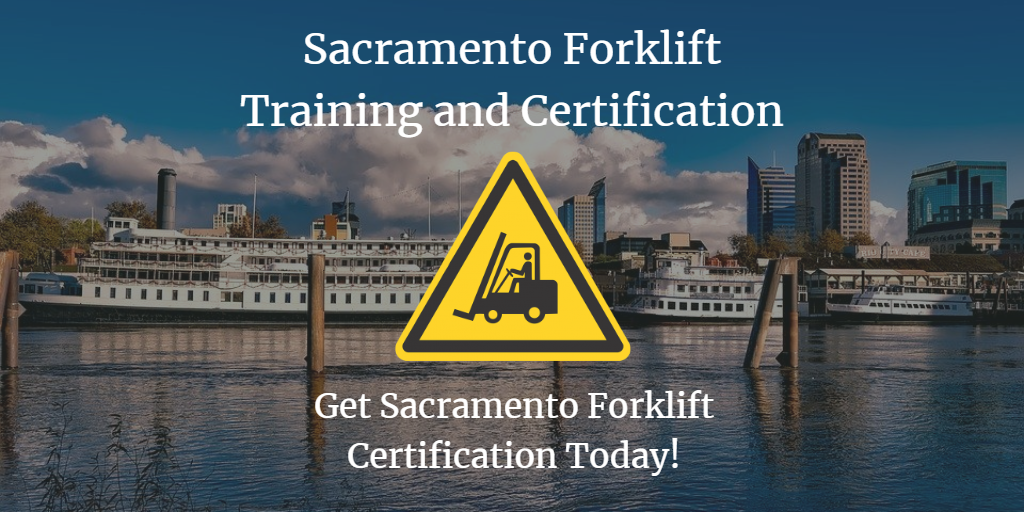 In addition to a wealth of major tech companies, Sacramento is renowned for its manufacturing industry. Several multi-billion dollar enterprises in Sacramento concentrate on producing computer parts, medical equipment, mining equipment, and other technological tools. This area also has abundant production of dairy products, feeds, meat, brick and clay products. Because of the diversity in its economy,
The city's location at the top of the Central Valley region makes it a strategic location for all types of industries in the Golden State. A With Sacramento forklift certification from CertifyMe.net, you'll have the most up to date OSHA safety training, along with the peace of mind that comes with knowing how to avoid accidents.
If your company needs a forklift certification in Sacramento, contact CertifyMe.net today. We're the OSHA compliance experts throughout the Golden State!

Why Do I Need Forklift Certification in Sacramento?
Here are just a few reasons why Sacramento forklift certification is important:
✓ Forklift certification in Sacramento reduces injuries and fatalities on work sites.
✓ Workers with proper training improve their overall productivity and increase the overall efficiency of their workplace.
✓ Forklift certification in Sacramento reduces liability and equipment costs.
✓ OSHA-compliant certification reduces the risk of costly fines. With Sacramento forklift certification, there's a reduced chance of having OSHA audit or inspect your workplace for accidents.
✓ Sacramento forklift certification teaches workers how to inspect and maintain the equipment, which saves employers money and time due to less frequent repairs.
✓ Sacramento forklift certification is required by law – that's the main reason why companies choose CertifyMe.net for their training needs!
If you plan to ever live and work outside of Sacramento, you'll still need the same type of forklift training and certification. Learn about forklift training in other California cities.
OSHA's Requirements for Sacramento Forklift Certification
There are a few set requirements that every forklift operator and employer of forklift drivers must adhere to. OSHA's purpose serves to help reduce the number of accidents that devastate the workplace every year, and by requiring that all forklift employees in Sacramento receive their forklift certification in Sacramento, they are helping to keep workers safe and out of harm's way. Forklift certification in Sacramento also benefits employers, and that's why OSHA considers it the employer's duty to provide training and evaluations for all operators.
To meet OSHA's requirements for forklift certification, employers must:
✓ Provide formal instruction, practical training, and a skills evaluation to all training employees guided by a qualified Trainer
✓ All training materials free of charge
✓ Refresher training at least every three years
✓ Training in a language employees understand
At CertifyMe.net, we take pride in making it easy to receive training that meets OSHA's requirements. Our Sacramento forklift certification programs provide all necessary materials and information, all tests and checklists, free certification renewals for life, printable licenses, and both English and Spanish options. Learn more about our options for forklift certification in Sacramento below.
Get Your Sacramento Forklift Certification with CertifyMe.net!
We have created our forklift certification in Sacramento program to provide students with exactly the right info they need for their specific position, in the most convenient method possible. Our training is all online and can be accessed wherever you have a computer and internet access. We offer three main classes for forklift certification in Sacramento and they are all equipment-specific, so you can take the class you need, and not waste time with training for what you don't:
Warehouse Forklifts
✓ Class 1: Electric Motor Rider Trucks
✓ Class 4: Internal Combustion Engine Trucks with Cushion Tires
✓ Class 5: Internal Combustion Engine Trucks with Pneumatic Tires
Pallet Jacks and Order Pickers
✓ Class 2: Electric Motor Narrow Aisle Trucks
✓ Class 3: Electric Motor Hand or Hand/Rider Trucks
Rough Terrain Forklifts
✓ Class 7: Electric and Internal Combustion Engine Tractors
All of our classes are available in Spanish, offering the most comprehensive Sacramento forklift training and certification around.

If you have any questions about forklift certification in Sacramento from CertifyMe.net, please give our OSHA experts a call at 1-888-699-4800. We'd love to help get your company OSHA compliant as soon as possible – thanks for considering CertifyMe.net for your Sacramento forklift certification and training!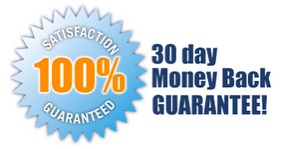 5 EASY STEPS!
Follow step-by-step instructions to get OSHA compliant!
This low-cost program can be completed anytime, anywhere!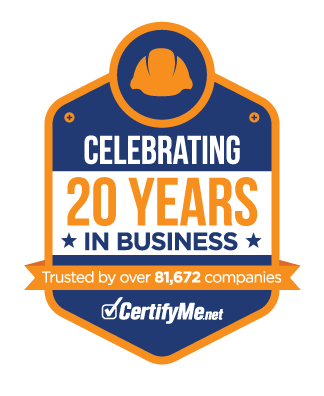 Get Started Now By Registering Your Company For Free!
FREE 3 Year Renewals
Instant Access 24/7
Print Your Proof of Training
OSHA Accepted Nationwide
*If you are an individual not currently employed by a company use your personal name in
the 'Company Name' field.