Limited Time Offer! Free Covid-19 safety course with purchase of any Forklift or Aerial Lift Certification!
Access your free Covid-19 safety course in your members area once you have completed your purchase.

Get Forklift Certification in San Diego Today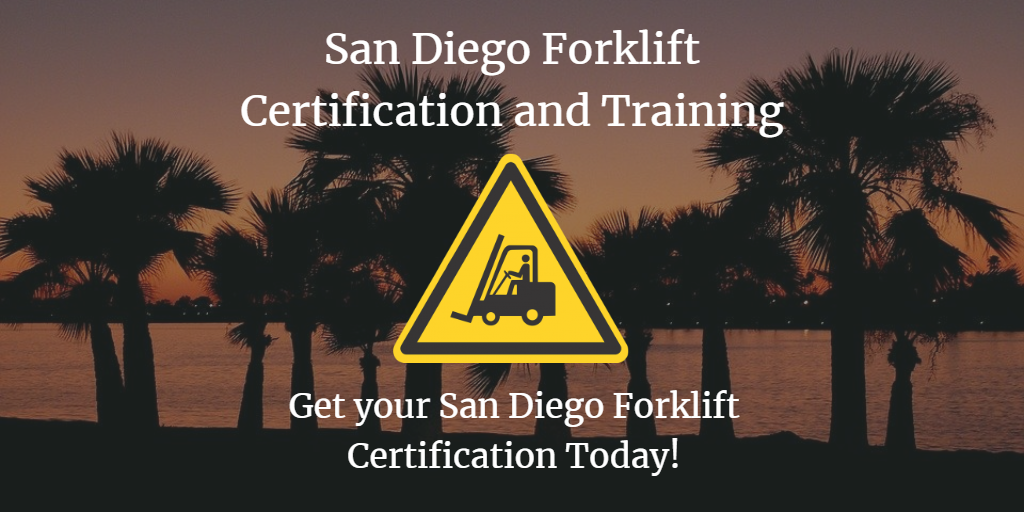 Getting Forklift Certified in San Diego Has Never Been Easier! Sign Up with CertifyMe.net Today for Convenient OSHA Compliant Training in About an Hour!
If you're a San Diego-area employer and need to get your workers forklift certifications in San Diego, CertifyMe.net is your best option for affordable, on-point, OSHA compliant training. We offer affordable prices, convenient access, and lifetime support.
OSHA requires that all San Diego employers provide training for their forklift drivers. It's against the law to have anyone operate a powered industrial truck without forklift training in San Diego, CA. CertifyMe.net takes the hassle and headaches out of OSHA compliance. With our online access and easy-to-understand training content, we'll take care of your forklift certification in San Diego.
Why register with CertifyMe.net for your forklift certification in San Diego?
OSHA compliant training

Free recertification training

Online convenience for your forklift certification in Texas

Great customer support 
Course Options for Forklift Training in San Diego
Whether you're hoping to get forklift certification in San Diego for one person or a team of 100, CertifyMe has the options you need to get OSHA compliant. Our quick and easy Online Forklift Operator Training is a great place to get started – and at just $59.95, it's an affordable option for new lift operators. Save even more cash with our Train the Trainer course. It's ideal for bringing the forklift certification process in-house and educating an entire team at once. 
Course options include:
Warehouse Forklifts: Classes: 1, 4 & 5  Powered Industrial Trucks
Class 1:   Electric Motor Rider Trucks

Class 4:  Internal Combustion Engine Trucks – Cushion (Solid) Tires

Class 5:  Internal Combustion Engine Trucks – Pneumatic Tires
Learn more about our warehouse forklift course. 
Pallet Jacks & Order Pickers:  Class 2 & 3 Lifts 
Class 2:  Electric Motor Narrow Aisle Trucks

Class 3:  Electric Motor Hand or Hand/Rider Trucks
Learn more about our pallet jack certification. 
Rough Terrain Forklifts: Class 7 
Class 7:  Electric and Internal Combustion Engine Tractors (includes Rough Terrain and construction lifts for throughout Texas)
 Learn more about our rough terrain forklift course.

Why Forklift Certification in San Diego Matters
CertifyMe.net is proud to offer forklift certification in San Diego – a beautiful city right on the sparkling coast of the Pacific! Getting online forklift certification in San Diego certainly has its benefits above other cities due to its great weather and year-round steady work. Whether you're an employee or employer in a forklift-related industry, investing in the right forklift training is one of the best decisions you can make.
You can't hire forklift operators without San Diego forklift certification. CertifyMe.net offers all of the training and OSHA compliant instruction you need to ensure your employees are cleared for compliance!
Reasons to Train with CertifyMe.net
We like to consider ourselves the experts in forklift certification in San Diego. Beyond our comprehensive training, our affordability, and insider OSHA expertise, CertifyMe.net offers a wealth of resources for new and experienced lift operators alike. Here are a few reasons why we've become the preferred forklift certification provider for organizations across the country:
Convenience
Get your forklift license in San Diego on your terms. CertifyMe.net allows you to complete the material at your own pace. For busy professionals looking to up their skills quickly, this flexibility is truly priceless.
Price
Our internet-based training means there are no expensive books to purchase, no third party instructors to pay, and no costly off-site training centers to rent. Everything you need to get certified is included in the cost of registration.
Free Renewal Training
Many people don't realize that their forklift license in San Diego needs updating every three years. CertifyMe.net includes free renewal training along with easily accessible wallet cards and evaluation forms. 
OSHA Compliant
After your employees finish our forklift training in San Diego, CA, your workplace will be safer and more productive. You're also less likely to be charged expensive fines by OSHA. 

Sign Up to Get Your San Diego Forklift Certification Today!
CertifyMe.net specializes in OSHA-compliant San Diego forklift certification, along with other cities throughout California and the United States. Sign up for our training and it'll travel with you wherever you go. This flexible, affordable training makes CertifyMe.net a preferred safety partner for companies all over the United States.
Have questions about our offerings? Call us today at (888) 699-4800 or visit our contact page to see how we can help.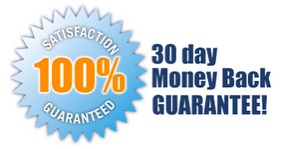 5 EASY STEPS!
Follow step-by-step instructions to get OSHA compliant!
This low-cost program can be completed anytime, anywhere!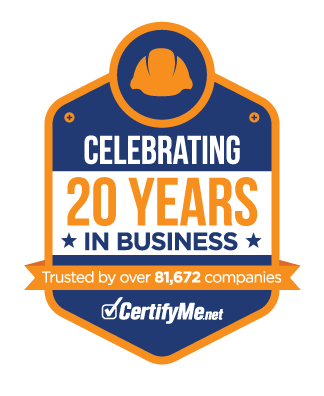 Get Started Now By Registering Your Company For Free!
FREE 3 Year Renewals
Instant Access 24/7
Print Your Proof of Training
OSHA Accepted Nationwide
*If you are an individual not currently employed by a company use your personal name in
the 'Company Name' field.