Limited Time Offer! Free Covid-19 safety course with purchase of any Forklift or Aerial Lift Certification!
Access your free Covid-19 safety course in your members area once you have completed your purchase.

New Year Resolution Ideas for Your Warehouse
Posted by: admin on December 3, 2021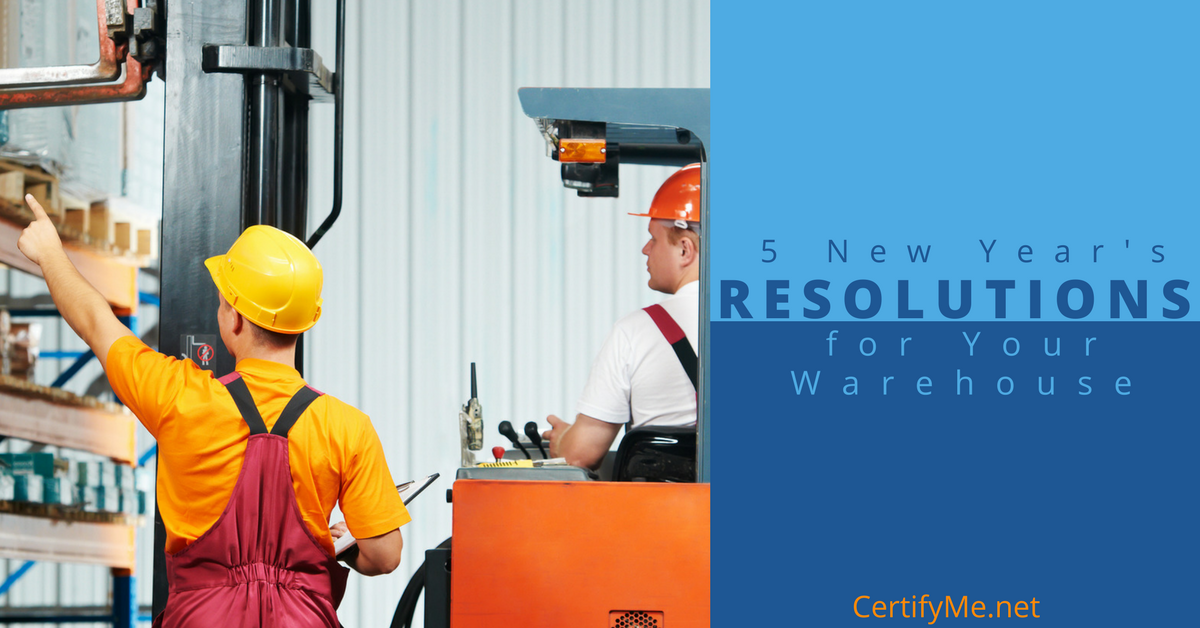 Welcome to 2022! If you are like many facility managers or warehouse owners, you are always looking for ways to improve your warehouse or storage areas. The start of a new year is the perfect time to make improvements to your warehouse and to create a safe, efficient, and productive work environment. If you are looking for inspiration for how to make improvements to your warehouse for 2022, here are some great New Year's resolutions to get you started.
Resolve to Get Safe
The very best New Year's resolution starts with an eye on safety. There is nothing that will cost your warehouse time, money, and productivity like worker injuries and accidents. Fortunately, reducing injury and accidents in your warehouse can be easy with a good safety program. What does this entail? First, start by making sure that your employees are well trained on the operations of your warehouse and the equipment they are using. Many employee injuries are easily avoidable with good training on the processes and equipment. Then, make sure your employees have the equipment they need to work comfortably and safely. This may include things like providing proper personal protective equipment (PPE), giving employees places to warm up if the weather is cold, and providing safe spaces for doing paperwork or eating.
Resolve to be OSHA Compliant
OSHA inspections of warehouses can be problematic for your operations. If you're eager to implement New Year's resolution ideas for your warehouse, start by ensuring that your processes and employees are OSHA compliant. Providing OSHA-required training to your employees is an easy way to get a jump on being OSHA compliant. This is especially important for the warehouse that uses aerial lifts, forklifts, and pallet jacks. The benefits of providing OSHA required training are twofold: you meet the requirements that keep your warehouse up and running, and you have a safer workforce. Both of these benefits will help your bottom line, by keeping accidents and downtime to a minimum.
Resolve to Get Organized
Efficiency is everything in a warehouse. There is a theory that for every minute you spend getting organized, you earn an hour of productivity. Very few warehouse and facility managers would disagree that more productivity is better for their company's bottom line. When it comes to warehouse efficiency, no tool is more important than the forklift. When considering your New Year's resolution options for 2022, forklift efficiency should definitely be at the top of your list. Of course, it's impossible to make the most of these incredible machines if you don't have properly trained employees to operate them. If your team hasn't yet completed OSHA-compliant forklift certification training, make it a goal in the new year.
Forklift efficiency starts with warehouse optimization. When your warehouse is poorly organized or is not laid out in a logical manner, it can slow down production, create traffic flow problems, and slow down productivity in general. If you've noticed that your warehouse can use some improvements in how it's laid out, how product is stored, or how your shelving is organized in regards to traffic flow, 2022 is a great time to make changes. For many warehouses, the beginning of the year is a slow, quiet time. Why not take advantage of a slow season and make organizational changes to the layout of your warehouse?
Resolve to Improve Technology
New technology can be expensive, but it can make a substantial improvement in the way your warehouse operates. If you are using outdated automation equipment or software that has been around for more than five years, chances are your productivity isn't at the level it could be. Make it your New Year's resolution to invest in new automation equipment or a software upgrade. This can save time and money when it comes to how long it takes to produce or ship a product. You can also better manage orders and track supplies with improved warehouse management software. This saves time for your employees and reduces problems related to lost or delayed orders.
Resolve to Develop Employees
Happy employees are productive employees. Many facility or warehouse managers automatically think this means that they have to pay their employees more. However, this isn't always the case. As you brainstorm New Year's resolution ideas for your warehouse, consider incentivizing productivity. Many times, giving employees a small incentive to grow and improve is all it takes to keep employees happy and productive. Incentive programs should provide a good challenge to employees, that will help them grow and become better employees but shouldn't be so challenging that even your best employees cannot be successful. Your new incentive program doesn't have to cost a lot of money or require a party every time something good happens. It should, however, reward the work features that are important to your warehouse, like speed, productivity, efficiency, accuracy, and safety. 
With blue collar jobs on the rise, you'll want to prioritize incentives and employee development if you hope to keep your most valuable employees on staff. By investing in your team, you'll send a clear message that you see a future with them at your warehouse. You'll also help employees grow their skills and foster a safer work environment for everyone. Professional development like forklift certification training programs are a great way to do just that. The best part? Developing employees doesn't have to take a lot of time or money. In just about an hour's time, your entire team can get OSHA certified to drive forklifts. It's a powerful addition to any resume and a real boon to the safety of your warehouse.

Make Safety a Priority in 2022
This is just a start of the New Year's resolutions that you can make for 2022. For you, the warehouse or facility manager, the start of a new year is a great time to begin making your workplace the best it can possibly be. By improving the way your warehouse runs through better organization and upgraded technology, you increase productivity and reduce slowdowns caused by an inefficient workplace. Improving the safety, productivity, and motivation of your employee makes the changes to organization and technology even more useful for your company. Happy and safe employees will work harder, be reliable team members and may even stay with your company longer.
Look into the online, OSHA-compliant equipment training from CertifyMe.net to make 2022 your safest and most cost-efficient year yet! To begin your training or learn more about our offerings, simply click here or dial 1-888-699-4800.
Welcome to CertifyMe.net
CertifyMe.net has offered online forklift certification since 1999. With Our Convenient online program. your employess can earn their certification in an hour or less.
Browse Online Certifications:
This low-cost program can be compeleted anytime, anywhere!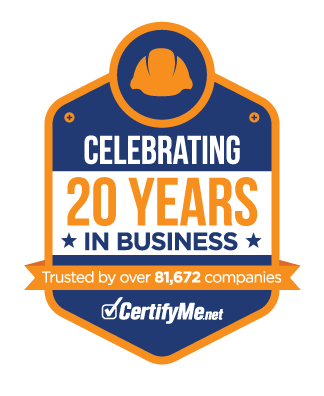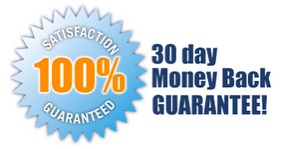 Connect with Us


Get Started Now By Registering Your Company For Free!
FREE 3 Year Renewals
Instant Access 24/7
Print Your Proof of Training
OSHA Accepted Nationwide
*If you are an individual not currently employed by a company use your personal name in
the 'Company Name' field.