Limited Time Offer! Free Covid-19 safety course with purchase of any Forklift or Aerial Lift Certification!
Access your free Covid-19 safety course in your members area once you have completed your purchase.

How a Smart Red Seat Belt Saves Lives on the Shop Floor
Posted by: admin on July 31, 2014
Forklift bosses will find it easier to monitor seat belt compliance with Hyster Electric's new smart, high visibility seat belts for Hyster Electric and ICE counterbalance forklifts. Smart, in this context, refers not only to the chic red color of the new restraints. An optional interlock system automatically disengages traction if the operator unfastens the seat belt while driving. The truck eventually comes to a stop until the seat belt is re-engaged.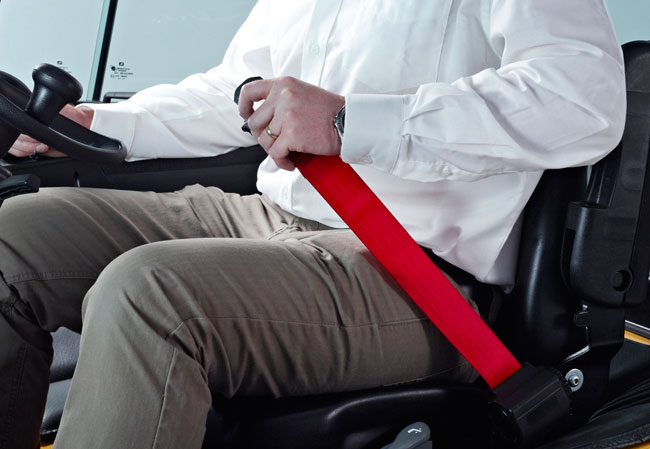 Forklift safety lapses lead to a fatal workplace accident every three days. Nearly half of these fatalities, 42%, occur because an operator has been crushed by a truck tipping on its side. This typically happens because the operator has not been wearing a seat belt. Either they are not wearing one or instinctively undo it before leaping off the truck when they feel the truck tipping over. The intuitive response to jump is contrary to the safe, correct response, which is to brace oneself inside the vehicle.
Because the safe response to a forklift that is falling on its side is counterintuitive to the natural, knee-jerk reaction to jump to safety, the message needs to be constantly reinforced until it becomes second nature. By making the new seat belt in red, not only does it serve as a visual reminder to the operator, it also makes it obvious to the shop floor supervisor which forklift operators are driving around with their belts unfastened.
The interlock system, which prevents the lift truck from being driven while it the seat belt is not fastened, removes the possibility of the driver's instincts from taking over in the event of a tip-over. While saving lives is obviously the whole point of using the new restraint, it will also help to avoid a crippling OSHA fine against the forklift employer for a serious safety violation.
Welcome to CertifyMe.net
CertifyMe.net has offered online forklift certification since 1999. With Our Convenient online program. your employess can earn their certification in an hour or less.
Browse Online Certifications:
This low-cost program can be compeleted anytime, anywhere!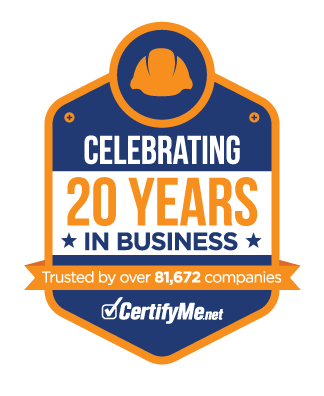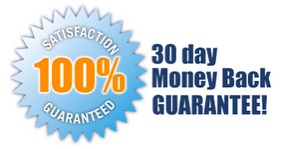 Connect with Us


Get Started Now By Registering Your Company For Free!
FREE 3 Year Renewals
Instant Access 24/7
Print Your Proof of Training
OSHA Accepted Nationwide
*If you are an individual not currently employed by a company use your personal name in
the 'Company Name' field.