Limited Time Offer! Free Covid-19 safety course with purchase of any Forklift or Aerial Lift Certification!
Access your free Covid-19 safety course in your members area once you have completed your purchase.

Why Forklift Safety Is Key for Businesses
Thanks to a Forklift Safety Training Program, Your Business Can Help Its Employees Maintain a Safe and Productive Workplace.
People who work on or around forklifts are subject to hazards. Forklift accidents happen more often than you may think. That's why having safety procedures for forklifts in place matters – for better productivity, and more importantly, enhanced safety!
Why Is Forklift Safety Important?
Operating a forklift safely requires attention to detail. If an operator makes a mistake, he or she can cause an accident. In this instance, an accident can also result in serious injury or death. It can lead to brand reputation and/or property damage, revenue losses, and compliance penalties as well. 
What Are the Most Common Forklift Accidents?
The main causes of forklift accidents include:
✓ Forklift overturns
✓ Falls from a forklift
✓ Pedestrian struck by a forklift
✓ Crushed by a a forklift
What Factors Can Contribute to Forklift Injuries and Fatalities?
According to the National Institute for Occupational Safety and Health (NIOSH), there are two factors at the heart of forklift injuries and fatalities. People are either unaware of the risks of working on or around forklifts or even the most basic principles of forklift safety. Or, they are not following OSHA forklift safety procedures. 
Can Forklift Accidents Be Prevented?
Your business can lower its risk of forklift accidents by providing a safety training program to its employees. 
How Can Your Company Promote Forklift Safety Across Its Workforce? 
The first step towards promoting proper forklift safety at work: develop and implement a safety program and require all employees to participate in it. From here, your workers can learn how to protect themselves and others against forklift accidents, injuries, and fatalities. 
What Is Forklift Safety Training?
Forklift safety training teaches workers how to properly use a lift. It provides forklift safety best practices and insights that workers can use to guard against tip-overs and other types of accidents. 
What Is a Forklift Safety Training Program? 
A forklift safety training program teaches workers how to utilize a lift in accordance with OSHA standards. OSHA requires a business to enroll its workers in a program for forklift safety training if it requires them to use lifts.  
Do I Need to Provide My Workers with Forklift Safety Training?
It's an employer's responsibility to provide forklift safety training. If you have forklift operators on staff, it is in your best interest to make forklift safety a top priority. And, you should implement a comprehensive forklift safety training program. 
How Can I Provide Safety Training to My Forklift Operators? 
CertifyMe.net helps companies with their forklift training needs. By law, employers are responsible to provide their workers' forklift training. With our courses, we provide an affordable, easy alternative to expensive training seminars, off-site meetings, and other training methods.
How Can Forklift Safety Training Benefit My Business and My Employees?
Adhering to proper forklift safety protocols and practices isn't just good for the obvious reasons (preventing accidents). It can also ensure the success of your company and your employees. Safety procedures and training for forklifts can reduce the number of injuries, fatalities, and costly equipment damage in the workplace. An OSHA-approved forklift safety training program also limits the risk of compliance fines and penalties.
What Is an OSHA-Approved Forklift Safety Training Program?
An OSHA-approved forklift safety program emphasizes the following elements: 
Addresses accidents and lift truck safety issues

Involves a commitment to

forklift safety

from both an employer and its workers

Defines forklift

hazards and teaches workers how to identify and address them

Ensures

safety regulations are overseen by a qualified professional

Verifies that employees

understand there are consequences if they don't follow powered industrial truck safety procedures

Puts in place effective

forklift safety

procedures to prevent injuries and accidents.

Promotes the use of workplace

safety meetings where employees may raise concerns

Involves continual evaluation of a safety program to ensure the best-possible safety measures are

in place across a business

Addresses regular forklift maintenance
 With CertifyMe.net, all of these elements are covered. Visit this blog to learn more on Forklift Safety Tips. 
What Is OSHA's Forklift Inspection Checklist?
As part of the forklift safety training that OSHA requires employers to provide for its powered industrial truck operators, forklift operators are instructed to carry out daily vehicle inspection and maintenance checks. There are two OSHA forklift inspection checklists–one for electric motor-powered forklifts and one for internal combustion engine industrial trucks.
Topics covered on the OSHA forklift inspection checklists for forklift safety training include, but are not limited to:
Checks with motor off
✓ Visual inspection of all engine belts, hydraulic hoses, masts, stops and cables
✓ Dipstick checks of engine oil and transmission fluid levels
✓ Checking levels of coolant, brake fluid and hydraulic fluid
✓ Making sure finger guards and overhead guards are attached properly
Checks with motor on
✓ Any unusual noises are reported immediately
✓ Checks that the following are functioning smoothly: Parking brake, service brake, seat belt, radiator coolant, tilt control, drive control, seat belt, steering, horn and lights, etc.
CertifyMe.net gives your employees the training necessary and forklift safety procedures to operate and maintain forklifts safely. If your company is involved with a forklift accident, audits or investigations are likely. Without a forklift safety program in place, expensive fines and penalties can cripple your business.
What Are the Benefits of an OSHA-Approved Forklift Driver Safety Training Program?
Here are some of the benefits you and your employees can enjoy when you invest in forklift safety training:

Increased productivity

Fewer forklifts out of production due to damage and serious repairs

Improved morale among your employees

Clear, easy-to-understand

forklift safety

procedures

Accelerated

business growth

Cost

and time

savings
Why Do Businesses Ignore Forklift Safety Training?
Many supervisors and jobsite managers are hesitant to launch a forklift safety training program due to concerns about the costs and time associated with it. Yet, CertifyMe.net offers a full slate of forklift safety training courses that are affordable, convenient, and – of course – fully OSHA compliant!
How Much Does It Cost to Enroll My Workers in Safety Training for Forklifts?
CertifyMe.net offers certification training for forklifts starting at $59.95 per operator. If your company budget doesn't have considerable funds for training, or you don't have forklift safety procedures for your employees, no worries! Our OSHA forklift driver safety training classes are priced for optimum value. Plus, we offer free three-year renewals, along with any time, 24/7 access! Who knew forklift safety programs could be this easy – or enjoyable?
How Long Does It Take to Complete Forklift Safety Training?
The time it takes to complete OSHA-approved forklift safety training varies based on the employee. With CertifyMe.net's online training program, workers can often earn their OSHA forklift certification in as little as one hour. 
How Long Does Forklift Certification Last?
Forklift safety training certification stays active for three years. In addition to OSHA-approved safety training for forklifts, we offer a renewal program that ensures your workers can keep their certification up to date. 
Will a Worker Receive a Forklift License After Completing a Certification Training Program?
A worker receives a forklift license after he or she completes our safety certification training program. The license verifies that this individual is authorized to use a forklift at any worksite in the United States. 
How Long Does It Take to Receive a Forklift License?
With CertifyMe.net, a worker can download and print their OSHA-approved forklift license after he or she finishes their coursework. Also, a copy of the license will be mailed to this worker within a few days. 
Does Forklift Safety Training Need to Be Completed in a Classroom?
CertifyMe.net gives workers the flexibility to complete forklift safety training online. Our training program provides workers with interactive learning materials that they can access from nearly any location. 
What Do My Workers Need to Do to Complete Online Forklift Safety Training?
Your workers only need an internet-connected device to complete our online coursework. They can log in and access our learning materials 24/7 via their internet-connected device.  
What Is the Best Way to Support Workers Who Are Completing a Forklift Safety Training Program?
Remain accessible and respond to any concerns or questions from your workers. In addition, provide your employees with the best safety training program, so they are well-equipped to guard against forklift hazards going forward. 
What Happens After My Employees Complete a Forklift Safety Training Program? 
Once your employees are finished with their CertifyMe.net forklift driver safety training, you can immediately print certifications. No waiting for documentation to arrive through the mail – just print and your forklift operators are good to go!
Where Should You Go for Forklift Driver Safety Training?
CertifyMe.net is the top industry-leading program in forklift safety training and certification. We can help you establish your complete forklift safety program, whatever your budget. We've designed our program to be as efficient and convenient as possible. With a single payment of $299 for the comprehensive forklift training kit, all of your employees will have access to the OSHA-compliant information for life. Our forklift safety training programs are easy to complete, from any device with an internet connection.
Why Is CertifyMe.net the Top Choice for Safety Training for Forklifts?
Our mission at CertifyMe.net is to make forklift safety accessible, easier than expected and also affordable! Check out our pricing options and get started today with your OSHA-compliant forklift safety training program!

Take Advantage of OSHA-Approved Safety Training for Forklifts from CertifyMe.net
Foster a safe workplace with CertifyMe.net's online forklift safety program. By enrolling your workers in our program, you can ensure that they are compliant with OSHA regulations and enjoy all of the benefits that come with following proper forklift safety protocols. Sign up today! You can also call our forklift safety training experts at 1-888-699-4800.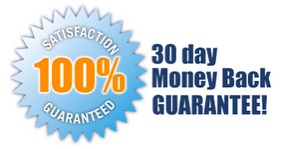 5 EASY STEPS!
Follow step-by-step instructions to get OSHA compliant!
This low-cost program can be completed anytime, anywhere!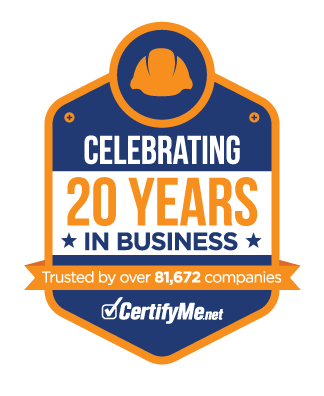 Get Started Now By Registering Your Company For Free!
FREE 3 Year Renewals
Instant Access 24/7
Print Your Proof of Training
OSHA Accepted Nationwide
*If you are an individual not currently employed by a company use your personal name in
the 'Company Name' field.