Limited Time Offer! Free Covid-19 safety course with purchase of any Forklift or Aerial Lift Certification!
Access your free Covid-19 safety course in your members area once you have completed your purchase.

Illinois Forklift Certification – It's the Smart Play for Your Company!
Complete OSHA Compliance | Online Convenience | Affordable Prices | Sign Up with CertifyMe.net Today for Forklift Certification in Illinois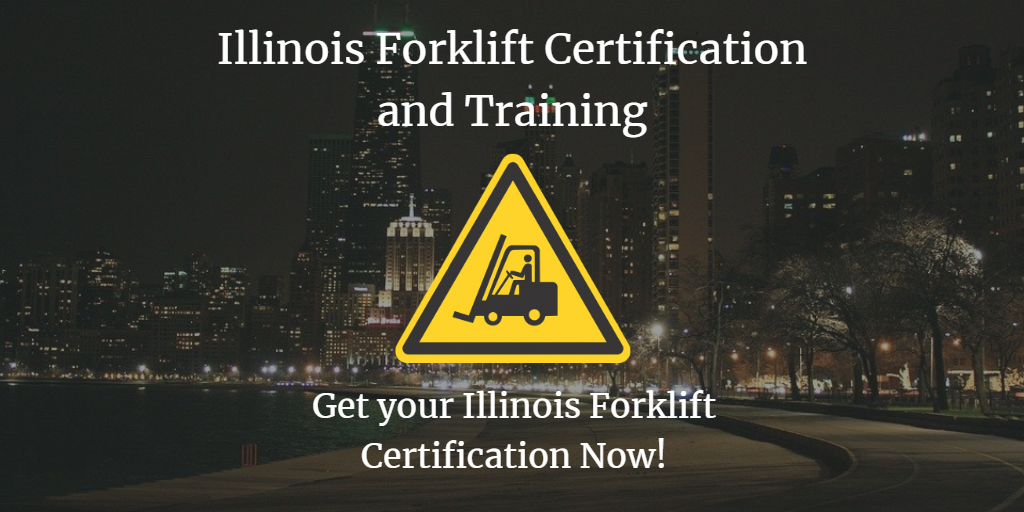 Home to farmland, forests, and sleek skyscrapers alike, Illinois is a widely varied state that offers many different opportunities to live and work. For employers of forklift drivers, now is a great opportunity to ensure your company is 100% OSHA complaint with Illinois forklift certification.  Whether you're an aspiring operator or employer, you'll need Illinois forklift certification.
CertifyMe.net has a complete assortment of Illinois forklift certification and training courses for total OSHA compliance. Check out our course catalog and register your company today!
With our Illinois forklift certification, your company will enjoy:
24/7/365 access to training

Evaluator paperwork to assess each employee's training

Free 3-year renewal training

Friendly, knowledgeable customer service

And much more
Course Catalog for Forklift Certification in Illinois
Get your Illinois forklift certification starting at just $59.95 per course.
Warehouse Forklifts – Forklift Certification in Illinois for Class 1, 4 and 5 Lifts
Class 1:   Electric Motor Rider Trucks

Class 4:  Internal Combustion Engine Trucks – Cushion (Solid) Tires

Class 5:  Internal Combustion Engine Trucks – Pneumatic Tires
Learn more about our warehouse forklift course.
Great Warehouse Option in IL: Pallet Jacks & Order Pickers – Class 2 & 3 Forklift Certifications in Illinois 
Class 2:  Electric Motor Narrow Aisle Trucks

Class 3:  Electric Motor Hand or Hand/Rider Trucks
Learn more about our pallet jack certification.
Rough Terrain Forklifts – Complete Certifications for Class 7 Illinois Forklift Certifications
Class 7:  Electric and Internal Combustion Engine Tractors (ideal for Illinois construction companies and companies with

heavy duty lifts

)
Learn more about our rough terrain forklift course.
Complete Your Training with Qualified Trainer/Evaluator Certification
Illinois Forklift Certification: just $149.00
With English and Spanish language options, you'll have great flexibility with your Illinois forklift certification! 
One of the most populous states in the USA, Illinois' economy is the backbone of the American Midwest. From construction to transportation to warehousing, companies just like yours need trained lift operators for a variety of tasks – and that's your responsibility! CertifyMe.net is in your corner, so sign up today!

Why is Forklift Training in Illinois Important?
Forklift-related accidents happen every year on worksites across the U.S., and the majority of them are caused by operators not having the proper training. Training with forklift certification in Illinois is the most effective way for operators and employers to prevent accidents and avoid injuries, fatalities, and expensive equipment damage. It's for this reason why getting Illinois forklift certification is crucial as an operator, and equally as important if you're an employer to prevent accidents in your workplace.
Need more reasons to sign up for our Illinois forklift certification? Here are a few:
✓ Training in one hour or less
Our online training is available 24/7, and many operators complete their Illinois forklift training in less than an hour!
✓ 100% pass rate
Even if your employee doesn't pass on their first attempt, they can always go back and review the course content to take the test again!
✓ OSHA compliance
In the event of an accident, OSHA will review training records. CertifyMe.net has you covered just in case you're investigated, since all training can be filed away in your employee training records.
✓ Great prices
Why spend hundreds or thousands on expensive training? Our Illinois forklift certification starts at just $59.95 per course.
✓ Free renewal training
Did we mention our 3-year recertification in Illinois is FREE?
What Are OSHA's Requirements for Forklift Certification in Illinois?
Being such an important tool for safety, Illinois forklift certification training is a requirement from OSHA for all operators in Illinois. According to OSHA, employers must ensure all forklift operators are competent to drive forklifts safely, following the successful completion of training.
Additionally, Illinois forklift certification must involve formal instruction, practical training, and an evaluation. Training must cover truck-related and workplace-related topics to provide trainees with all the important information they need.
Whether an operator or employer, it's in your best interest to look for forklift training and forklift certification in Illinois that is OSHA-compliant to ensure you're getting all required information in a compliant program.

Choose CertifyMe.net for Your Illinois Forklift Certification
As the leading online forklift school providing forklift training and licenses for operators and employers, CertifyMe.net has created our program to be convenient, affordable, and 100% OSHA-compliant. Our forklift certification in Illinois course teaches operators everything they need to know to operate forklifts safely and prevent accidents. Remember, OSHA fines can result in tens of thousands of dollars. Don't delay any longer with your forklift certification in Illinois…you can't afford the cost of non-compliance.
Create an account, work through the online modules, and hold your Illinois forklift certification and operator card today! Thanks for considering CertifyMe.net for your Illinois forklift certification needs! Please give us a call if you have any additional questions at 1-888-699-4800. We look forward to serving you!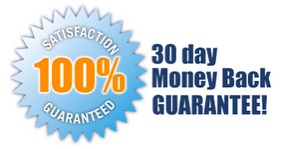 5 EASY STEPS!
Follow step-by-step instructions to get OSHA compliant!
This low-cost program can be completed anytime, anywhere!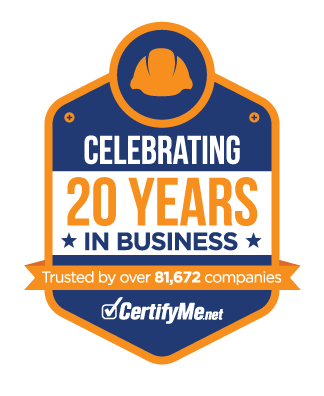 Get Started Now By Registering Your Company For Free!
FREE 3 Year Renewals
Instant Access 24/7
Print Your Proof of Training
OSHA Accepted Nationwide
*If you are an individual not currently employed by a company use your personal name in
the 'Company Name' field.