Limited Time Offer! Free Covid-19 safety course with purchase of any Forklift or Aerial Lift Certification!
Access your free Covid-19 safety course in your members area once you have completed your purchase.

Winter Safety Tips for Forklift Operators
Posted by: admin on December 3, 2021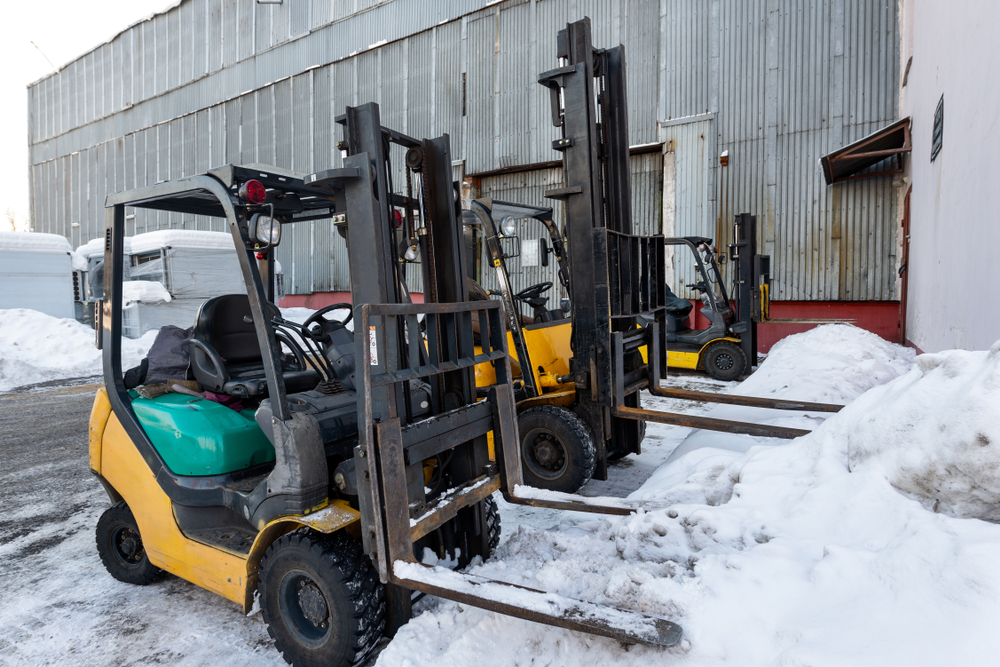 Driving a forklift always comes with a few risks. Those risks become even more challenging during the winter months. Cold temperatures, icy roads, and bad weather put even the most skilled forklift operators to the test. With the right knowledge of winter safety tips for forklift drivers, though, operators can avoid hazards and stay safe no matter the weather. 
How Winter Safety Tips Keep Forklift Drivers Healthy
They say an ounce of prevention is worth a pound of cure, and that's especially true when considering winter safety for construction workers. By raising awareness of potential hazards, you can help keep the entire team safe and healthy all year long. Forklift drivers must be cautious of slippery surfaces and take care not to rush when completing a load. Fail to do so and they may suffer severe injuries and even death. 
Dressing for Warmth and Safety
While it may seem like common sense to dress as warmly as possible while operating a forklift during the winter months, many workers fail to recognize just how important the right apparel truly is. When it comes to winter safety tips for forklift drivers, safe, warm clothing is everything. Operators should don safety shoes, high visibility vests, and hard hats year-round. During the winter months, it's important to add a jacket that's warm but not necessarily bulky. Tight fit clothing can help operators avoid their outfits getting caught in machinery and causing an accident.
The Importance of Inspections
Winter weather safety tips for forklift drivers frequently center around equipment inspections – and for good reason. OSHA requires inspections of all forklifts before they're used each day, but those checks become even more important in winter. Cold temperatures can decrease tire pressure and cause hoses to crack. Fail to spot these issues ahead of time and you could end up in a serious forklift accident.
Environmental inspections are important, too. Winter driving safety often boils down to how clear your travel path is. Hazards like ice and water can cause forklifts to lose traction and slide out of control. To avoid such incidents, do a quick walkthrough of the environment you plan to drive your lift through. By spotting hazards in advance, you'll be much more likely to avoid them altogether.
OSHA Winter Safety Protocols
In addition to the aforementioned forklift driver winter safety tips, OSHA has a number of recommendations. OSHA looks for proper forklift covers made with high-quality materials. This cover is used to shield lift operators from precipitation. Workers need to purchase a transparent cover that does not block their view when operating forklifts during snow flurries. Also, one that is designed to drain rainwater from the roof using specially designed ribs and gutters so that water does not spill in front of you every time you hit the brakes.

Online Forklift Certification Training Available All Year
These winter safety tips are truly just the beginning. Perhaps the best way to prepare forklift operators for seasonal hazards is to train them to OSHA standards. With the right training, many of the most common workplace accidents can be avoided. OSHA compliant forklift certification training programs like those offered by CertifyMe.net are the ideal way to educate employees. Convenient and affordable, our online training tools give forklift operators the skills they need to stay safe all year long. One hour of at-home learning can get workers the certification they need to avoid winter workplace accidents. Get started now by clicking here or dialing 1-888-699-4800.
Welcome to CertifyMe.net
CertifyMe.net has offered online forklift certification since 1999. With Our Convenient online program. your employess can earn their certification in an hour or less.
Browse Online Certifications:
This low-cost program can be compeleted anytime, anywhere!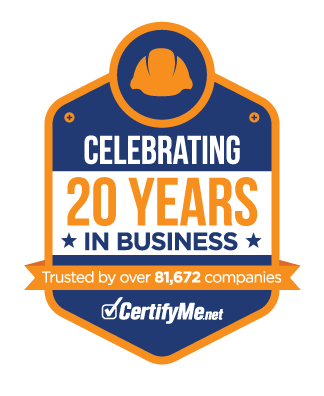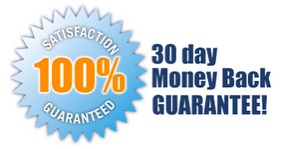 Connect with Us


Get Started Now By Registering Your Company For Free!
FREE 3 Year Renewals
Instant Access 24/7
Print Your Proof of Training
OSHA Accepted Nationwide
*If you are an individual not currently employed by a company use your personal name in
the 'Company Name' field.