Limited Time Offer! Free Covid-19 safety course with purchase of any Forklift or Aerial Lift Certification!
Access your free Covid-19 safety course in your members area once you have completed your purchase.

What is a Spotter?
Posted by: admin on May 16, 2019
When operators fail to handle a forklift properly, it can tip over. For example, driving with too much weight or an unbalanced load can cause a tip-over. Extending the forks too far can also cause tip-overs to occur. 
---
As a result of these and other operator mistakes, forklifts can cause serious damage to people and products. That's why OSHA recommends having a spotter work in concert with the truck operator. What is a spotter? Simply put, a forklift spotter is someone who acts as a second pair of eyes and ears for the driver. The spotter stands near the forklift and feeds information to the driver about what he or she can't see or hear.
Spotters are sometimes referred to by other names. These can include observer, signaler, flag person, guide, and more. Spotter requirements vary from job to job. No matter what they're called, their role is vital to  preventing forklift accidents and improving safety.
If your company needs assistance defining forklift spotter responsibilities, or with spotter construction guidelines and more, CertifyMe.net has OSHA compliant training to help your company become safer right away! Without forklift training, you're subject to heavy fines and penalties from OSHA.
Reduce your company's chances of accidents and injuries. Brush up on spotter requirements, forklift spotter responsibilities and much more. Register your company today and get started!
What is a Spotter –Forklift Spotter Responsibilities
Acting as a forklift spotter may seem like a simple task. In reality, it's a complex job that requires highly trained people to do it right. In fact, anyone acting as a spotter should complete OSHA spotter training before attempting the job. Here's why.
Forklift spotters have many responsibilities. First and foremost, a spotter sees that the truck operator lifts the load properly and then moves it to the correct location. This includes making sure the load is well balanced so it won't fall off the machine. Once the forklift is being driven, the spotter makes sure it doesn't hit any people or objects – stationary or moving.
Other job duties include:
✓ Directing the travel route when the driver's vision is blocked. This is especially important when the driver needs to back up.
✓ Directing the positioning of a load on the forks while being lifted. 
✓ Watching out for drop offs, overhead wires, piping, and other hazards when lifting and driving.
✓ Keeping pedestrians clear of the hazard area and travel path.
✓ Following a forklift on roads to protect against other vehicles
Indoor work sites can be so noisy that verbal communication often can't be heard. Outside, spotters may be far enough away from the forklift that signals work better that voice commands. Before starting a job, the spotter needs to make sure the operator understands the signals that will be used.
Forklift Spotter Training and Safety – Spotter Requirements
OSHA regulations often require a spotter to be on the job site. Even when they don't, it's a good idea to have a trained spotter on hand. Forklift spotter training involves a lot more than just watching out for people and obstacles. In fact, a key part of the training is learning to drive a forklift. The best spotters often double as forklift operators. On the flip side, the best drivers are often the best spotter requirements.
Forklift spotter training also covers load lifting techniques. On the job, spotters tell operators when and how to lift the load. Operators know how to do this. But they don't always have the best view of the load. Having a second pair of eyes makes loading and lifting safer. Having a spotter is vital when the load is on a high rack. One small mistake could cause the load to fall and injure someone.
The spotter's job is to keep those working around the forklift safe. But spotters can also be at risk of injury or death. Best practices for spotter safety include:
✓ Make sure the spotter and driver agree on hand signals before backing up.
✓ Have the spotter maintain constant visual contact with the driver while the vehicle is backing up.
✓ Drivers should stop backing immediately if they lose sight of the spotter.
✓ Don't ask spotters to multi-task on the job. Their entire focus should be on spotting for the driver.
✓ Don't allow spotters to use mobile phones, headphones, or other items that could distract them from the job at hand.
✓ Require spotters to wear highly visible clothing, especially at night.
Spotter Hand Signals
When voice commands aren't able to effectively communicate spotter requirements – for example, a busy worksite for spotter construction signals – hand signals are required. These generally accepted signals should be learned by any forklift operator for full forklift spotter responsibilities.
Spotters must also learn different signal codes for managing traffic in a workplace.
For example, they must know how to signal commands like "back up," "slow down," "move forward," "stop," and more.
Forklift Spotter Responsibilities: Spotting for Heavy Equipment
The need for spotters is not limited to indoor forklift jobs. Many outside jobs, such as construction sites, can benefit from having spotters. In fact, any job that uses aerial lifts, earth movers, and other heavy equipment should have a spotter.
Spotters are essential when working around overhead structures, steel columns, and live power lines. Tight spaces and narrow right-of-ways may offer little room to work. The travel route may include rough terrain or temporary access roads that are hard to navigate. In every case, a spotter can improve safety and help prevent accidents.
Heavy equipment spotters have the same basic duties as forklift spotters. They help guide aerial lift and equipment operators when they are moving. They scan the ground to look for trip or fall hazards. They make sure other workers stay clear of the travel path. If drivers can't see the spotter, the must stop moving immediately. Once they regain eye contact with the spotter, they can resume movement.
The spotter and operator should engage in safety planning before starting the job. First, they should agree on the hand signals that will be used. Next, they should review the planned travel route. During movement, they need to use the agreed upon hand signals at all times.
Safety Best Practices for Heavy Equipment Spotters
✓ Every year, heavy equipment injures and kills workers and pedestrians. Most of the deaths are due to backup incidents. Spotting for aerial lifts and heavy equipment helps reduce the number of accidents. Spotters need safety protections as well. Best practices for spotters include:
✓ Wearing highly visible clothing, especially at night.
✓ Never walking into the path of a vehicle, moving equipment or a swinging load.
✓ Never walking behind the equipment and spotting at the same time.
✓ Standing where the aerial lift or equipment is going and flagging it back.
✓ Scanning the work site and removing hazards before starting the job.
✓ Making sure the driver stops right away when the spotter is not in sight.
✓ Not having other duties while spotting.
✓ Not using personal mobile phones, headphones, or other items that could distract the spotter.
When planning the job, the spotter and operator should see if they can eliminate the need to back up. If not, they should do what they can to minimize it. If the spotter has never operated the aerial lift or equipment being spotted, they should discuss the blind spots with the driver. This will help prevent the spotter from accidentally walking into one.
The best way to deal with hazards that arise when moving forklifts is to use a trained spotter. And the best way to get forklift training is online at www.Certifyme.net. If you're not sure what is a spotter or different spotter requirements, we'll help with your forklift training needs. Our classes only take about an hour to complete. They can be accessed anywhere you have an Internet connection. And workers can print their certification cards right after passing the test. Register your company or call us today at (888) 699-4800.
Welcome to CertifyMe.net
CertifyMe.net has offered online forklift certification since 1999. With Our Convenient online program. your employess can earn their certification in an hour or less.
Browse Online Certifications:
This low-cost program can be compeleted anytime, anywhere!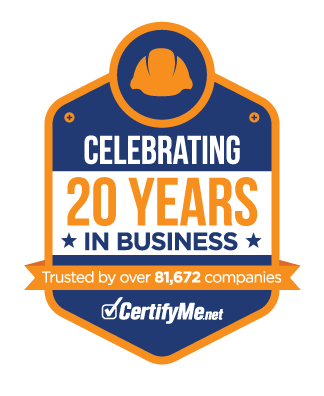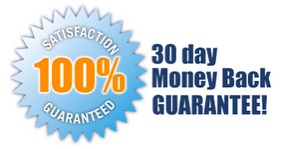 Connect with Us


Get Started Now By Registering Your Company For Free!
FREE 3 Year Renewals
Instant Access 24/7
Print Your Proof of Training
OSHA Accepted Nationwide
*If you are an individual not currently employed by a company use your personal name in
the 'Company Name' field.