Limited Time Offer! Free Covid-19 safety course with purchase of any Forklift or Aerial Lift Certification!
Access your free Covid-19 safety course in your members area once you have completed your purchase.

Go Green with Increased Electric Forklift Model Sales
Posted by: admin on December 9, 2013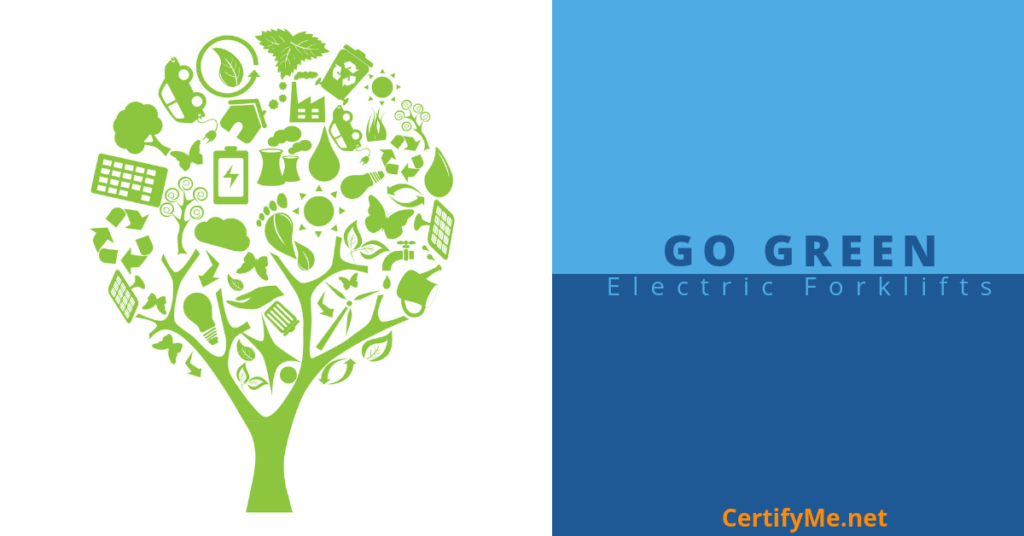 A warehouse or lumber yard may not be the first place you'd expect environmentally-friendly technology to emerge but think again. Yes, even the forklift industry is caught up in the "green," earth-first initiatives.
As prices of lithium-ion batteries continue to drop, get ready for an increased demand for environmentally friendly electric forklifts. According to recent studies, yearly sales of electric forklifts in the United States, Mexico, and Canada will top $500 million within the next 7 years. That's a five-fold increase from the latest sales figures from this year.
Forklift Market Forecast: The Future is Green!
So why should we expect such a drastic swell in electric forklift sales? The primary reason is the cost of technology. Falling lithium-ion battery prices (which will comprise a greater segment of electric batteries in the future) and decreased fuel-cell technology means that companies can run fleets of electric forklifts for drastically reduced costs than before. This means that warehouses, stores and other businesses will find it easier to invest in electric forklifts.
And with the attractive end result of zero-emission operation, businesses will be looking to purchase more electric forklifts in the future – especially as environmental policies continue to require more stringent emission standards.
But these are the only reasons employers are making the switch to electric lifts. Now that more useful data exists for forklift use in warehouses and other job sites, we're able to pinpoint the practical benefits that come with electric forklift use.
Advantages of Electric Forklifts
Let's look at some specifics with electric forklift advantages.
Cost reduction: with operating costs up to six times less than gas and propane-powered lifts, electric forklifts save employers money in the short-term and long run.
Battery life and performance: electric recharge batteries simply perform better than traditional batteries. And with less landfill space (see below), electric forklift batters are better for the environment.
Reduced noise: electric forklifts emit practically no noise. Compared to regular lifts, this creates a better working environment.
Superior braking mechanisms. Today's electric forklifts offer more responsive braking systems, which adds life to all working parts. Less waste, more efficiency, lower operating costs – there is plenty of love about electric forklifts!
Fewer maintenance requirements. With less moving parts, electric forklifts require minimal maintenance, at least compared to legacy propane lifts. An efficient design has its advantages, including reduced maintenance work.
These are just a few of the benefits electric forklifts provide. As manufacturers continue to refine these environmentally friendly machines, expect even better performance – and more clear-cut advantages over other forklifts – well into the future!
Electric Forklifts: Beneficial Battery Requirements
Lead-acid batteries still comprise a majority of the forklift batteries on the market, but they have significant drawbacks: limited runtime, long charge time, and short life cycle, just to name a few. While costs remain much lower than fuel-cell and lithium-ion batteries, their prevalence as the forklift industry's preferred power source will diminish in the next 5-10 years.
Plus, lead-acid batteries are responsible for significant waste and landfill requirements. Since many of these batteries require additional safety protocols for disposal, they'll hopefully be phased out in the near future – and electric forklifts are leading the charge toward a safer, greener environment!
CertifyMe.net: Your Training Source for All Forklift Models!
As electric forklift sales continue to climb, however, skilled drivers will still be required to ensure safe, efficient operation for both traditional lead-acid battery powered forklifts and environmentally-friendly fuel-cell and lithium-ion battery-powered forklifts. Analysts agree may differ on when the latest technological changes are coming, but one thing's for certain – safety is always the most important part of the equation.
One thing that won't change with electric forklifts is training requirements. With CertifyMe.net, all of your compliance needs are handled. Our OSHA approved training courses are ready to go – get started today!
Welcome to CertifyMe.net
CertifyMe.net has offered online forklift certification since 1999. With Our Convenient online program. your employess can earn their certification in an hour or less.
Browse Online Certifications:
This low-cost program can be compeleted anytime, anywhere!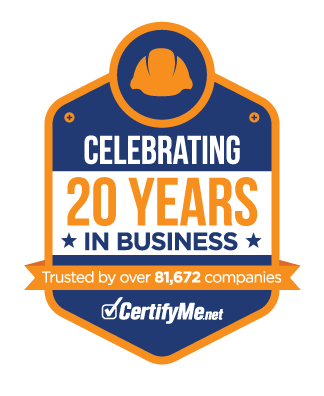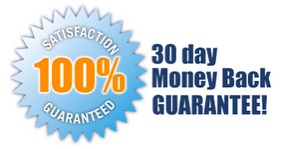 Connect with Us


Get Started Now By Registering Your Company For Free!
FREE 3 Year Renewals
Instant Access 24/7
Print Your Proof of Training
OSHA Accepted Nationwide
*If you are an individual not currently employed by a company use your personal name in
the 'Company Name' field.